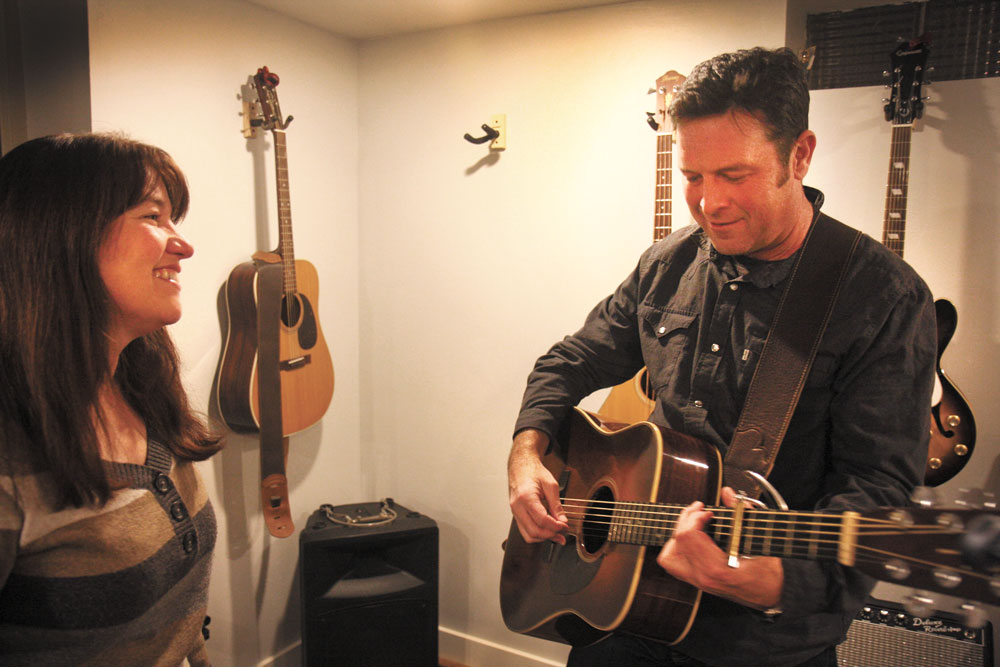 By Mike Rosso
"The first time I heard her sing, I thought, 'that's it,' I wanted to marry her."
Those are the words of Salidan Duke Sheppard describing how, nearly 30 years ago, the early seeds were sown for the arrival of the musical duet Pint & A Half on the contemporary Colorado music scene.
It was in Union, Missouri, back in 1987, when Duke and his future wife Tami went on their first date while still in high school, after a talent show where they were both scheduled to perform. He was playing in a heavy metal band, Damage Incorporated, and she was singing classical music along with her church choir. Not exactly a pairing one would expect to have a musical future together, but life can be full of unexpected surprises. Two years later they were married.
Tami grew up in a musical household, as her parents both sang in the church choir. Duke's dad Phil was a truck driver who had a side gig playing in country bands in St. Louis. It was he who encouraged his son to take up the drums, an unusual fact given what most parents know about setting up any offspring with a drum kit. They are loud, and any kid worth his salt will bang on them for hours in an attempt to learn a few John Bonham chops.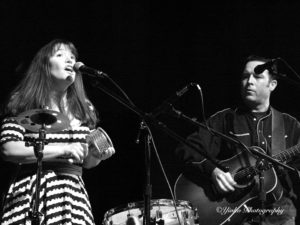 The couple landed in Salida in 1995 where Tami set up her bead store, Beadsong, which she still operates today. Duke runs a T-shirt shop next door, Fattees. Though they hadn't played much music together, Duke learned a few basic chords on a cheap pawn shop guitar and they offered to play a few songs for a friend's wedding. Of course they were nervous, as most performers are early on, but they enjoyed it so much they decided to sign up for an open mic night at the now defunct Crooked Hearts coffeehouse in Salida.
They played two songs for that first gig; Moonshiner by Uncle Tupelo and Strings of Love by Edie Brickell and the New Bohemians. Soon after, they performed the same two songs at a former Salida restaurant and bar on U.S. Hwy. 50, the Gold Star Barbecue. Otherwise the extent of their public performance was the occasional campfire jam with their motorcycling friends. Years later Duke's dad sent him a guitar for a Christmas present.
"It was better than the pawn shop guitar and inspired him to stick with it," said Tami, who at the time had begun taking singing lessons under the tutelage of Katherine Bishop Campbell of Salida.
Fast forward to 2013 when, after getting a few more songs under their belts, they played an open mic set at the Boathouse Cantina in Salida. The owner was so impressed he offered them an upcoming Friday afternoon gig. Now the pressure was on. They had two weeks to come up with a full set of music and started woodshedding in earnest, learning four new songs every week, pulling tunes from some of their favorite artists such a Casey Chambers, Buddy and Judy Miller and Son Volt.
"The biggest issue was stage fright," said Duke. "We were very nervous," Tami added. They also signed up for the weekly open mic night at the former State Highway Theater in Buena Vista to help get over their nervousness.
Their big night at the Boathouse finally came and it was a packed house.
"We somehow went from scared to death to 'this is kinda fun!'" recalled Duke. "We both had a ball that night," said Tami.
After that night, to their surprise, they began to be in demand around town.
Around this time, Duke decided to start writing his own songs. "I found it as difficult to learn someone else's songs as to write my own, so I started writing a whole bunch," said Duke. Their current performances are now mostly originals, "and a few obscure covers," added Duke. Among his songwriting influences are Townes Van Zandt, Jay Farrar, John Prine, Holly Williams and Jason Isbell.
What about the name, Pint & A Half? Who came up with that?

"Believe it or not it was suggested on a online motorcycle forum," said Tami. "It was an offhand reference to Tami's height," said Duke with a smile.
With one homegrown CD under their belts, Blue Sky Earth, recorded using Sonar X3 software on a PC in their old rehearsal space, they are currently working with Don Richmond of Howlin' Dog Studios in Alamosa on their second recording, Boomtown Ghosts, which will consist of mostly original songs (see page 16 for an article about Howlin' Dog Studios). "Don is an amazing producer and engineer, songwriter, musician. He can play every instrument you put in front of him," said Duke. They are shooting for an early March release for the new CD. Meanwhile, you can hear them live in performances in the Midwest as well as Central and Southern Colorado and Northern New Mexico. Goals for the duo? "We'd love to play the Ryman!" said Duke with a laugh, referring to the former home of the Grand Ole Opry. "That would be cool," added Tami.
"This whole thing has been unplanned for us," says Tami. "I kinda fear having a goal. We just want to keep singing a playing, having fun. That's the ultimate thing!"
Pint & A Half will be celebrating the release of their new CD on March 25 at the Salida SteamPlant at 6:30 p.m. with opening act, Mark Rostenko.