By Marilyn Martorano
Several years ago, a number of very interesting and unique artifacts were identified in the Great Sand Dunes National Park and Preserve museum collections and in private collections throughout the San Luis Valley. A cursory study of these artifacts suggested that some of them may have been used as tools called pestles. Pestles were utilized to crush a variety of materials in a vertical up-and-down motion, likely in a mortar made of stone or wood. However, at the time of this initial study, it was not clear why many of the sample artifacts did not exhibit significant use-wear similar to those known to have been utilized as pestles, and why some specimens were so long, heavy and very carefully shaped for a simple utilitarian purpose.
The possible function of some of these groundstone artifacts remained a mystery until recently, when the work of a French researcher, Erik Gonthier, was examined. Gonthier's research on long, cylindrical stone artifacts collected from Africa confirmed that certain specimens had acoustical properties. Gonthier determined that these acoustically-active artifacts were very likely utilized as portable lithophones, a musical instrument consisting of purposely-shaped rock artifacts that are struck to produce musical notes. Lithophones have been documented from numerous cultures around the world including Europe, the Far East, Africa, the South Seas and South America. Portable lithophones can be made of unmodified stone or can be formally shaped. They are played by being suspended vertically and horizontally, held vertically, played horizontally across the lap, or placed horizontally in groups similar to a marimba or xylophone. While some lithophones from around the world are portable, others are stationary and include large boulders and even stalactites and stalagmites. There are at least two locations in the North America that exhibit concentrations of stationary rock/boulder lithophones: Ringing Rocks Park in Pennsylvania and Ringing Rocks in Montana.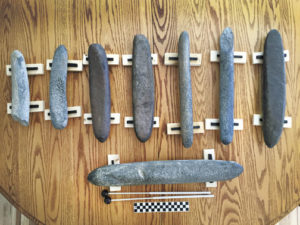 Several of the Great Sand Dunes cylindrical stone artifacts were examined for acoustical properties to see if they might be lithophones. The tested artifacts yielded acoustical properties (ringing) similar to a marimba or xylophone sound, and most of the specimens yielded two sound planes/two notes.
To date, only a few potential portable cylindrical lithophones have been identified in North America, and no lithophones have been formally documented in Colorado. Archaeologists are aware of the multiple uses of stone tools for utilitarian purposes, but the possible use of these unique stone artifacts for a function that is not simply utilitarian is intriguing. These lithophones have revealed a new functional dimension of groundstone artifacts in Colorado: sound/music.
The Friends of the Dunes was recently awarded a History Colorado State Historical Fund archaeological assessment grant to study these lithophones from the SLV. How, when and why these artifacts were made and utilized, and why there appear to be so many of them in the SLV are some of the major research questions yet to be answered. The results of this study would be an important contribution to our knowledge of how Great Sand Dunes and the surrounding SLV were utilized in prehistoric times, and especially how native peoples used their environment for more than just simple survival. This information about a rare and basically unknown type of ancient musical instrument found in the SLV will be important for sharing with the public, archaeologists, scientific researchers and interpreters throughout Colorado as well as all of North America.
Have you seen any potential lithophones from the SLV or surrounding areas? If so, and you would be willing to lend us your artifact to test for acoustical properties and use for our research grant project, please contact: Marilyn Martorano, 2817 Humboldt Place, Longmont, CO 80503; 303-845-0085; martoranoconsultantsllc@gmail.com; or Fred Bunch, NPS, 719-378-6361 or fred_bunch@nps.gov. Thank you!
Marilyn A. Martorano is an archaeologist who was born and raised in the San Luis Valley and now lives in Longmont, Colorado. She is studying lithophones so she can determine what the first "hard rock" music sounded like.
This article first appeared in the San Luis Valley Historian.