By Mike Rosso
Since 2011, many Chaffee County teens have learned the fine art of rockin' out, thanks to Rok Skool, a musical education program offered through Articipate, a Salida-based nonprofit organization dedicated to keeping arts education alive and thriving in the 21st century. The founders, Jill and Trevor "Bones" Davis, saw an alarming trend in the defunding of the arts in public schools and have created a variety of programs and scholarships to provide these needed artistic experiences to young people who may otherwise not have the opportunity.
Rok Skool currently has three levels; Junior Varsity (Middle School), Varsity (High School) and Collegiate (upper classmen). Each band meets once a week for an hour and a half; members are also required to be studying their instrument outside of Rok Skool and must practice Rok Skool material a minimum of 15 minutes per day.
Bones directs the bands, and the program also has a horn teacher, Mathias Roberts, and a string teacher, Alan Mueller, a sophomore who plays guitar, bass and drums for the Varsity and Collegiate bands.
"We let the members arrange [the music] as much as possible with a "guided discovery" teaching approach," says Bones. Band members choose the songs they'd like to learn and perform, and those run the gamut from '70s classic rock to contemporary rock and pop.
The bands perform two showcase concerts a year, usually one at Christmas and again at SunFest in Riverside Park on the last day of school.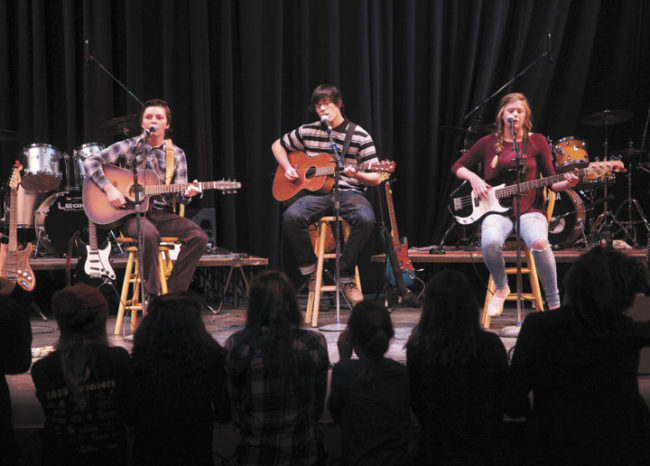 The Collegiate band, which goes by the name BAM and is made up of Brooke Beasley, Alan Mueller and Mitchell Tanner, recently played a gig at the newly remodeled Lariat in Buena Vista and got glowing reviews from the audience and in the press. Their approach is more of a folk-rock style, incorporating acoustic guitar sounds along with drum and electric bass guitar.
Alan, a Salida native, was given his first guitar at the age of seven by his dad, James, who played in a bluegrass band back in the '70s. Dad showed him a few basic chords and Alan never looked back. While in fifth grade, his dad got him a bass for Christmas. "I'm a Beatles fan. I love Paul McCartney, he's my favorite Beatle!" said the 15-year-old, who cites the Fab Four as his biggest influence.
He heard about Rok Skool when he was in eighth grade, as a lot of his friends were in it. "I thought, that's cool, it seemed like a thing I could be a part of." In his freshman year, he decided to talk to Bones, who had seen Alan perform the year before as a solo act at SunFest.
BAM started about a year ago when Bones teamed up the three and encouraged a more acoustic approach to the music. "A little less Rok Skool, a little more folk style," Alan describes it.
At time of this interview, BAM was scheduled to play a paying gig at Monarch Ski Area and needed to learn about two hours of music, having only 45 minutes of rehearsed music. "We decided to take it on," Alan said, and the band members will collectively decide which songs they'd like to play and then set out to learn them. "All of our songs are like 30 or 40 years old, maybe we should make our set list a little more modern, a little more variety!" he mused.
He hopes to continue with Rok Skool, both as a teacher and as a performer, through his senior year.
The Skool has attracted students mostly through word of mouth. "Interested kids have gotten in touch with me and we have them down to the studio to do an audition and assess if it would be a good fit," said Bones.
What about the philosophy of the Skool?
"We are dedicated to using the rock band as a vessel to teach kids not only how to rock, but also accountability, compromise and the social skills necessary to navigate life's many trials," he said. To learn more about Articipate, visit www.articipate.net.