By Mike Rosso
Back in 2014, a small group of Alamosa residents began considering the possibilities of buying and converting an old Christian Science Society building into an event and performance center. By the spring of 2015, they formed a 501(c)(3) nonprofit, The Society Hall Foundation, and purchased the building in August that same year.
They dubbed the building Society Hall, and today it is Alamosa's newest venue for concerts, plays, workshops, weddings and other community uses.
Board president Ruthie Brown first considered the building, constructed in 1922, after seeing someone actually leaving the building, something she'd not witnessed in her 40 years in Alamosa. She immediately called local musician Don Richmond and his wife Teri McCartney to share her thoughts and once the couple had a look at the building, they decided it would be a great facility for the city.
"Having Don sing a simple scale proved to him how wonderful the acoustics were," Brown observed.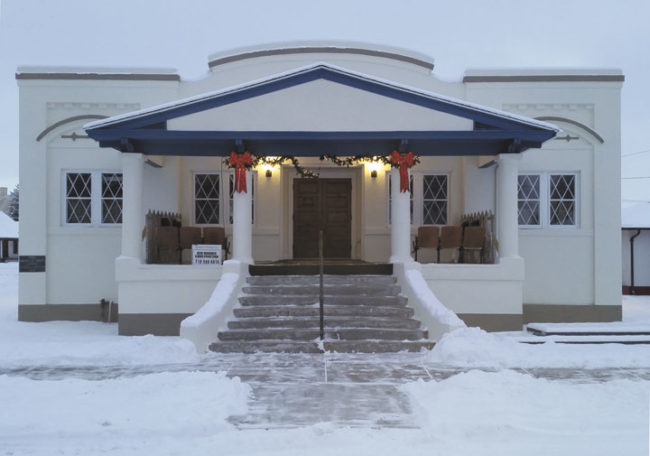 For the next few months, a steady stream of community members, as well as local contractors, electricians, plumbers and roofers all checked out the building to determine its viability. The board members signed a $60,000 contract for the building and the money was quickly raised by benefactors to seal the deal.
Then the hard work began; the building was rewired and replumbed, ADA accessible bathrooms were installed, a new sewer line was run and a new ADA ramp was constructed, courtesy of the Trinidad State Junior College welding class. Two concession areas were created using existing materials from the building, and the stage was extended to accommodate larger performing groups.
Under the guidance of Richmond, vice president of the board, a new sound system was installed and the 200-seat venue opened its doors with a soft opening on September 17, 2015, with singer Chris Collins. Since then, they've hosted performers such as Richard Shindell, Karla Bonhoff, Don Conoscenti, the Bill Hearne Trio, the Tejas Brothers, Molly O'Brien and Rich Moore, the Queen City Jazz Band and many more. They also host an open mike night.
The facility has hosted fundraisers for the Cancer Relief Fund, Valley Humane League and the Alamosa Live Music Association, as well as hosted Meet the Candidate nights and Crime Awareness Evenings.
The Society Hall Foundation are also members of the San Luis Valley Enterprise Zone, which allows donors to gain an additional 25-percent tax credit from Colorado for the donation. Their motto is "Where community celebrates," and these hard working volunteers certainly demonstrate how to do that. The hall is located at 400 Ross Avenue in Alamosa. The Christian Science Congregation, numbering five, continues to meet in the building. To donate, visit www.societyhall.org.