Advertising with Colorado Central Magazine
Distribution:
We are a Colorado-owned and operated monthly magazine with paid subscribers and readers throughout the Central Colorado region, along with the Front Range, Western Slope and mountain communities throughout the state. We also have a number of out-of-state subscribers from Alaska to Florida.
Colorado Central Magazine is also distributed throughout the region and the Front Range; in bookstores, magazine racks, coffeehouses, restaurants, hotel lobbies and visitors' centers.
Advertising Mission:
Present yourself to our informed, literate, independent readers who enjoy excellent writing about local people and places. Since 1994, some of Colorado's best writers have celebrated the local lore and history in Colorado Central Magazine.
We cover regional history, art, culture, recreation, news, politics, local lore and regionalism. You'll find regional book, video, music and restaurant reviews written with balance and humor. We also examine current political and cultural trends in the Central Colorado region. Our coverage area is roughly Leadville to the San Luis Valley, Gunnison to Westcliffe, including Chaffee, Gunnison, Lake, Fremont, Park and Custer Counties.
Our website averages over 500 unique views per day and gets top ranking on Google searches. It contains over 6,200 pages of archived content dating back to 1994. If you are interested in receiving a sample copy of Colorado Central Magazine, please email us here.
Rates (per insertion)
Sign a 4-issue contract and enjoy these prices for the next full year!
Please see Incentives below for discounts.
All display ads receive a free link from our website, coloradocentralmagazine.com/advertiser-links/
Within body of magazine (newsprint):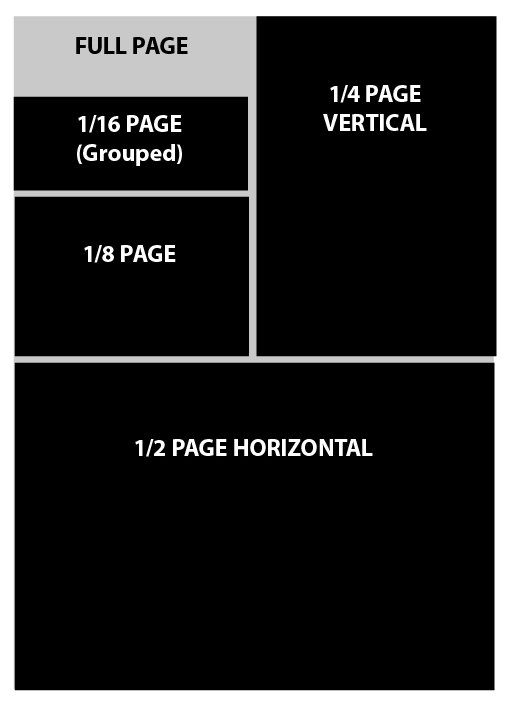 • 1/8 page – $38 Black and white, $48 color.
• 1/4 Page – $72 Black and white, $89 color.
• 1/2 Page – $135 Black and white, $169 color.
• Full Page – $275 Black and white, $340 color.
• Ad size sample sheet can be downloaded HERE
Cover stock (full-color, semi-gloss):
• 1/4 page vertical – $110
• 1/2 page (vertical or horizontal) – $215
• Inside Back Cover (full page) – $390
• Inside Front (full page) – $395
• Outside Back Cover (full page) – $425
• Tile ads on our website – $35 per month (no discounts)
• Banner ads (in rotation on all pages) are $75 per month.
Discounts and Incentives
• Pre-paid cash discount – 5%
• 4-Issue contract – 5%
• 4-issue contract locks in these rates for one year.
• Non-profit and educational groups – 10% flat discount
Schedule: The advertising deadline varies, but is always before the 15th of the prior month – for example, March 15 for the April edition. The magazine is mailed from Salida during the last week of the prior month, and should be on the news racks by the first day of the new month.
Position: We attempt to honor all requests for position, but cannot guarantee it. Besides, it's a small magazine, so every ad will get noticed.
Billing: We send out bills on the first each month. Payment is due within 15 days.
Proofs: We endeavor to provide every advertiser with a proof prior to publication. The sooner we get the ad, the quicker we can get the proof. We can e-mail them as PDF attachments.
Disclaimer: Our liability for any ad is limited to the cost thereof. We reserve the right to reject any advertisement for any reason that suits us, or no reason at all.
Mechanical: Our sheet size is 8" x 10.25". The smallest ad we sell is 1/8 page (approximately the size of a business card).
AD SIZES:
Within body of magazine:
Full page – 6.67 x 9.33 inches.
1/2 page horizontal – 6.67 x 4.58
1/2 page vertical – 3.25 x 9.33
1/4 page horizontal – 6.67 x 2.21
1/4 page vertical – 3.25 x 4.58
1/8 page (business card) horizontal – 3.25 x 2.21
On Cover Stock (minimum 300 dpi, cmyk color – PDF preferred) :
Full page – 8w x 10.5h plus 1/8 inch bleed.
1/2 page – 7″w x 5″h.
1/4 page  (vertical only) – 3.5″ w x 4.75″ h
Techie Stuff: If you want to send us an ad in machine-readable form vie an e-mail attachment or on a CD, use these guidelines:
• PDF (Preferred) with text converted to curves. Those submitting PDF files must have fonts outlined or embedded, saved high res, greyscale with images placed at correct size to keep
file size down.
• TIF 300 dpi grayscale or color.
• Allow .25" inset margins for full bleed/full page ads.
• Line art – 600 dpi / Photos – 200 dpi
• lllustrator CS5 .eps files with embedded images and outlined fonts -or- Photoshop CS5 layered .psd file with accompanied flattened .tif file -or- press quality resolution .pdf files.
• E-mails under 3MB are accepted or send us a CD with hardcopy. Only those accompanied with a SASE will be returned.