By Hal Walter
The guitar has three major cracks in its soundboard and bears the scar of some unknown impact to the rosette that encircles the sound hole. The saddle to which the bridge is attached appears to have been retrofitted from a piece of thin wood paneling, perhaps an attempt to hold the entire thing together, and an analogy for what Longfellow called "the universal language of mankind."
It was handed to me by Don Pinnella when my son Harrison and I showed up for our first guitar lesson at Custer County School. Don had told me how this instrument had been a "camping guitar," and had traveled around Colorado in the backs of vehicles and strapped to roof racks. A friend donated it to his music program at the school, and he refurbished it. Don also provided a smaller guitar for Harrison, whose neurodiversities include autism and perfect pitch, and who has taken piano lessons for several years.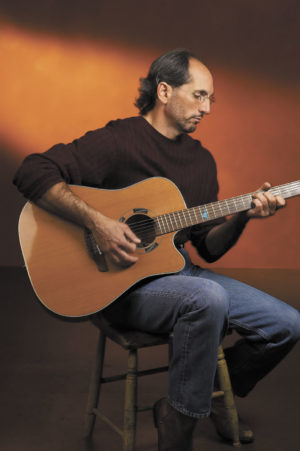 Despite the aesthetic blemishes, the camping guitar sounds just fine to me and seems fitting for a 56-year-old tin-ear who is taking up the instrument at the same time he's realizing that nothing about life is really all that perfect.
I first started talking to Don about guitar lessons for Harrison two years ago. We agreed to wait until seventh grade, and then until after cross-country season. Don, who is also the elementary school's life skills coach, voluntarily provides these lessons once a week after classes.
From the first class I had some questions about whether this was going to work out. I thoroughly enjoyed the mental exercise of learning beginners' chords on the guitar. Harrison, on the other hand, while very enthusiastic about taking guitar lessons, tended to be disruptive, apparently inattentive, and not appropriately participatory during the classes. He often interrupted, banging away at the guitar while singing the lyrics to some song unrelated to the lesson.
Don calmly took this all in stride. He possesses a natural, remarkable way of engaging and talking to Harrison that reveals his skills as a counselor as much as a musician, taking in stride every outburst Harrison threw his way.
It turns out Don brought with him an impressive background in counseling when he arrived at Custer County School from the Denver area 12 years ago. In his previous work life he had been a music therapist and media specialist at the Colorado Mental Health Institute at Denver. His primary focus has been working with children with a wide range of emotional and psychological issues.
When his wife Cheryl Pinnella accepted a job as an elementary teacher at the school in 2003, the couple decided to make the move to Custer County. After a couple years of commuting back and forth on weekends, Don retired from the mental health institute and moved here as well.
It wasn't long before he was back to work, though. He was offered the life skills coach position, with hopes he also would develop an inter-generational after-school hootenanny-style music program.
During his 24 years at the mental institute, Don cultivated a variety of music programs to help patients find some harmony in their often out-of-tune lives, ranging from anger management and relaxation to incorporating music into speech and physical therapies.
"I used music to get at other things," he says. "It was a tool to help me get through to the kids."
Don says he often asked the kids about what music, or certain songs, spoke to them, then would use this music to get to the next level of talking about issues that bothered them. When he arrived at Custer County, Don found these same techniques useful in helping students with things like bully prevention and listening skills.
The part-time schedule at the school also allows Don to continue playing with the band he formed with co-workers while at the mental hospital. Dakota Blonde got its start playing for relaxation-training classes and entertaining patients during holiday programs.
The band members thought they sounded pretty good together, so they started doing some other live performances, and now have been making music for more than two decades, he says. During this time they have recorded six total CDs and typically play 30-50 shows each year.
Dakota Blonde performs mostly in the Denver metro area, but has also played locally at The Salida SteamPlant, Buena Vista Gold Rush Days and the Westcliffe High Peaks Music Festival. The band has traveled as far as New York and Scotland to perform.
Despite playing these venues, Don seems just as at home teaching guitar to a classroom of elementary and middle school students, and the two parents who have joined this class this year – myself and another student's mom.
"It's nice to have the parents there now," he says, noting that this was the original intent of the class. "For a long time there were not any parents involved."
As for myself, I appreciate the lessons too. It's well known the aging brain thrives on learning new skills, and music is one that I've always wanted to develop. It also has provided some interesting insights with Harrison.
One recent evening at home after Harrison had nearly exhausted himself in a tantrum, I suggested we switch gears by practicing on the guitars. He showed no interest, so I picked up the camping rig Don had loaned me and picked out a few chords. I'm really not any good at this, but have managed to memorize the finger positioning for about four chords.
Harrison sat calmly, half-watching for a while. Then I played a chord and asked him what it was.
G, he blurted out enthusiastically.
I thought wow, good guess. I played another.
E, he said, correctly.
Then he correctly identified A and D. I was thinking, seriously?
I got out a chord sheet because my chord bank was out of memory, and played C. He got that one right too. It was clear he knows them by ear.
Perhaps he learned these chords in his years at the piano, but when I asked him the next day he said he knew them from the guitar classes.
The more I thought about this, the more it seemed astonishing for a child whose language-processing skills are such that he often repeats back words or even entire sentences incorrectly. But then, as autism spokesperson Temple Grandin often points out, "language gets in the way" for those like herself on the autism spectrum.
Music, it seems, is truly a universal language for those who are neurodiverse. Thanks to a beat-up guitar and the volunteerism of musician Don Pinnella, I have gained a better understanding of compassion along with a few guitar chords this past season.
Hal Walter's new book, Endurance and Selected Essays on Autism, Neurodiversity, and Deep Sport is available from The Book Haven and Amazon.com.