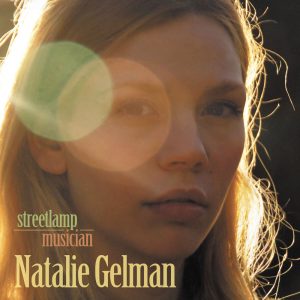 By Brian Rill
Natalie Gelman has become a working class heroine, tirelessly perfecting her craft over the many years. The guitar strumming starlet is a singer and songwriter who plays a starring role in all her own music videos. With natural talent and rare beauty, Natalie is the type of artist who is easily adored. Dedicating her life to the muse, she reveals many hidden gems locked inside bunkers beneath formality, perpetually seeking the soul of the matter. Her album Streetlamp Musician beautifully expresses a courageous finesse like a brilliant flower blooming in the sun, singing out glory for a new day. Natalie embraces the essential creative spirit effortlessly with a staunch compassion for those of us who could be easily embarrassed by revealing our true natures.
A startling sense of innocence and an imploring consolation combine to ingrain Natalie's character with an imminent gracefulness. She shares this pearl of understanding through melody, and marks heartbeats down in her rhythm. Her subtle essence sparkles with stardust, singing confidently but with a sense of humanity that is born of wounded loss. A brand new power is uncovered during every breath while shifting the mantle comprising Ms. Gelman's unceasing profundity.
Streetlamp Musician converts old black and white film into new colors. An upgrade to the classic acoustic singer-songwriter of the seventies like Joni Mitchell, Patti Smith and Carly Simon, Gelman presents this epic song style with sincerity and honesty. She becomes a young admirer, driven to walk mountain roads while crafting lyrical ballads. Devouring the essential vitamins of sunshine and laughter, she adds an immortal ingredient into her freewheeling tone.

It would be a loss to never see the video for "Most The While," from which the pastoral cover photo is framed. Experiencing the full force of light reflecting from her face imbues the music with gravity. Spinning gracefully, Natalie mirrors the moon while moving through many layers of heaven, her emerald dress and cowboy boots paralleling organic vestiges along the mountain trail. Natalie is a musician who must be seen to be believed and when heard, is deeply felt. She has captured stories memorializing mythic memories while the reflections in her eyes announce the ardent subjects of her lyrics. Insipid frustrations that would befall a self-respecting rural empress sustain the songs, adding a vexatious irony to her tone.
After watching the YouTube videos and listening to her songs, you might also become an ardent fan of her work. An independent songwriter, she has performed at the Salida Art Walk and busked at the Sundance Film Festival, as well as touted an extensive European tour. She has already given a TEDx Talk on the power of questioning our reality and even had an acting debut in
Meet Me In Montenegro
. She sings in the song Most The While, "All of these words could just sit here on the page, or I'll use them all up in a rage while I try to get you to listen." However, it's not difficult to pique our ears once we take the first look.
Nataliegelman.com
Brian Rill is a teacher, performer and activist poet. Voted Salida's best musician 2009 and award winning Latin songwriter.