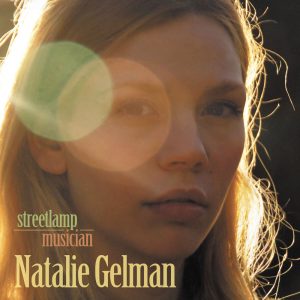 By Brian Rill
Natalie Gelman has become a working class heroine, tirelessly perfecting her craft over the many years. The guitar strumming starlet is a singer and songwriter who plays a starring role in all her own music videos. With natural talent and rare beauty, Natalie is the type of artist who is easily adored. Dedicating her life to the muse, she reveals many hidden gems locked inside bunkers beneath formality, perpetually seeking the soul of the matter. Her album Streetlamp Musician beautifully expresses a courageous finesse like a brilliant flower blooming in the sun, singing out glory for a new day. Natalie embraces the essential creative spirit effortlessly with a staunch compassion for those of us who could be easily embarrassed by revealing our true natures.
A startling sense of innocence and an imploring consolation combine to ingrain Natalie's character with an imminent gracefulness. She shares this pearl of understanding through melody, and marks heartbeats down in her rhythm. Her subtle essence sparkles with stardust, singing confidently but with a sense of humanity that is born of wounded loss. A brand new power is uncovered during every breath while shifting the mantle comprising Ms. Gelman's unceasing profundity.
Streetlamp Musician converts old black and white film into new colors. An upgrade to the classic acoustic singer-songwriter of the seventies like Joni Mitchell, Patti Smith and Carly Simon, Gelman presents this epic song style with sincerity and honesty. She becomes a young admirer, driven to walk mountain roads while crafting lyrical ballads. Devouring the essential vitamins of sunshine and laughter, she adds an immortal ingredient into her freewheeling tone.