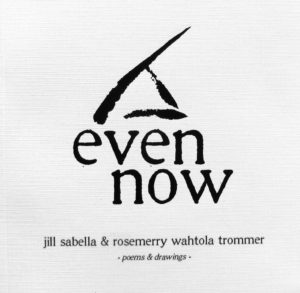 even now
By Jill Sabella & Rosemerry Wahtola Trommer
Lithic Press, 2016
978-0-9962170-9-5; 90 pp.; $20
Reviewed by Lynda La Rocca
It's called "synergy."
And it's a fancy word to describe what happened when Rosemerry Wahtola Trommer, Colorado's Western Slope Poet Laureate, and Snowmass-based visual artist Jill Sabella joined forces to create the poems and drawings of even now, a collection that epitomizes the idea of a whole becoming greater than the sum of its already-lovely parts.
Published by Fruita's Lithic Press, an independent small press founded by Colorado poet Danny Rosen, this 6×6-inch book, printed on heavy, cream-colored paper, is a collaborative exploration of the concept of "threes." It pairs 45 three-line poems by Trommer – whimsically referred to as "haikulings" – with an equal number of Sabella's elegant, Japanese-style, sumi-e black-ink paintings, all executed using just three brush strokes.
Continuing the tripartite theme, even now is divided into three sections subtitled "undoing another button," "given wings," and "unruly blossoms," lines that strike me as a poem in themselves. And, as Trommer and Sabella write in the book's introduction, this poetic and painterly "journey into three" forms a collection "in which the poem is one piece, and the image is another, and you, dear readers, are the third."
The serendipitous relationship between Trommer and Sabella began during the summer of 2014, when each was invited to participate in a collaborative art show in Carbondale. There, they discovered a mutual appreciation for simplicity, "a leaning toward less and the more that blossoms out of it." This led them to spend more than a year working together on the pairings for even now, about half of which began with the poem and half with the visual art.
I've always been fascinated by poets who can say so much using so few words. And – full disclosure here – having known Trommer's friendship for years, I'm quite familiar with her ability to turn a stunning phrase. But now I'm equally fascinated by Sabella's ability to say so much using no words at all. Her paintings perfectly reflect, and enhance, Trommer's quietly powerful poetry.
Frankly, I was hooked from the very first pairing:
my heart an apple blossom
afraid it doesn't know
how to become an apple
The accompanying drawing, done in three circular brush strokes, imaginatively conveys both the idea of a flower opening and the unity represented by a circle. But because each brush stroke is separate, it also generates a sense of aloneness, the ache that comes from never feeling quite right enough or good enough.
Here's another of my favorites:
slipping this love letter
under the narrow gap
of the wrong door
This poem is accompanied by an image that reminds me of a welcome mat, surmounted by an envelope-like line about to slide, irretrievably, beneath an unfortunate choice of doors, a simple act that will change – everything.
Let's face it: Collaborations are risky. We may click with someone on a personal level only to find that we've opened the "wrong door" when it comes to his or her creative vision.
Fortunately, the opposite happened with even now. This gem of a book is truly brilliant. And I hope it's just the first of many collaborations for these two talented artists.