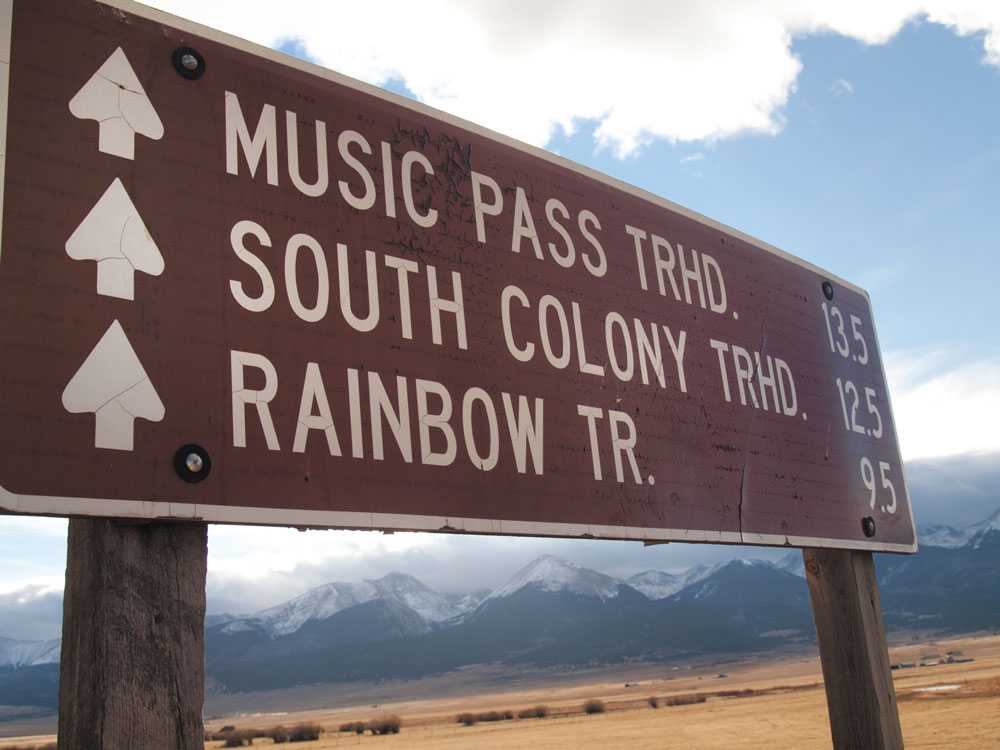 Story and photo by Ericka Kastner
Some of the best places in Central Colorado become even better in the stillness of winter. Cold temperatures and deep snow often mean fewer people, ice sculpted over creeks varying in appearance daily, and trees cloaked in frost creating the illusion of a magical wonderland.
At 11,446 feet in elevation, Music Pass is one such place. In the summer the road is heavily traveled by ATVs and dirt bikes, and Front Range visitors flock to the area for camping and hiking near the southernmost end of the Rainbow Trail. But on a recent winter day, I had the place all to myself. My pup and I parked at the Grape Creek trailhead and, donning snowshoes, trekked up the mostly snow-covered road towards Music Pass amidst blessed tranquility. To the north, the jagged peaks of South Colony Lakes and Broken Hand Peak beckoned me to plan a backpack route next summer. Looking south and west, the road ahead was flanked with wide open, high mountain meadows illuminated with sunlight.Aptly named for the musical sounds said to be heard blowing through the mountains in the area, Music Pass is an east-west route over the Sangre de Cristo Mountain Range to the Great Sand Dunes Preserve. The pass was once traveled by Zebulon Pike and his U.S. Army expedition during the winter of 1806-07 on their journey southwest to explore the boundary with New Spain. A sign at Grape Creek shows details from Pike's daily logbooks as to his route over the range during which several men were left behind, likely due to rough terrain and cold temperatures. His December 25, 1806, log entry reads, "… 800 miles from the frontiers of our country, in the most inclement season of the year, not one person clothed for the winter, many without blankets …"

At the top of the steep and rocky 4.3 mile-long pass, there are views of neighboring thirteeners Cleveland Peak, Tijeras Peak and Music Mountain. Summer travelers may continue on to Upper and Lower Sand Creek Lakes. In winter, any portion of the route is a glorious snowshoe hike or nordic ski tour (for those adept at steep downhill turns on skinny skis). On your return trip, be sure to look to the south and east for expansive views of the Wet Mountain Valley.
Getting there: From Westcliffe, take CO 69 south 4.4 miles to CR 119, turning right. At 5.3 miles on CR 119, the road jogs left. Follow the signs for Music Pass and FSR 119, continuing south another 4.6 miles on an easily passable gravel road until reaching a cattle guard at the National Forest boundary marker. In winter, park here at Grape Creek Campground. In summer, you may drive 4WD vehicles an additional 2.9 miles to the Music Pass Trailhead. The summit is 1.4 miles beyond the trailhead and is passable only on foot.
Places columnist Ericka Kastner is a lover of truly wild places and has been known to hum a little Johnny Cash while she hikes. View her work online at erickakastner.com.