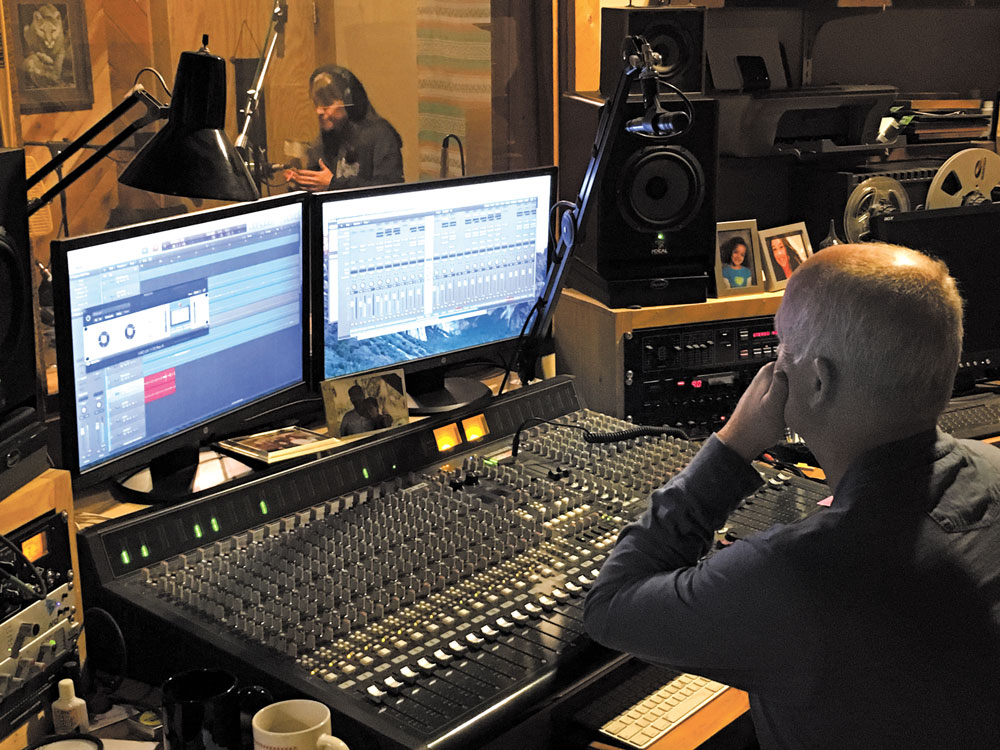 By Anthony Guerrero
In the early 1980s, Don Richmond and his friends played music in a location next to some rowdy canines. The howling dogs made an impression, and some of the musicians suggested should Richmond ever open a music studio it should be called "Howlin' Dog Records."
A short while later Richmond did in fact begin operating his own record company, called it Howlin' Dog Records, and the name stuck.
Despite the name, the recording studio is actually located in a very serene location near Alamosa. "It's really peaceful and quiet here. There's not many interruptions, which is great when we're recording music," said Richmond.To locate the studio, one must travel outside of the city of Alamosa and then make several turns on county roads. Adding to the uniqueness and serenity is the fact that the record company is located inside an old barn on the property of Don and his wife Teri McCartney which they purchased in 2008. Before then, the music was produced in a studio within city limits. Richmond says the new location is definitely better for his purposes.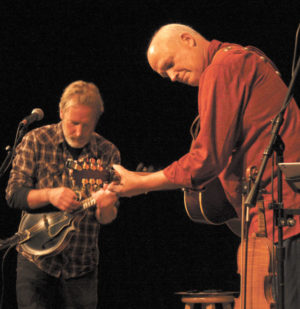 Don't let Howlin' Dog Records' remoteness and rural location fool you, however. The barn is full of some of the best equipment in the industry. "We can produce the same level of quality product here as they do in Nashville," said Richmond.
As a testament to this, many of the most well known musical acts in a 150-mile radius use the facilities and collaborate with Richmond. The artists who have used or are using the facilities include Bob Livingston, 2-Bit Palomino, Bob Cheevers, Don Conoscenti, Michael Hearne and Shake Russell.
These artists choose Howlin' Dog not just because of the location and quality productions, but also because of the other great services offered at the studio.
Richmond grew up in a musical family. "If you were in my family, it was assumed you would be in music. My parents were very supportive. I played the trumpet in high school. I've been lucky to be able to make a career out of it. I built this studio also so I could do something different and not just have to rely on playing gigs every night and weekend. If I had to do solely that, I might have chosen a different path. The studio has definitely helped," he stated.
Richmond's passion for music gives other artists an amazing resource. He has learned to play a host of instruments including acoustic and electric guitars, banjo, mandolin, fiddle, dobro, pedal steel guitar, lap steel, harmonica, accordion, trumpet and more. The outfit also has a ready list of local and remote musicians who can contribute in-studio or through file sharing. "Whatever we need to do we can probably make it happen," says the Howlin' Dog website.
The capabilities certainly don't stop there. Richmond commented that in the early '80s, music was recorded on 8-tracks, then cassettes and finally progressed to CDs in the '90s. Since then technology and computers have certainly enhanced the process.
Today he can provide powerful microphones, analog boards and processors. "We feel very solid with our capabilities here." For the savvy in musical terminology, that translates to the studio being equipped with Logic Pro X on a Mac Pro Quan Xenon Processor, Sonar 8.5 software, Allen & Heath GS-R24 hybrid analog/digital mixer, Focal Solo 6 Be monitors, Otari MX-5050 analog reel-to-reel, Universal Audio LA-610 Mk II and Neumann U-87 microphones. This is only a very limited list of the many services and equipment offered.

Since Richmond has these impressive musical tools at his fingertips, he is able to help musicians at all levels of the production process. Musicians can use his services to record in-studio, live, on stage and employ remote tracking. He can also do overdubbing and add extra parts. Howlin' Dog Records can help an idea turn into a complete and spectacular arrangement.
Richmond states that the mission of his studio is simple. "I want it to help people (including me) get their music out. In order to do this well, this studio has to be affordable yet put out an excellent product that can hold up to any comparison. I think we consistently achieve this goal. Also, the general vibe and approach needs to serve the music and creativity in general with a relaxed, comfortable and enjoyable atmosphere."
His philosophy is that music is something that helps human beings remember why it's worth being alive. Richmond gets great joy out of participating in the process, either as a musician or as someone helping to record another musician's creative ideas.
"There is a magic that moves in as a few people who have set aside time to work toward putting out something fine (as in a studio) toss around their ideas and experiment with them. To me, the magic is built in to the process, almost as if it lives in the space between the people …"
"All the equipment is a means to that end, and in that sense, all the equipment is secondary. Ideally, the equipment and the process is as transparent as possible – you don't even see it. It's just there to serve the music."
Anthony Guerrero is an award-winning journalist in the San Luis Valley. He likes taking trips to get lost under the bright lights of the city