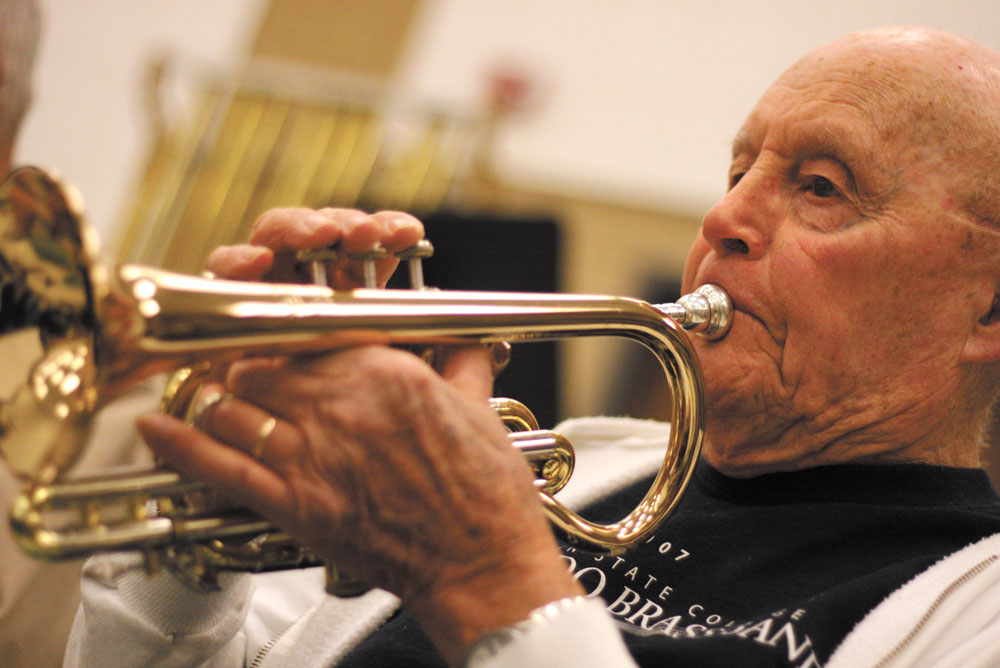 By Chris Rourke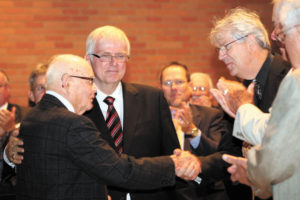 For the better part of a century, music has been the lifeblood of John Kincaid. The Western State Colorado university professor emeritus has devoted his life to uniting people through melody and sound, and the legacy that he will leave behind is forever etched on the concert venue at Western's Quigley Hall that bears his name.
Kincaid – now 96 – still resides in Gunnison. His kind blue eyes sparkled as he retold stories from his past recently. His hands are strong and his fingers straight, fortified by decades of playing cornet and other instruments. His words came slowly, but his mind is still sharp and clear.
Musical Roots
Kincaid spent his childhood years in La Veta, Colorado. Through music, he found his way out of his small town and landed at Western State Colorado University. But as many who were a part of the Greatest Generation, Kincaid's life took a turn with the outbreak of World War II. Pearl Harbor had been attacked, and Kincaid – a junior at Western studying music – enlisted in the U.S. Marines.
As a member of the third division, Kincaid was not only a stretcher bearer in an assault battalion, but a bandsman whose job was to provide a musical backdrop and cadence to the military action. He saw first-hand the Stars and Stripes raised atop Mount Suribachi on the island of Iwo Jima. He still vividly remembers his time spent in fox holes – the sounds that surrounded him – and the arms he bore. He described perhaps his finest hour of service, which came during his departure after two and a half months. "I was one of the last to leave," said Kincaid. "I stood there and played taps over the graves of those who had been lost."
Discovery of a Sound
During his time in the South Seas, Kincaid was introduced to a sound which would lead him to leave a legacy in his path – British Brass Band. British Brass Band is unique in that there are no woodwinds or strings included in its sound, simply four levels of brass instruments, soprano through bass, which harmonize together.
"I was thoroughly intrigued by the sound," he explained. "From top to bottom it melds into a sound that is very different from the woodwinds."
Kincaid returned to Western after the war and finished his degree. There he met his wife Georgie.
"We were married a very long time, but not long enough," Kincaid said. Georgie Kincaid died 18 months ago. Together, he said, they were a team during his musical career – 12 years of teaching music at the junior high and high school level in the San Luis Valley and in southern Texas. Kincaid returned to Western in 1961.
The tenets and the tenacity learned in the Marine Corps Kincaid took into teaching.
"He took students under his wing and insisted they produce. It was do or die," said Steve Asheim, a long-time conductor of the Colorado Brass Band, which was begun by Kincaid after he returned to Western. "If you had two bad lessons in a row he would call you into his office and talk about changing your major."
In 1974, the Kincaids traveled to New Zealand to study the sound of the British Brass Band. Upon his return to Gunnison, Kincaid formed one of his own.
Bonds Made of Brass
The Colorado Brass Band – comprised of players and music instructors from around the world – gathers each summer in Gunnison for a week. Its creation by Kincaid has made him a legend throughout the country for his band-leading and playing.
"I started one band and it led to hundreds of them," Kincaid said of the growth in popularity of British Brass bands.
But more than just establishing a sound in the United States that has formed a bond with musicians abroad, Kincaid has formed friendships along the way. Not only brass band players but Western music faculty remember the kindness the Kincaids offered.
"John and Georgie invited me on jeep trips to Gunsight Pass to pick raspberries, taught me to cross-country ski on the meadows near their house and invited me for Sunday dinners," Western Professor Emeritus of music Martha Violett shared.
"Music – as we do it – is a binding thing for people," Kincaid laughed. "We're clannish. You tend to gravitate to each other because no one else understands us."
Kincaid maintained an office at Western long after his retirement in 1986. He could be seen assisting students by playing duets with them. He said he believes the key to a successful music career is to continue to play. Not only does it improve one's skills, he said, it is good for the soul.
"It fills something inside of you," he said.
During Western's homecoming weekend this past fall, the new Quigley auditorium was officially named the John and Georgie Kincaid Concert Hall. Kincaid attended and was surrounded by friends.
"It never dawned on me that I would have my name on a concert hall like that," Kincaid said with a childlike wonder. "I was just a kid from La Veta, Colorado."
Chris Rourke lives in Gunnison and tells people that she works for the Gunnison Country Times when, in fact, she secretly sneaks out of the office most days to go ride her horse.