By Christopher Kolomitz
Mankind has always found the night sky intriguing, and a base foundation of science is centered there. The movement of sun, moon, earth and other planets is especially visible here in Central Colorado, where low population, low humidity and nearly 300 totally cloudless nights create perfect viewing conditions.
The crisp air and silence of a deep winter's night can leave a person literally breathless. Tilt your head to the heavens and the awe becomes even greater when the Milky Way shines like a ribbon across the sky. Summer camp trips into the woods often become dotted with recollections of meteors, full moon adventures and philosophical starry night discussions.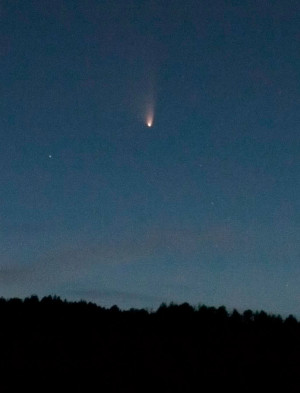 As the appreciation of dark skies has grown, so have the tools to protect and view them. More people are buying advanced telescopes, electronics and other sophisticated imaging equipment. Social media has made a boom of stargazing meet-ups, and access to educational information has never been greater.
Lighting codes often specifically outline types of lighting allowed on a person's property and restrict how much can drift over into an adjacent property. That "light trespass" can be extremely frustrating in rural parts of the county, where obnoxious lighting comes from a neighbor's barn, house or workshop. Planners in the region are adopting measures that call for damaged fixtures to be replaced with dark sky-friendly ones.
Perhaps the greatest amount of work has been done in Custer County, where the magnificent night sky has plenty of admirers. The Dark Skies Wet Mountain Valley group has an impressive track record of working at public and private locations to protect the heritage of the valley's dark sky.
Streetlights that once cast light upward within the town of Westcliffe have been switched out, and lots of work has been done at county facilities to upgrade poor lighting techniques. The local supermarket shielded their exterior lighting, and the school district has taken steps too, all thanks to the work of a dedicated bunch of volunteers.
In Chaffee County, the current residential development standard adopted in 2003 calls for eliminating glare and minimizing light trespass. However, new land use codes that are under consideration are expected to be finalized in early 2014 and will call for shielded and downcast lighting in all new residential or commercial developments.
The move has been long recommended in the county's comprehensive plan, according to county officials, and has been in discussion for years as the new code was being hammered out. The idea of working toward a darkening sky was so popular, even the strongest supporters of private property rights were not opposed to the language, county planners said.
Gunnison County adopted rules in 2004, and they published a handy six-page handout to explain the rules and offer suggestions for lighting retrofits. Ground-mounted flood lighting of a structure is prohibited, there can be no light poles taller than 35 feet, and any bulb that is 60 watts or greater needs shields or covers.
Central Colorado has a tremendous asset with its dark sky, and there are a handful of opportunities to learn more about what's circling above. To learn more, check out these groups:
Arkansas Valley
Astronomical Society – This group of local star watchers hosts viewing parties at a private location northwest of Salida. Made up primarily of Chaffee County residents and others from the area, the group will also assist people who have telescopes but need a little help getting started. This month, AVAS hosts their star viewing party on Dec. 21, which also happens to be the winter solstice. The event is planned for a couple of hours; if you miss it, don't worry, because the group gets together almost monthly. Contact Jim Konowitz at 719-539-6839 or visit the AVAS website at www.arkvalastro.wordpress.com.
Cloudbait – This observatory in Guffey was started in the mid-1990s by amateur astronomer Chris Peterson. While there is little to physically see at the site, Peterson's website is a tremendous resource. Much of his work is done tracking meteors in collaboration with the Denver Museum of Nature and Science. A series of tracking cameras across the state use fisheye lenses and computer software to watch for meteors. Peterson then puts together witness reports and information from the cameras to determine the track. He mentors science at the Guffey school, where there is a large telescope that aids in education and community outreach. "Here in Colorado, people are outdoors oriented," said Peterson. "Most people understand what a dark sky is. People can appreciate the value of a dark sky. They understand if they have been out in the woods, and what we lose." Visit the Cloudbait website at www.cloudbait.com.
Zacheis Planetarium and Observatory at Adams State University – This gem is located on the campus of Adams State University in Alamosa and is run as part of the astronomy program at the school. The planetarium was renovated in 2012, and its 24-foot dome seats 45 people and is now completely digital. When the university is in session, the planetarium hosts a variety of free shows that focus on astronomy topics. During December, shows stop while students are on break but resume in January with all-new titles and topics. Additionally, there are construction plans for this spring to construct an observatory, complete with a roll-off roof and adjacent control room. To see a schedule of activities visit www.blogs.adams.edu/zacheis/.
Gunnison Valley Observatory – Closed now for the winter, this observatory near Gunnison features the largest public telescope in the state, a 30-incher. Volunteers at the observatory offer Friday and Saturday night programs, a lecture series, smaller telescopes and many other special events. The summer viewing season usually starts in late spring and continues until mid-September. There are plans in the works to build more buildings and purchase additional imaging equipment. When the observatory is open, there's hardly a better resource in the region. Visit www.gunnisonobservatory.org for more information.
  Christopher Kolomitz is a freelance journalist and small business owner living in Salida. He remembers as a child watching shooting stars on the plains of eastern Colorado.