Western State Colorado University graduate and Gunnison resident David Wiens has won two World Cup Mountain Bike races, two U.S. Mountain Bike National Championships and six consecutive Leadville 100 races. In 2000, he was inducted into the Mountain Bike Hall of Fame, three years after his wife Susan DeMattei's induction.
This year, WSCU has hired David to run its new "Mountain Sports" program.
Colorado Central: Where did you grow up?
David Wiens: Suburban Denver.
CC: When did you first start racing mountain bikes?
David: My first bike races were mountain bike races in Alaska, of all places, in 1986.
CC: Do you still race competitively?
David: After racing my eighth Leadville 100 in 2010, I took two years completely off from racing. I had retired in 2004 and then pretty much had a second career between 2007 and 2010. I needed a break. However, this past season, I began doing some races again. I did the Leadville Race Series events in Austin, New York and Lake Tahoe. I also raced in the Firecracker 50 in Breckenridge on the 4th of July. I love to train and I had a blast racing. I'll probably race a similar schedule in 2014.
CC: What prompted you to attend Western?
David: I wanted to go to a school in the mountains that was near a ski area that had steep, natural terrain and was also near top-shelf whitewater rivers. Along with my academic pursuits, I was completely obsessed with skiing and kayaking. Mountain biking was just starting to be on my radar at this point. Western was the perfect choice with Crested Butte Resort just up the road and rivers all around. Little did I know that I would be fortunate enough to get to race mountain bikes during a very special time in the sport's evolution.
CC: Why did you decide to settle in Gunnison?
David: I signed my first pro contract to race mountain bikes during my senior year at Western. The training around Gunnison was perfect. I still skied Crested Butte Resort hard in the winter, and I could fly out of the airport, which was less than a mile from my house, to anywhere in the world. All of that, combined with my love of public lands and small-town living, has made Gunnison an ideal place for me to live for nearly thirty years.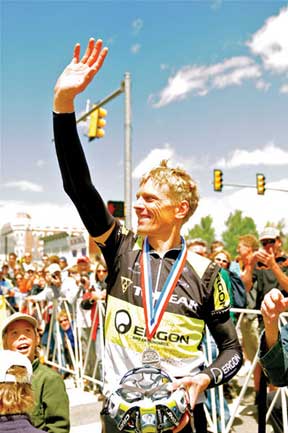 CC: You once beat Lance Armstrong in Leadville. Now that the revelations of his past drug use have surfaced, what are your thoughts on him?
David: I don't really know Lance Armstrong, so I don't know what his journey has been like. I'm sure his life has changed with all of the revelations, but I don't give that much thought. All sports have the specter of PED (performance enhancing drugs) use hanging over them. Cycling just happens to be the poster boy, if you will, for drug use in sports. It's come out now that we were lining up and competing against PED users in mountain biking since the 1990s, but we had a pretty good idea that this was happening at that time; only now have those suspicions been confirmed. I guess it doesn't bother me that much, because being a champion was never a huge goal in my life.
I have always liked to challenge myself and see how good I can be, but I think I do it more for myself than for others, or for the notoriety that can come with it. The most important thing to me is sleeping well and being able to look into the mirror for the rest of my life.
CC: What is the hardest thing about racing the Leadville 100?
David: The hardest part for me is the tension associated with all of the non-training aspects of the race. For me, the training is the easiest and most enjoyable aspect of this or any other race. Bike preparation is huge and vital to success, in my opinion. You're trying to ride the lightest, fastest bike possible, which means you're probably running really lightweight tires, wheels and other components. I second-guess my choices constantly leading up to race day. Then, having your race day nutrition and crewing strategy dialed in also requires a good bit of planning. Since you only have to finish on the original frame and forks, you can have nearly an entire bike with your crew: spare wheels, spare seat and post, pedals, chain, derailleurs, etc.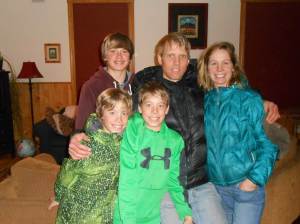 CC: You have three children. Would you encourage them to enter professional sports if they chose that path?
David: If they have a passion for something, I would never discourage them from pursuing it. But with that being said, all sports today are so highly evolved that it takes an unreal amount of commitment and dedication, as well as some good fortune along the way, to be successful at the highest level. Also, in my opinion, regardless of what we read and hear, PED use, particularly in those sports where they offer the biggest advantages, is still prevalent and always will be. It's simply the nature of any competition that is fueled by money and suspicion. Honestly, I'd rather see my kids enjoying a variety of sports on a healthy, fun level than to have them staring down the realities of what it takes to be a pro athlete today.
CC: Do you find raising children interferes with your training schedule?
David: Not really, but it depends on how you look at it. I could look back and say, "If I hadn't gone on those training rides, that could have been time spent with my kids." I think that no matter how it shook out, if you are a dedicated parent who loved being a parent and spending time with your kids, once it's in the rear view mirror, you'll wish you had spent more time with them. All things considered, including my own selfishness, which is a big part of training, I think I've spent a good amount of time with my kids.
CC: What does your training schedule look like?
David: Right now is mid-November and it's a strange time in snow country, because what you can do outside is dictated by the weather and snowfall. For the last five or six years, we've been able to ride trails until at least Dec. 1. This year is shaping up to be the same. I consider mountain biking and road riding to be the low hanging fruit for training and exercise because it requires the least amount of time, since you can simply roll away from your house. Around here, once we can't ride anymore due to snowfall, most of us put our bikes away and switch over to skiing, all different kinds of skiing.
Skiing at Crested Butte Resort is one of my favorite things to do, and you can get a killer workout on that mountain between skiing the steeps, doing Phoenix Bowl laps and hiking the peak. I also enjoy Nordic skiing and backcountry touring. The challenge with all of these is that they take so much longer, due to the approach in a car.
Earlier this fall, I also had a great start on running legs and getting into the weight room 2-3 times per week but I lost all of that a few weeks ago. I'll lift sporadically throughout the year, usually in the winter, but I also lifted during my serious Leadville prep from 2007 to 2010. It's just three sets of 15 with light weight of a variety of upper and lower body stations: squats, bench, leg press, military, calves, etc. I go directly from one set to the next, alternating upper and lower body; no rest in between. This is mainly because I want to get out of there. Regardless, it still takes an hour. I never want to go into the gym but am always stoked that I did once I'm done. This is important to me mainly for achieving well-rounded strength and for injury prevention, which leads into probably my most consistent "training" activity during the winter: adult hockey. I've been playing in our town league for almost ten years now, so I really should be a much better player than I am. But I love it and it's actually a great workout – nothing but intervals, intervals, intervals. Then, as we can, we'll dig our bikes out and start riding again in the spring.
CC: When did Western State Colorado University approach you about the Mountain Sports program?
David: We call it Western, and they approached me late in 2010 asking me what I thought it would take to compete with Fort Lewis in collegiate cycling. I did some research and talked with Matt Shriver, the Fort Lewis coach at the time. My takeaway was that competing with Fort Lewis would be very hard! The culture of collegiate cycling in Durango is strong and deep, and that program drove the recent evolution of collegiate cycling. I posed the question: do we need to compete with Fort Lewis to accomplish our goals? What were our goals? I also felt like recruiting pure cyclists to Gunnison would be bringing students to a place that wasn't ideal for them pursuing their passion, as riding year-round here is difficult at best and close to impossible most winters. I suggested building a strong Division 2 mountain bike team and stocking it with students who love to ride but also want to put their bikes away and get out their skis and snowboards.
While Durango has a stronger cycling culture than Gunnison, our skiing and snowboarding opportunities trump theirs in similar fashion. I suggested forming the Mountain Sports program and competing in a variety of sports that are a perfect fit for our location. They offered me the position in the summer of 2012, and Mountain Sports now has the cycling team, and ski and snowboard teams that compete collegiately in the USCSA, as well as in non-collegiate comps in Big Mountain, Skier and BoarderCross, Park and Pipe, and Nordic; in what we call Endurance Ski, which is Ski Mountaineering (also called Skimo or Rando Racing); and in epic endurance ski races like the Elk Mountain Traverse, Aspen's Power of Four race, the Gothic Mountain Tour and the Sneffel's Half Loop. This fall, we also started the first-ever collegiate trail running team. Collegiate trail running doesn't currently exist, but it seems like there's a great opportunity there to establish a new sport.
CC: Tell us about Michael Johnson.
David: Michael was the force behind the formation of the Mountain Sports program. If it were not for his leadership and his personal financial contributions, as well as those from our partnership with his business, Herbalife, the program would not exist. We've known each other for a few years now and talk regularly on the phone.
Last summer, I was able to sit down with him in Leadville and talk in detail about the Mountain Sports program. He's a Western alum and a driven man who has a ton of passion for outdoor sports. He loves riding bikes (a Leadville Trail 100 veteran) and skiing, and when he's not on his bike or on the slopes, he runs the Fortune 500 corporation Herbalife. His fitness is off the charts, which is no simple feat when you consider the demands of his professional life. Last year we almost went on a cat skiing trip together, but we were skunked by the weather. I know he's planning on riding in our West Elk Bicycle Classic one of these years.
CC: You've won two World Cup races, two U.S. Mountain Bike National Championships and six consecutive Leadville 100 races. Anything to add to that? Will you be racing Leadville again next year?
David: I was fortunate to be on the team that won the Adventure Racing World Championships in Norway and Sweden in 2006. I was also on the team that won the intramural flag football championship at Western in 1989. I have been on a few league champion adult town league hockey and flag football teams, too, including one in hockey last winter. It's fun to win, especially when you know you have given it everything you have and competed with dignity and integrity.
But keeping a healthy and positive perspective on competing and winning is of utmost importance to me, and it's something that I stress to my own kids as well as any other people – kids and adults – that I interact with.
CC: Thanks, David.