By Mike Rosso
Sherpa Café
325 E. Tomichi Ave.
Gunnison, CO 81230
(970) 641-7480
sherpacafegunnison.com
Open seven days a week
A few years back, in my Durango days, I had a roommate from Nepal named Bindeshar. He owned a Himalayan gift shop downtown but hoped to someday open a restaurant there. Often, he would try out his Nepalese and Indian recipes on me, usually in the late hours of the evening after I'd returned from work. I'd walk into the house and succumb to the smell of exotic curries and spices, which he imported along with the gifts for his shop. There was usually at least one curry dish, tasty rice and a Nepali dahl (lentil soup). Whether I'd eaten earlier or not, I couldn't resist the offerings on the stovetop and, to the disadvantage of my waistline, would indulge in his succulent meals.
Eventually Bindeshar moved to town, but he never did open a restaurant there. Ever since, I've craved those exotic dishes, and I try to find a Nepali restaurant whenever I visit a city in order to get my curry fix.
But in March 2013, the Sherpa Café, which first started in Crested Butte, opened a second restaurant in Gunnison. The first Café was opened in 2010 by Pemba Sherpa, a native of Nepal. He also runs Alpine Adventures International, which offers guided treks and other outdoor adventures. I needed an excuse to try out the new Café.
So on a sunny November day, a friend and I traveled over the Continental Divide on a photo outing, with the not-so-subtle goal of dining at the Sherpa. We arrived for lunch; a young girl of apparent Himalayan lineage popped up from behind the counter and with a sheepish grin, led us to a booth. The menus arrived, and the first thing we noticed was the variety of dishes, representing Nepali, Tibetan and Indian cuisines. The second thing we noticed were the reasonable prices.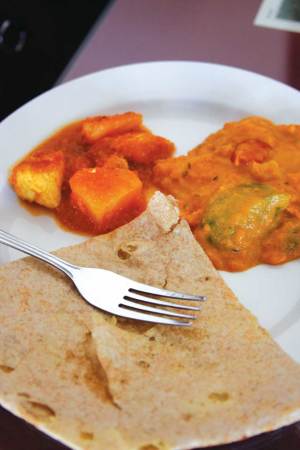 We began with an appetizer and ordered Panir Pokara, a homemade white cheese, coated with spiced chickpea flour and lightly fried. The five sticks of cheese served were mostly underwhelming, but the tomato chutney for dipping was exotic and flavorful.
The extensive menu offered naan breads, commonly found in most Indian and Himalayan restaurants and baked in a Tandoor oven (a cylindrical clay oven), but we instead ordered the Aloo Paratha, a whole wheat flat- bread stuffed with seasoned potatoes. We also decided on a vegetable curry dish and Chicken Jal Frezi, a tomato and onion cream sauce with cumin and lemon.Before the entrees arrived we were each served a cup of dahl, and from the first spoonful, we knew we were in for it. The soup was satiny and smooth, not too spicy, with a subtle taste of lentil.
Then came the entrees and a generous helping of basmati rice. I dove into the curry dish, which contained red and green bell peppers, carrots, broccoli and potatoes in a rich yellow curry sauce. The Jal Frezi, was mostly chunks of chicken in a rich red sauce, which was ordered medium on the spice scale. The serving of flatbread was generous and drizzled with butter. We managed to eat half of the meal and took the rest to go.
When I left the restaurant, thoughts of my old housemate came up, and I spontaneously asked the staff if they knew him. (The Nepali, especially those in the United States, are very tight.) To my surprise, both the owner and chef knew Bindeshar. They said they had heard he was living in Hawaii, doing what he loved – cooking.
Would the Sherpa Café consider opening a third restaurant in Salida? Wishful thinking. Namaste!