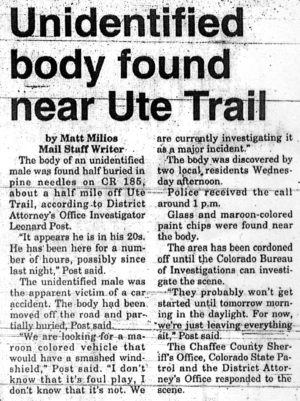 By Daniel Smith
For a journalist, some stories, even those which start relatively small, can have long "legs," and can emotionally touch you.
The most intriguing stories, naturally, are those that involve human drama. But throw in a strange twist of fate connecting two seemingly unrelated events and you have … well, stories with a strange twist of fate.
This story begins 21 years ago with a local drug investigation that resulted in brutal death, and a later murder trial intertwined with a dramatic accident resulting in another death and a compelling story of grit and survival – in two parts.
In early 1995, 24-year-old Richard Johnson never knew it, but he could have died twice – a second time in a plane crash – had he not been murdered beforehand.
Johnson, a reputed illegal drug user from Alamosa who had reportedly become an informant for local and state drug investigators, had his throat cut, his body dragged off County Road 185, eight miles up Ute Trail and partially buried in pine needles.
The Mountain Mail reported at the time Johnson had turned an informant for the local authorities and the Colorado Bureau of Investigation and was involved in an ongoing investigation at the time he was slain.
He apparently died the night of Jan. 24, 1995. A trail of blood and marks from dragging were found, and his body lay near glass and pieces of metal from an apparent car wreck off the rural road.
The suspect arrested on Jan. 26 was 20-year-old Jeremy Nechol Denison of Salida. He and Johnson became acquainted while students at what was then Adams State College.
The Salida Police, Chaffee County District Attorney's Office, Chaffee County Sheriff, CBI and Colorado State Patrol Patrol all took part in the investigation. Denison was initially held on one million dollars bond.
The paper reported the next day that the debris at the scene had prompted police to search for a red car with a broken windshield and front end damage. The victim's red Pontiac Trans Am, with a large amount of blood inside, was recovered in Denver, not far from where Denison was staying.
Denison was identified by detectives through several witnesses involved in the drug investigation, according to then-Chaffee Sheriff Ronny Bergmann. Those witnesses placed Johnson and Denison together on the day the murder took place.

One was reported to have said Denison mentioned the two were going to Denver to visit his sister, and were seen driving away together in Johnson's Trans Am. Denison was arrested at a Denver residence. Johnson's blood-stained car was parked nearby.
On Jan. 30, County Judge Bill Alderton denied a motion from the defense attorney, Ernest Marquez, to supress evidence against Denison. The case went to District Court for a preliminary hearing and he was bound over for trial on two counts of first-degree murder; a second murder charge because it occurred during another crime, aggravated robbery, (Denison allegedly took money from Johnson and his car) as well as drug possession and sale charges.
A jury of six women and eight men, including two alternates, heard the trial starting in late September, presided over by Judge John Anderson of Cañon City.
District Attorney Ed Rodgers of Cañon City and Defense Attorney Theresa Cisneros provided jurors conflicting stories of what led to the slaying.
The Pueblo Chieftain reported at the time that Rodgers said the killing of Johnson was planned after Denison feared Johnson was an informant in their loosely-connected group of drug users and sellers. Rogers said Denison feared prosecution because Johnson was already in legal jeopardy for an earlier arrest, apparently for importing steroids from Mexico.
Cisneros countered that it was Johnson, an ex-marine known to have a temper, who attacked Denison after the two went into a remote area near Turret, allegedly to smoke marijuana, and that Denison killed Johnson to save his own life after Johnson pulled a knife on him and tried to run him down with his car after an argument turned into a physical fight.
Testimony included graphic details about Johnson injuries – cuts to his face, lips and nose, and the slashing of his throat across 11 inches and nearly four inches deep.
The Chieftain reported one witness said that Denison told two people days before the slaying they "would not have to worry about Rich in a few days."
The defense countered with testimony that Johnson threatened to take Denison to Mexico and kill him, after being told by another member of the drug group that Denison was the snitch.
After a lengthy trial, Denison was found guilty Sept. 29 of the two murder counts and other counts and sentenced to life in prison without chance of parole. An appeals court would later rule he could only be convicted of one murder count.
In writing about the trial at the time, the founders of this magazine, the inimitable Ed Quillen and his wife, Martha, described the proceedings as "a show trial" and questioned whether Denison received a fair trial, suggesting that the prosecution then was motivated to demonstrate a hard edge toward such drug cases.
A phone message to the CBI press office for information about this case investigation was not returned.
On the website JMail, which is designed to facilitate correspondence with inmates, Denison has a posting about himself, some samples of his artwork and comments about hoping to yet get a chance at freedom.
His explanation of his first-degree murder conviction:
"As far as my legal issues go, I am still trying to fight my conviction. It is hard to have your case heard when you are fighting from in here. I'll be the first to admit that I've done things for which I should have been locked up, but I was so young when I did these things. I was a dumb kid that went too far and made a mistake during a fight that ended with a man loosing (sic) his life," Denison posted.
"Murder is a stretch though and the sentence is not appropriate. I can only accept it and keep fighting. Though the hard thing to explain is that it wasn't anger that drove me, or jealousy. It was fear. I wonder even now if I'd be able to stop if the same thing happened again. Even at my age now, let alone when I was 20 years old. I only wish to have another chance to prove that I don't belong here, that I have something beautiful to share with the world, maybe I can find someone to help me get that second chance."
It might seem an all-too-typical crime story, with a victim, a perpetrator, a murder trial, a guilty verdict and a prison term. But long before Denison's trial began, this story took an another unexpected turn.
Johnson's body was to be returned to his relatives; first by being flown to Cortez on Feb. 8 and later transferred to Utah for funeral services.
Will Atkinson, a well-known local pilot and the fixed-base operator at Salida's Harriet Alexander Field, was hired for the flight. His friend and fellow pilot, Bill Reeves, was at the airfield and decided to go along that afternoon for the short flight and turnaround.
The next twist of fate we'll relate would take another life and demand of one man the exigency to survive despite a heartbreaking decision.
To be continued in the next issue.
Dan Smith is a former print and broadcast journalist who came to Salida to fish and write his way to inner peace.