by Ericka Kastner
Some might call it "the trail that gets forgotten." Most wilderness lovers traveling down County Road 390 near Granite are likely headed towards one of the many 14,000-foot peaks in the area. They've possibly never heard of Sheep's Gulch Trail.
At least I hadn't until yesterday, literally. A friend and I were on a quest for a gorgeous fall hike that would be rich with color and take us above tree line. He suggested Sheep's Gulch and I was immediately intrigued, as I love discovering new trails.
Sheep's Gulch trailhead is on the north side of CR 390, about 8.9 miles from its intersection with U.S. Highway 24. Even the two-wheel-drive accessible route to the trailhead is spectacular, and worth the drive alone, as it includes stunning views of Clear Creek Reservoir, historic cabin sightings along the way (check out Dawson Cabin about 5.8 miles along the road or the Vicksburg Museum at mile 7.2) and glorious valley vistas in the distance.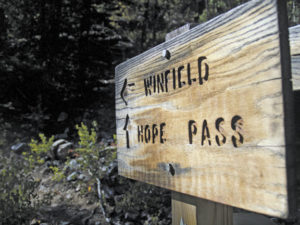 The trail itself climbs quickly and steeply. At .4 mile in, a sign clearly points the way west to the historic town of Winfield or north towards Hope Pass. The Sheep's Gulch trail follows the winding uphill route of Hope Pass through impressive stands of aspen trees, illuminated by the changing fall colors of crimson, orange and gold. Just below tree line (about three miles in), hikers will encounter the relics of a former sheepherder's cabin. Day hikers may wish to turn around here, but overnight backpackers may choose to continue over the pass, traveling down little Willis Gulch to Twin Lakes and the long-ago town of Interlaken.
Hope Pass offers views of Missouri Mountain, Mount Belford, Mount Oxford and Huron Peak and is described on the U.S. Forest Service site as the "crux" of the Leadville 100 foot race.
This is definitely one of my new favorite autumn hikes in Central Colorado. We found it necessary to bring along plenty of water for the pups, as we didn't encounter any streams along the trail. Additionally, hiking pole enthusiasts will be glad they brought them along for this trail, as the return trip back down to the car is steep and loose with scree in spots. I also imagine this would be a terrific and tranquil snowshoe hike in winter.
It's worth noting that Sheep's Gulch follows a portion of the Colorado Trail known as the Collegiate West, which splits off from the original Colorado Trail on the south side of Twin Lakes. This 80-mile section of trail was added in 2012 to include additional hiking mileage through the stunning Collegiate Peaks of Central Colorado. Sheep's Gulch also overlaps a section of the Continental Divide National Scenic Trail.
Getting to the trailhead: From the stoplight in Buena Vista, travel north approximately 9 miles along U.S. 24 to CR 390, well-marked as a turn for Clear Creek Reservoir. Turn west and travel 8.9 miles to the signed trailhead on the north side of the road. To view the trail in topographic detail, pick up a copy of the National Geographic Collegiate Peak Wilderness Area map #148.
Ericka Kastner thinks there's nothing luckier than getting paid to write about adventures.