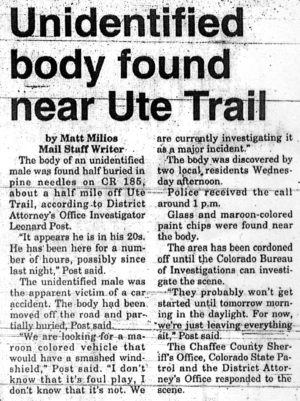 By Daniel Smith
For a journalist, some stories, even those which start relatively small, can have long "legs," and can emotionally touch you.
The most intriguing stories, naturally, are those that involve human drama. But throw in a strange twist of fate connecting two seemingly unrelated events and you have … well, stories with a strange twist of fate.
This story begins 21 years ago with a local drug investigation that resulted in brutal death, and a later murder trial intertwined with a dramatic accident resulting in another death and a compelling story of grit and survival – in two parts.
In early 1995, 24-year-old Richard Johnson never knew it, but he could have died twice – a second time in a plane crash – had he not been murdered beforehand.
Johnson, a reputed illegal drug user from Alamosa who had reportedly become an informant for local and state drug investigators, had his throat cut, his body dragged off County Road 185, eight miles up Ute Trail and partially buried in pine needles.
The Mountain Mail reported at the time Johnson had turned an informant for the local authorities and the Colorado Bureau of Investigation and was involved in an ongoing investigation at the time he was slain.
He apparently died the night of Jan. 24, 1995. A trail of blood and marks from dragging were found, and his body lay near glass and pieces of metal from an apparent car wreck off the rural road.
The suspect arrested on Jan. 26 was 20-year-old Jeremy Nechol Denison of Salida. He and Johnson became acquainted while students at what was then Adams State College.
The Salida Police, Chaffee County District Attorney's Office, Chaffee County Sheriff, CBI and Colorado State Patrol Patrol all took part in the investigation. Denison was initially held on one million dollars bond.
The paper reported the next day that the debris at the scene had prompted police to search for a red car with a broken windshield and front end damage. The victim's red Pontiac Trans Am, with a large amount of blood inside, was recovered in Denver, not far from where Denison was staying.