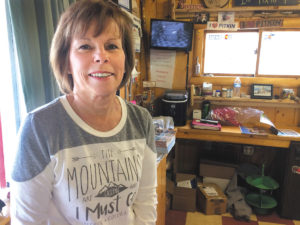 By Mike Rosso
In May 2015, we ran our first installment of the Day Tripping column which took us from Salida to Cañon City, over the Oak Creek grade to Westcliffe, down to Cotopaxi and back to Salida along U.S. Hwy. 50.
Earlier this past June, my traveling partner Dan Smith and I chose the opposite direction for our explorations. The original plan was to drive over Marshall Pass to Sargents, where we would hook up with U.S. Hwy. 50 and continue west, but rainstorms in the mountains the previous evening, combined with lingering snow caused us to nix that idea.
Instead, we drove west over Monarch Pass to Parlin where we turned north onto County Road 76 toward Ohio City along the Quartz Creek Valley. For those not familiar with this route, it offers beautiful and pastoral countryside along a fairly straight, well-maintained paved road, passing alongside old ranches, pastures and spectacular geological formations.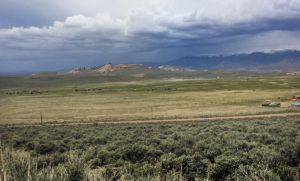 The road parallels Quartz Creek which eventually merges with Tomichi Creek near Parlin. The creek is formed by the merger of the north, south, and middle Fox creeks. Past the town of Pitkin, the road turns into unpaved Forest Service Road 765, which continues on to Tincup, a former mining town with a current community of summer homes. The route is very popular in the summer with ATV and OTV users so don't expect a tranquil getaway if you do the trip at the height of tourist season. Access to the west portal of the Alpine Tunnel, the Alpine Station is via a 4-wheel drive road over Cumberland Pass, FSR 839, off 765.
After a fun and informative visit with Kandy Nasso, co-owner of the Silver Plume General Store in Pitkin, we nosed about town for a while and headed back to the highway. (See Dan's article about the town of Pitkin on page 14).
Our next destination was the town of Saguache, in the San Luis Valley, but rather than take the paved Highway 114, just west of Parlin, we headed back east and adventured south on the Doyleville cut-off road, Gunnison County Road 45. Primarily a ranching access road, this remote gravel road runs adjacent to the northern branch of the Old Spanish Trail and in some cases, overlays it, according to Liz Francisco, archeologist with the Gunnison office of the Bureau of Land Management (BLM). It was built before the railroad as an easy access to the Tomichi Valley from the San Luis Valley and was actually paved for a time until the 1950s. After a slight reroute, it went back to being gravel.
The scenery along the road was breathtaking and there were times when neither of us could identify what state we were driving in due to the unusual topography and geology. Much of the drive was through isolated and rather barren BLM land, which sees some limited cattle grazing and apparently hosts a small herd of bighorn sheep, according to Francisco. Random two-tracks disappeared off into the landscape on both sides, mostly hunting access roads.
The road soon crosses into Saguache County becoming County Road 14PP, ending at Hwy. 114. Back on the pavement, we headed south through wooded Forest Service land and our next destination, the town of Saguache.
There we met up with Steve Stewart and Cathy Kent who recently purchased the Old Saguache Hotel on 4th Street and were eager to share tales with us (see my article on the Saguache Hotel beginning on page 18).
Steve is a history buff and talked a lot about Otto Mears and the Ute Indians who once inhabited the northern San Luis Valley. This prompted the article about Mears on page 8.
Saguache is a beautiful, tree-lined, former ranching town which struggles economically but has a vibrant population of old timers and newcomers. Folks who can no longer afford Salida or Crestone are beginning to scout out the town as possible new digs. The main avenue, 4th Street, got a makeover several years back and even boasts a new movie theater.
After lunch, Dan and I called it a day and headed back north on U.S. Hwy. 285, up and over Poncha Pass, and back home to Salida.