The sages tell us that everything is always changing, and in fact the Greek philosopher Heraclitus said that nothing endures but change itself. Thus is the case of Colorado's indigenous sport of pack-burro racing.
It began back in 1949 with a race over Mosquito Pass to Fairplay. Nearly seven decades later I'm beginning to wonder if perhaps organizers should have stuck with this original format, or perhaps should consider going back to it. Then again, I may be jaded because I've been along for the adventure for more than half of those seven decades.
In the years since this first race, the sport has grown to include separate events in both Leadville and Fairplay, as well as shorter races in other towns including Buena Vista, Georgetown, Idaho Springs, Creede and Victor.
The original rules remain largely unchanged. Each burro must carry 33 pounds of gear on a regulation packsaddle (whatever "regulation" means) and the gear must include a pick, pan and shovel. The burro must be led or driven by means of a halter and lead rope no longer than 15 feet. Riding is not allowed.
Over the years some rules have been adjusted slightly to allow donkeys larger than 53 inches at the withers to compete, and also to allow mini-donkeys to be run without the weight requirement. 
I was introduced to the sport in 1980 by Curtis Imrie, who crossed over the Great Pass this recent winter. That year I ran my first race in Leadville and finished last, earning the coveted "Last Ass Over the Pass" trophy. Since then I also have four or five winner's buckles from that race and seven first-place cups from Fairplay.
I think what drew me in initially and still holds my interest today was the idea of a human forging a bond with an animal and pitting that connection and trust against the unforgiving alpine environment and elements, as well as a handful of other truly badass competitors. There was the lore, and there was the dream of accomplishing the impossible – figuratively "catching lightning in a bottle."
This was the time Curtis would later term the "revisionist era" of pack-burro racing when actual miners with names like Joe Glavinick and Ken Chlouber were still among the finishers along with the likes of super athletes like Lee Courkamp, Clint Roberts and Ardel Boes. Old vs. new. It wasn't exactly the Hatfield and McCoys but there was a level of competitive tribalism rarely seen in sports.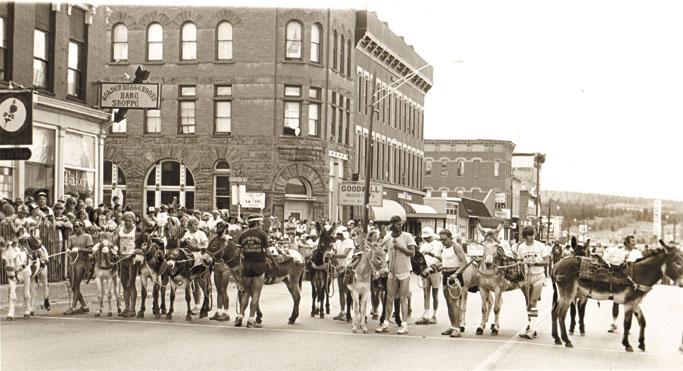 Also among this early crowd was a handful of determined women like Kelly Palmer Murphy and Susan Applegate, who in just a couple years opened the sport to an entire new cadré of women athletes, including Mary Gorman, Diana Koss, Mary Walter and Kendra Jeronimus. Today female entrants often outnumber the men, and some like Barbara Dolan, and later Karen Thorpe, have proven women can indeed outperform men at this sport.
Curtis was an enigma in his own right, combining the sensibilities he'd learned from the miners with those of the hardcore, endurance-athlete crowd, plus a dose of his own brand of athleticism adapted from his many years as a wrestler.
It was "burros, beans and brawn" back in those days and forever those years will remain in my mind as the true heyday of this absurd sport that I found as a young man, a 20-year-old journalism student at the University of Colorado. Pack-burro racing was at its core real, wild, kick-ass and gritty. Fewer than 20 entrants might show up at the starting line and every single one of them thought they had a chance to actually win. Because they did. There were only three races, and the shortest one was 22 miles at Leadville.
Central to this sport was the notion that one developed a working relationship with another living, breathing creature in an attempt to accomplish something rare. When Clint Roberts partnered to race a burro for the early burro-racing promoter Oscar Chapa, Clint wanted the burro with him for a season of training. Clint didn't own a truck or trailer, so he hitched a ride to Buena Vista where Oscar lived, and over the course of the next few days ran that burro back to his home in Winter Park, having a world of adventures and authentic experiences along the trail.
Where there's a will, there's a way.
Pack-burro racing was a truly authentic experience for me as well. While I could fill pages with writing about my early adventures learning this sport, I don't know that I will ever be able to capture in words the effect this had on my senses, my heart and my soul. Like many, I saw early on both the insanity and the value in building a lifestyle around this crazy activity, just as Curtis had done with his Little Menokin Ranch and burro-training camp at the base of Mount Harvard. Then again, life in the suburbs seemed equally absurd even without burros.
I bought a packsaddle before I even had my own burro, but that soon followed with the purchase of Jumpin' Jack Flash from Curtis. Then a trailer I called the "beer can on wheels" and a truck to pull it. Finding a place to live where I could keep burros and train them literally led me to where I live today. My life certainly would have turned out much more mundane had I not stumbled upon this sport those years ago.
Over these decades I have seen many things and many changes in this sport. But one thing I never banked on was that it would actually become popular. Today the miners are all gone. Instead we now see 60 to 70 entrants and most of them do not have a vast amount of experience with their own burro. Many of them talk in terms of this being on their "bucket list," a term that makes me cringe.
I see their pictures on Facebook with their burro- for-a-day and ear-to-ear smiles, and I think, "What is wrong with that?" Nothing, really. My intent is not to offend or belittle the accomplishments of this new breed of pack-burro racer. My concern is only that this epic sport is not some day relegated to the ranks of donkey basketball, outhouse races, pie-eating contests and other silliness.
Participation in the sport is booming with triple the entrants and more media attention than ever. Bestselling author Christopher McDougall has written about the sport in The New York Times several times in recent months. Just in this past week I've been contacted by two video producers who will be making films at this year's races.
But what they will be filming is something entirely different than what I discovered so many years ago. At 57, and with my 38th consecutive race in Leadville looming, I now have an appreciation of how those miners felt relinquishing their sport to a new breed of racers.
In the meantime, so long as I am able to continue in this improbable sport, I hope to help those who are looking for the authentic experience to find it. Change of course is as inevitable as it is enduring. And gratitude may be found along the trail.