By Brian Rill
From my experience as a songwriter, most love songs start as a series of passionate screams inspired by a beautiful muse, only to end in a desperate, stifled echo never to be heard by the intended recipient. The Heartstring Hunters however have a very different story. Started by husband and wife duo Carolyn and Daniel Hunter, they have collected some premiere musicians and forged an extensive Indy-Folk team. The songs act as a sort of dialog between two lovers as they pass musical notes back and forth strumming pathos symbiotically within romantic spirits everywhere.
Lead vocalist and lyricist Carolyn Hunter soars, stretching her voice into other dimensions where shadows of true love hide slumbering like dreaming dragons snoring through fields filled with smoke, while lounging atop unstable mountains of gold. Musically solid, their self-titled debut album is impactful and well-recorded. Acoustic chords strummed quietly ring with precision. Harmony vocals from Rachael Sheaffer shatter the subdued back beat and steady drum rolls. Tempestuous runs from a Fender Telecaster guitar touch upon the heavily-hooked verses. Daniel Hunter joins his wife on vocals for some truly heartfelt folk duets.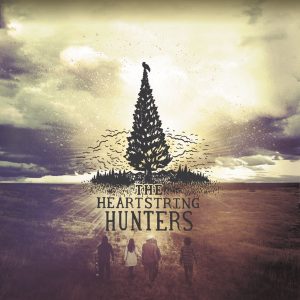 The Heartstring Hunters are a young energetic band who are taking on the world. Their blend of pop and folk create an energetic brand of music rarely heard amongst the more conservative folk-grass bands of the modern era. Eight songs make up the perfect balance of listening pleasure. The arrangements are painstakingly produced to expand pleasant hooks into the ear and pull the listener into their aural arena. The Denver music magazine Westword nominated The Heartstring Hunters as one of the best area folk bands. They have shared the stage with many well known acts from Colorado such as SHEL and The Leftover Cuties among others. They have played at the Telluride Mountain Film Fest, The Boulder Theater, Pagosa Folk and Bluegrass and the TedX conferences in Denver.
The self-titled CD was engineered and mixed by Mark Venezia, Jesse Zimmerman and Jim Wilson at Wind over the Earth in Longmont, Colorado. With a pristine production quality, this collection definitely makes for an easy listening experience that is also engaging and entertaining. Most of the songs are up-tempo, danceable grooves with a strong beat and multifaceted instrumental and vocal arrangements. This is a debut album from a young band and it crosses ones mind that the genre itself remains fresh, almost as if the band hasn't yet found the final formula of its own maturity. There remains a hint of childish discovery in the sound yet to be formalized into a specific style but also yet to be jaded by a sense of angst.
Overall, if you like the Boulder folk scene you will love this album. If you need an introduction to the independent folk genre coming out of the Rockies, then this album will be the perfect meeting place to form a relationship with a new Colorado band. If you really enjoyed seeing them live before, then buy this new release now!