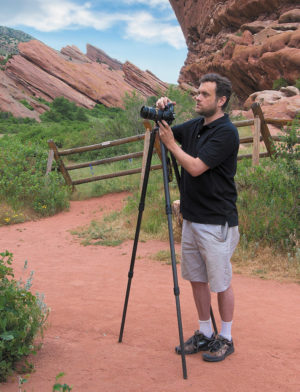 Grant Collier grew up in the foothills above Denver and spent much of his childhood exploring Colorado's Rocky Mountains. Grant took up photography while attending college in Los Angeles. He found endless photographic opportunities in the Desert Southwest while driving to and from L.A.
After graduating from college in 1996, Grant began a photographic career that had him following, quite literally, in the footsteps of his great-great-grandfather, the pioneer photographer Joseph Collier. Grant traveled throughout Colorado taking photos from the exact same spots where Joseph had taken his images over one hundred years earlier. These photographs were published in the book Colorado: Yesterday & Today in 2001.
In the following years, Grant continued photographing the Colorado wilderness, taking thousands of color landscape photographs. He has authored six more books on the state, including the large coffee-table books, Colorado: Moments in Time and Colorado's National Parks & Monuments.
In 2003, Grant began taking photographs at night, and this quickly grew into an obsession. His night photography has been featured in most of his recent books, including Moab, Utah by Day & Night and Collier's Guide to Night Photography in the Great Outdoors.
Although Grant turned his attention away from capturing then-and-now photos, his interest in Joseph Collier remained strong. Over the years, he collected many photographs taken by Joseph Collier through online auctions and trade shows. He was able to learn a lot of new information about Joseph Collier by doing research online, which helped make the publication of this second book of then-and-now photographs a possibility.
Grant also produces a Colorado wall calendar, a Starry Nights wall calendar, and an Ansel Adams mini calendar. His work has been featured in magazines across the United States and Europe and in art galleries throughout Colorado. More information on Grant's photographs and books can be found at gcollier.com and collierpublishing.com.