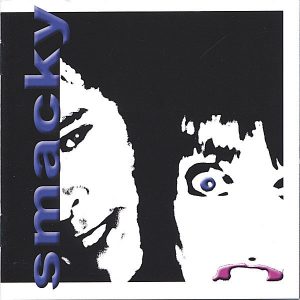 Reviewed by Brian Rill
Smacky, an independent band from Cleveland, Ohio, is a rare gem I have known and loved for many years. This month I'm pulling something out of my personal favorites and reviewing a really great band that put out a really great single album. The self-titled 2006 CD, Smacky, is like a cross between classic Rush vocals and Zeppelin guitar riffs. The band is made up primarily of vocalist and bass player Laura Van and vocalist and guitar player Jeff Scarborough. Don Krueger plays drums.
"Revenge, jealousy you'll be a part of me," Who's Crying Now is a song with a slow groove that starts the album off. Smacky's instrumental hooks and vocal harmonies are top notch and make the songs something to be savored. They paint a portrait of a darker fundamental vision of the world and of interpersonal relationships. Songs like Your Suicide bring the darkness to light with an up tempo meter "I'll be your suicide; I'll shut you up; dry your eyes. And when you hate yourself, I'll help you be somebody else. I'll be your do or die. I'll be completely on your side, not like those other guys; they'll mess you up and screw you." After every vocal refrain a hot guitar riff spreads over the song like butter.
The CD can be downloaded at www.cdbaby.com. It makes a great car ride or morning run mix. From beginning to end the tempo won't drop and the grooves just keep coming. After the tenth song, Like Harmony, there is a long space and then a backwards solo vocal harmony that tricks you every time, always startling and taking you by surprise. Sin City explores the underbelly of Vegas. The catchy tune Jeannie takes a look at the role of guns in our culture and the impact they can have in the wrong hands. "Just for fun, took your daddy's stupid gun. You should of thought of telling me. I can't believe that your daddy is so stupid he left a loaded magazine. You pulled the trigger Jeannie."
Every layer of sound is pristine and mixed just right so this CD sounds great turned up loud! The vocals are always smooth and the phrasing is perfect as the melody line bobs up and down and the singers hold the notes until they are stretched out to the right length to encompass the sultry tone found throughout this compilation. High energy and classic sound make this a remarkable collection. I heard the song
The Line
eleven years ago and listened to it over and over before I bought the CD. It has slowly become a classic among my favorite music groups. For the only freshman release from this band that after some investigation seems not to exist any more, it is definitely worth a listen! If you like strong driving guitar and smooth vocal harmonies then this is the right investment for you.
?
Brian Rill is a teacher, performer, activist poet and award-winning Latin songwriter voted Salida's best musician 2009.