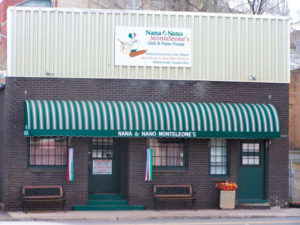 By Forrest Whitman

418 E. Main Street, Trinidad, CO
(719) 846-2696
Wednesday to Saturday, 10:30 a.m. – 7:30 p.m.

Waiting for a train in Trinidad, Colorado? The wait can be better if you eat at this little Italian deli. It's on Main Street about five blocks from trackside so you can almost hear the train whistling in.

The recipes have come down to the present owner, Fran, from the Monteleone family. The family has been in the food business in Trinidad since 1949. Fran has preserved dishes in the family since well before she purchased the business from John Monteleone in 1978. Today her daughter Kim and grandchildren Josh, Sydnee and Jesse can all be found working either at the small restaurant tables (nine of them) or in the deli. Some of the recipes came from Sicily by way of Fran's great auntie Minnie DeCristino and her parents.

Wandering down the narrow hallway (perhaps a bit crowded) and looking over the many deli coolers is a treat. The cooking smells are enticing too. The variety is a feast for even the uninitiated gourmet taste. I counted 22 kinds of cheese, including local specialties like goat and sheep cheeses. There are nine kinds of olives, all kinds of deli meats including extra hot capocollo, oval ham and Italian head cheese, along with sweets like Margie's cream puffs, cannoli and chile brittle.

That's just the beginning, and we can't forget handmade aprons.

I ordered "Fran's fabulous special spaghetti" served with both an Alfredo sauce and an ali olio. It includes a massive slice of Pueblo chili sausage for $12.25 (clams or Italian sausage are $10.95 and meatball only is $9.95). That includes a salad, and the waitress keeps the Italian bread and oil coming. I don't know who could eat all that spaghetti! My buddy ordered a sandwich on a hoagie roll. That runs $6.95 and includes capocollo, salami, ham and provolone cheese, all well laid on. We were too full to try desserts, but they have items like caramel Granny apple pie and Snickers pie.

The service from everyone in the family was just excellent. I must mention that the somewhat older lady who came out from behind the deli to run my credit card wasn't able to manage the card machine for some time. Even after I'd signed the credit card form I was left with questions. Indeed Fran herself came out to re-run my card and even showed me her daily tally with the first card run through voided. No problem; it added to the experience.

As we waddled down to trackside (no station in Trinidad, just the track) we fantasized about ordering polenta or "Joey's Ali Olio Nonis," ravioli or fettuccini Alfredo on our way back. Nana and Nano's is a real find.