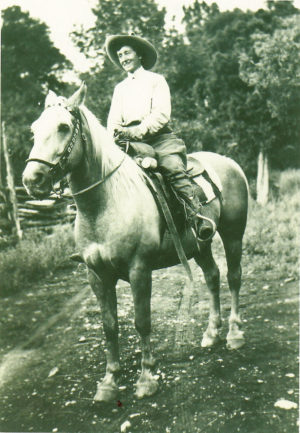 By Judy Buffington Sammons
In the old West, around the turn of the century, a few ranchers' daughters – a brazen few – decided to shake up the establishment a little bit, rock the boat and rattle a few cages. They put on shocking divided skirts or even pants borrowed from fathers or brothers. They abandoned their ridiculous sidesaddles and dared to get on their horses astride. Then they happily rode off, leaving their ladylike images in the dust; they hunted coyotes, rode the range, homesteaded, roped steers and branded mavericks. They married or didn't – they inherited or homesteaded or bought ranches. In the very Western and very male world of cattle ranching, they became bonafide ranchers – America's very first women ranchers: a new breed.
Early-day women ranchers were truly a rarity but Western Colorado claimed a few of them and the following is a brief look at five women – motivated by either necessity or an appetite for a way of life – who showed that they were equal to the difficult task of ranching.

Marie Scott – 1896-1979
Alpine Meadows Ranch – Ridgway, Colorado
Marie Scott spent her final days on a couch in the kitchen of her simple frame ranch house. She died peacefully on November 5, 1979, not far from the home where she had been born eighty-three years earlier. The worn-out Marie had decided to die, surrounded by friends and beloved dogs and cats, in the comfort of her familiar, almost shabby home. There wasn't really anything so unusual about any of this – except that almost everything you could see of the beautiful view from her window and more – she owned, thousands and thousands of acres worth millions of dollars. And she had spent her lifetime and her life's blood earning it.
Marie started her career as a teenager, when after her father's death she was put in charge of managing the family ranch. Before reaching the age of twenty, and with borrowed money, she bought her own first small acreage and was soon adding on to it. From Depression times on, Marie continued buying up valuable ranch land, often for defaulted taxes, pledging as collateral her own growing assets, and until her death in 1979, Marie's life pretty much followed this pattern. It was said by her family that "if a bucket of dirt was for sale, Marie would buy it."
Marie's empire eventually reached so far beyond the view from her window that it is simply hard to imagine. Generally speaking, she owned land from her home ranch on Dallas Divide just west of Ridgway all the way west to the Utah state line and beyond. Marie claimed to have never counted it all up, but estimates of her holdings at the zenith reached from 60,000 to 100,000 acres.

Owning these thousands of acres and miles of fences was one thing – managing it was something else. Marie carefully attended to a prize herd of registered Hereford cattle at the home ranch. Each spring, irrigation ditches, bridges and headgates came up for review and repair, and negotiations began with neighboring ranchers who leased much of Marie's land. Added to this was the operation of one of the largest irrigation projects on the Western Slope. Harvesting of hay found Marie managing a full-time crew, and while this was going on with Marie's hands-on-help, a large fencing crew under her management was elsewhere hard at work. At the same time, eight mountain camps housing herders or riders that tended cattle and sheep at higher elevations needed regular inspections – by Jeep or by horseback – by Marie. Little wonder that a newspaper interviewer once said of her, "Marie Scott never sleeps – Marie Scott ain't human."
Marie eventually just wore out. She had no children to pass her great empire on to and even though she had attempted to reduce her holdings, at the time of her death the IRS collected seventy percent of its value – nearly seven million dollars. What drove Marie Scott to such heights of ambition for acquiring land and to sacrifice all to that goal remains something of a mystery – and she probably would have wanted it that way.
Judy Buffington Sammons grew up on a Hereford ranch in the beautiful Ohio Creek Valley just northwest of Gunnison. She holds a Master of Arts degree in Education from WSCU and has recently retired from a 30-year career teaching math, reading and English in the field of Adult Education. She is the author of six books and numerous articles on western Colorado history.
To read the full article, subscribe to the print version of Colorado Central Magazine.