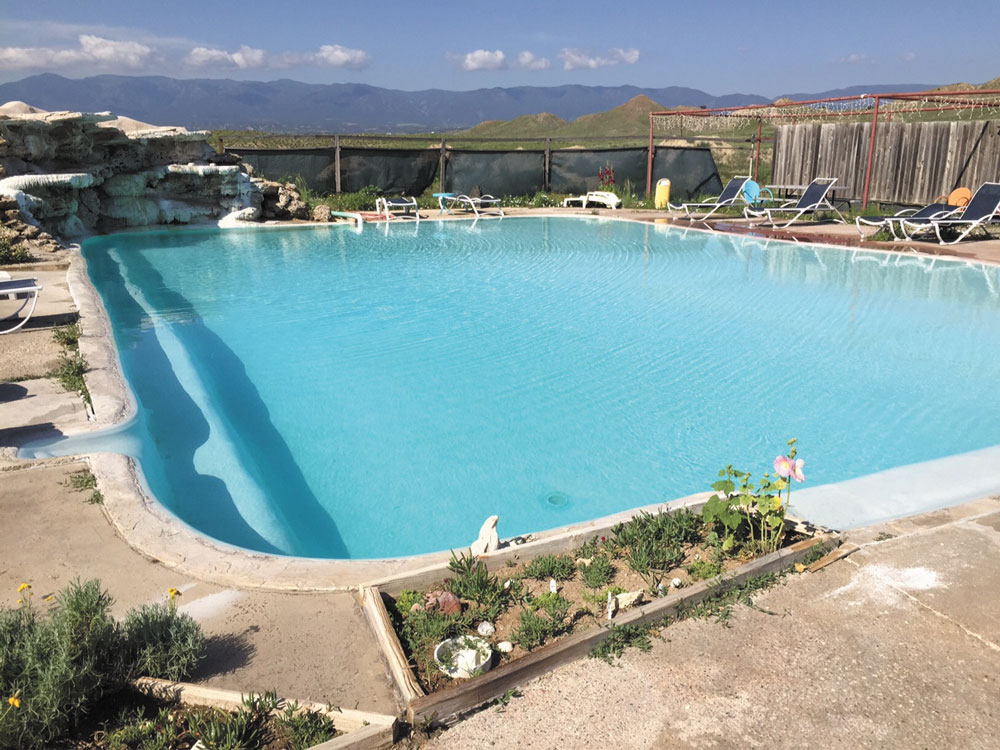 Story and photos by Ericka Kastner
Something tells me you haven't heard of this one.
Both Colorado visitors and residents alike know that one of the best things about this great state is its hot springs. It might be lesser known that a private, clothing optional, family-friendly soaking pool with unobstructed mountain views, Desert Reef Hot Spring, lies just outside Cañon City near Florence.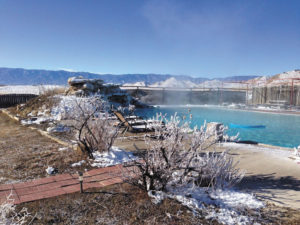 Originally a part of the Florence oil exploration project, Conoco Oil drilled the 1,096-foot deep, 132 degree artesian hot water well during the 1940s. To create optimal soaking temperatures, Desert Reef owners LJ and Ro Conrad cool the water through air convection and calibrate it seasonally. In the summer, water temperatures vary between 94 and 96 degrees Fahrenheit, and in winter the pool is 100-102 degrees.
The 36 x 50-foot pool sits on ten arid acres and holds 40,400 gallons of water. The soaking water is odorless and sulfur free, and calcium is the primary mineral present at Desert Reef. Traces of naturally occurring travertine make the pool appear blue, without the application of any chlorine. A man-made waterfall also enhances the bank of the pool.
Single males visiting the pool are required to attend with a female friend in an attempt to encourage an environment in which men do not outnumber women. Desert Reef is closed Mondays, but open Tuesday through Saturday 10 a.m. to 10 p.m. and Sunday 10 a.m. to 6 p.m. Swimsuits are required Thursdays and Fridays and entrance fees are discounted on Thursdays. The 60-guest limit ensures that the pool is never over crowded and maintains a serene atmosphere.
Getting there from Salida or Poncha Springs: Travel east on U.S. 50 through Cañon City to Penrose, turning south on CO 115 towards Florence. Turn east on CO 120 and travel for one mile until you see the tall cactus sign, where you'll turn south onto CR 110 and drive one mile, following little blue and yellow signs to Desert Reef Hot Spring. Check their website, desertreefhotspring.com, for details regarding their policies before visiting the pool. There is no camping available on site.
Places columnist Ericka Kastner writes from her house in the woods at the base of the Sangre de Cristo range and actively seeks opportunities to land herself in a little hot water. View Ericka's work online at erickakastner.com.