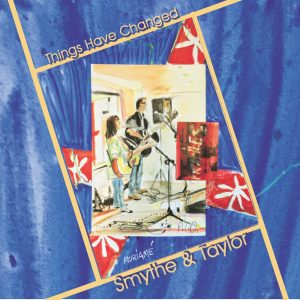 Smythe and Taylor have released their new CD, Things Have Changed. Just what those things are is unclear, as this album from start to finish explores a tried and true but somewhat undynamic exposé of bluegrass and folk. Duet folk albums might be making a great comeback in Central Colorado, but my judgment is skewed somewhat because of my North Coast upbringing.
Simple and easy-listening sounds that do not challenge the ear for me are lackluster at best. However, the recording quality on this album is second to none. The songs are straight ahead with the typical four beats per measure. Any one who enjoys an endless grass jam session should find this familiar. The instrumental arrangements flow smoothly, and the lyrics are steadfast and straightforward. The song, Life Is Short But It Sure Is Wide beguiles the listener to "keep it real."
The country vocal timbre is broken up by a short but pleasingly crisp guitar or mandolin solo. Also of note is the inspirational styling of John Magnie's accordion. Bob Dylan, Tim Lopez, Jack Saunders and James Taylor are some artists that Smythe and Taylor cover in this collection. Also included are original songs written between 1950-2016. Undoubtedly a lot of time and money and sweat and maybe some laughs went into this body of work. Thirteen tracks make for a long sojourn through male and female duets, eclipsing both lead and background vocals, acoustic guitars, mandolin, fiddle, percussion and accordion: Possibly a decent road trip CD, only if played in an old blue Subaru while on vacation through northern New Mexico before landing at the hot springs.
My favorite number is "Sometimes There's Nothing You Can Say." It is by far the most dynamic and different from the rest of the songs. As it turns out, this song is a rather depressing ballad about the inability to console a grieving mother after the death of her daughter. The words of Gary Taylor are profound during the verse, "Even perfect words leave holes you can't explain." "Colorado Love Song" is my suggestion for a single download. It encapsulates the sound of Smythe and Taylor and highlights Gary Taylor's interesting lyrical style. "You're the star in my dark skies, my Rocky Mountain high, you're the treasure that eluded Coronado. Your mind is sharp as a porcupine, pretty as a mountain columbine and I love you more than I love Colorado."
Not a bad country/folk/bluegrass album overall. If you're planning on trading an ounce of silver for it you'd better love duet acoustic folk grass with an unending relish, or even better, be related to one of the artists. Comically, TC Smythe describes this irony best in her song, "Covers of The Rolling Stones;" "We got a bunch of crazy middle-aged groupies who request everything we play. We got a genuine psychic reader who tells us what the venues pay. Maybe this CD will be discovered, I spent 100 hours on the cover, I'm gonna sell 10 copies to my mother. Singing covers of the Rolling Stones."
Brian Rill is a teacher, performer and activist poet. Voted Salida's best musician 2009 and award winning Latin songwriter.