By Hal Walter
Peter May has been a musician for most of his life, and even co-produced and played on a Grammy Award-winning album, but he never dreamed he'd be the composer for one of the greatest symphonies in the universe – nature.
The 52-year-old Michigan native and longtime Crestone resident recently released his new CD, Spreading Like Wildflowers – A Sonic Bouquet from Colorado.
The music falls under the new genre called Nature Fusion, and among the musicians are Colorado wildflowers, including fireweed, scarlet gilia, columbine, arnica, Woods' rose, purple penstemon, lupine and others.
Yes, you read that correctly. Peter has produced an album of flower music.
Also making guest appearances with backup lyrics on some of the tracks are bluebird, hummingbird, owl, red-winged blackbird and Western tanager, and Abert's squirrel.
Peter's mother sent him to Michigan's Blue Lake Fine Arts Camp every summer when he was a kid. He learned to play the trumpet at a young age, and later participated in concert and jazz bands.
A skier since early in life, the University of Michigan  grad moved to Crestone in 1993, drawn by the Colorado powder, cheap land, a place to build a solar home, and his interest in spiritual diversity. Peter recounts climbing up into the Sangre de Cristo range early in the Crestone experience, skiing in the deep snow and playing his trumpet. "I played and played with my dogs sleeping next to me in several feet of snow," he says.
"I decided to listen before I went home, and as I listened, there was absolutely nothing, no sound at all," he recalls. "Then from around the mountain came this amazing sound."
He describes this sound as the mountain singing back, and apparently he's not the only person who has heard it – he notes the legend of Music Pass in the Sangres is based on people hearing music up there.
He says he once took his conch shell horn to the top of Music Pass and played it. The sound of the horn would disappear for exactly eight seconds, he says, then return.
In 2007 he co-produced Crestone by the Paul Winter Consort. He also played conch shells, recorded bison and led the expedition for the record. The album won a Grammy Award for New Age music the following year.
"We heard the music many times when we were producing the album," he says.
All of this was serving as a base of knowledge for when he later learned that plants – including trees and flowers – have their own music as well. The tricky part is how to capture these sounds and convert them into something humans can process and relate to.
A visitor to Crestone obtained Peter's contact information from a friend and asked him to tea. She told him that she had a machine that plays sounds from plants. He was skeptical but agreed to the meeting.
The device was a synthesizer known as a Damanhur Music of the Plants device. It works by detecting bio-electric current variations and converting them to sounds audible and recognizable to the human ear. The machine is connected to the plants by means of alligator clips.
Before you dismiss this as some sort of New Age craziness, consider that there are TED talks on the subject of vibrational frequencies, and it's also the focus of studies by physics departments at major universities, and even been featured on the television series "Planet Earth."
"We plugged it in and it played one note," he said. The plant was a piñon pine and Peter began playing bells and a digeridoo (a long tubular horn).
During the next few hours the plant began to respond. "It was actually playing back what I played to it," he says.
Peter was astounded.
"The kind of music was the music that I had heard up in the mountains, the kind of quality and the sequencing," he says. "Basically it wasn't human."
The woman ended up lending him the machine because he was so interested in it, he says. He now owns two of these devices and has rigged a way to operate them off batteries for extended use recording plants in the backcountry. He's also developed a way to plug a recording device into the machine.
He continued studying the "music" of trees, and then became interested in the sounds of other plants, especially wildflowers native to Colorado.
I really started recording Colorado wildflowers for fun," he says. "I was more intrigued by the fact there were all these flowers and they were accessible."
At some point he discovered that each plant played back differently. Essentially, each had its own song. After a trip to the Crested Butte Wildflower Festival piqued his interest even further, he began to make recordings of wildflowers throughout the central and southern mountain region, resulting in hours upon hours of recordings.
What struck him most was the relationships between the measurable vibrational frequencies of plants, humans and Earth. While his explanation is quite technical – plants and humans seem to like to sing in 528 hertz, while the Earth resonates several octaves lower, which is known as the Schumann Resonance – the short version is that there is a resonance amongst the three.
"I believe the plants' language is in this resonance, because they are tuned in to the Earth," Peter says. "Science has already shown that plants not only make sounds but also respond to sounds."
In other words, not only do plants give off frequencies, they also seem to be able to process the frequencies of other entities. For example, in the track "Fairy Trumpets and Shakers" on his new album, Peter has documented scarlet gilia reacting to thunder. When the thunder sounds, the plants stop singing for a few seconds – then answer back at the same frequency as the thunder.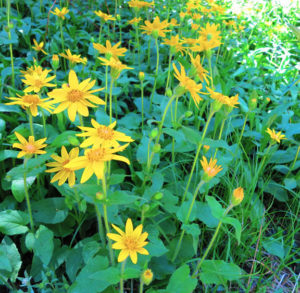 In addition, he has documented that wildflowers of the same species from different regions of the state sing very similar tunes. For example, fireweed he recorded near Breckenridge sounds nearly identical to fireweed recorded near his home in the Sangre de Cristos.
Peter became so intrigued with the music of plants that he decided to make Spreading Like Wildflowers in order to share this experience with others. He says it's just another way of enjoying nature, by connecting with the life force of the plants through music. He says while working on the album some of the flower music literally brought him to tears.
"Is it possible to get to know the plants in another way? We see the flowers visually. We all know not to pick them and we may take pictures, but now there's another way to enjoy them, and that's sonically."
Peter also has developed a line of plant-based formulas available through his Endurance Alchemy Lab to help people with health, deep relaxation and fitness. He and his Sonic Apothecary band offer plant concerts in Colorado and New Mexico, and also mediative "journeys" which he describes as a multi-realm experience utilizing sound, mineral and plant alchemies.
He realizes there will be skeptics, just as he first was skeptical, but says plant music represents a new paradigm in communicating with nature. The CD is available in local shops throughout the region.
"Nature is alive in more ways than we can fathom," he says. "This music is for people who have the capacity and who are interested in exploring and expanding their relationship with nature, especially with plants."
Visit May's website for a sample of singing wildflowers: http://www.thesonicapothecary.com