CLAY JENKINSON, A HISTORIAN, AUTHOR and scholar with a heartfelt interest in the American West, will make a one-of-a-kind appearance at the Salida Steamplant Event Center June 25 as the incomparable John Wesley Powell. Well known for his various books and documentaries, Jenkinson is also a one-person interpreter of various historical figures. He shared that he comes to explore Salida and hopes that Salida will explore him. "I never bullshit — I try to talk about things that matter through whatever lens I happen to be looking through." He will quite literally tie one arm behind his back, don a "really awful" 19th-century beard and look as though he just came off the river — all to talk about several issues of great importance to him and to Powell. One of those is water in the West.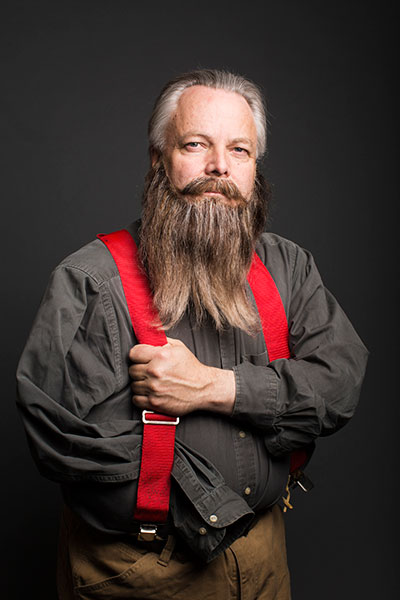 Best known as a river explorer of the American West, Powell made descents on the Colorado and Green rivers in 1869. Pleading for water awareness, he wrote, "years of drought and famine [will] come … and the climate is not changed with dance, libation or prayer." Jenkinson, a renowned scholar and award-winning first-person interpreter of Powell, agrees resoundingly with the sentiment. Jenkinson's perspective is that we need to ground our present perplexities in history. "We need to be discussing these really fundamental issues about the future, and we're not. Powell is a good vehicle because he raised questions about water and settlement in dry places and mountain culture and what the Colorado River means."
Not only is Jenkinson the author of numerous books, he has appeared in three Ken Burns documentary films, including The Roosevelts: An Intimate History. He has portrayed various historical characters, including Thomas Jefferson, Theodore Roosevelt, Meriwether Lewis, J. Robert Oppenheimer and Powell.
Jenkinson expressed love for small-town rural America because it is "in the interior where many of the extraordinary things are happening." He is truly overjoyed about the prospect of visiting Salida, as it is one of his favorite places in the world. "I fall in love with Salida all over again. It's quirky. People are doing some very creative things. I just come away with a feeling that this is an America I wish there was more of."
Jenkinson urged, "[Powell] tried to warn us to not let this happen to us." He expanded, "The best experts are telling us we can keep Lake Powell or Lake Mead but not both. So, water in the West? There is probably no greater issue. And the person who first looked at it in a really insightful way was none other than John Wesley Powell. It's a very timely and pertinent lens."
When asked about his own history as a first-person interpreter, Jenkinson explained that he was in his late 20s when a friend asked him to try it. "People suspend their disbelief and sort of get into it. … To do it well, I have to get into it," he added. He described his presentations as having a sort of magic that a lecture does not have, a personal perspective that a lecture cannot give. Jenkinson shared a story where an audience member was so into an interpretation of Roosevelt that he gasped in response when the character of Roosevelt talked about dangling his legs over the edge of the Grand Canyon. "My duty is to put the audience into the imaginative zone of that character," said Jenkinson. He intently becomes each character he portrays, "warts and all."
"It makes me have to think the way they thought. … Powell went down the Colorado River with one arm and a wooden dory, backwards. I try to think 'what would that be like?'"
For Jenkinson' s next project, called Listening to America, he plans to travel in a camper and follow all the old back roads that John Steinbeck did, all the while re-reading Steinbeck's works. He plans to create podcasts, articles and video interviews as well as an interactive map where followers can see his location and thoughts connected to those spaces. A passion for great American road stories drives him because, Jenkinson stressed, "The country is in better shape than we think and people are better than they seem." Jenkinson' s overall goal is to honor the West and really listen to the country.
When asked about whether he felt the content of his presentations transfers into the local community and their issues, Jenkinson replied, "For some it is just entertainment. Those that come, they think while they're there, but they don't necessarily go away and think (about), say, the water allocation system of Colorado or the American West. But I am inviting them to do that."
Jenkinson will be bringing the character of John Wesley Powell to life during Salida Art Walk at 3 p.m. June 25. Jenkinson will perform in the true interactive Chautauqua format, beginning with a monologue before opening the floor to questions from the audience. He will then come out of character to take questions as himself. The experience is hosted by The Central Colorado Humanists (centralcoloradohumanists.org), and all proceeds will go directly to their scholarship fund. Tickets can be purchased before the event from the box office, over the phone or online for $25. At the door, tickets will be $30. A live-stream connection is $15. Call the SteamPlant for more at 719-530-0933.
For a preview of Jenkinson's performance range, tune into KHEN for the Thomas Jefferson Hour.
Starr Hill was raised off the grid in tipis and old mining cabins between Fairplay, Como, Hartsel and Leadville. Now a teacher, she is raising a family of her own and working on a memoir of lessons she learned growing up off the grid.