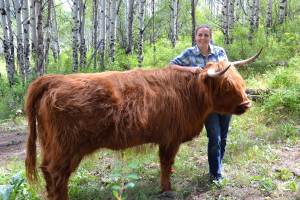 by Mike Rosso
Colorado native, Highland cattle rancher, educator and ski race volunteer Kerry Donovan wants to be the next Colorado state senator for SD5.
Running for the seat soon to be vacated by term-limited Gail Schwartz, the Vail resident claims no personal agenda going into the upcoming race.
"The idea of representational government is really important to me. I think you've got to do a really good job of listening to your constituents and figuring out what every community and district needs, and then formulate legislation after that."
Donovan's 400-acre ranch, the Copper Bar Ranch, sits at 7,800 feet and is perfectly suited for the Highland breed, which isnative to Scotland.
"They produce a very lean meat because they have two layers of hair and don't have a lot of back fat," she explained of the heritage breed.
She grew up in Vail, where her family owned and operated the legendary Donovan's Copper Bar. Started by her parents in the mid-60s, they ran it for over 20 years and closed it when she was four years old. She remembers being allowed to dig the change out of the bar mats which she immediately cashed in on candy at a shop next door.
"Dad tells one story of his favorite day at the bar, when he looked down the bar, saw the guy who sat with his beer every day, then a ski patrolman, then a secret service agent, then President Ford, then another secret service agent, then a couple of tourists, then one of the Charlie's Angels, and another couple of regulars at the end. He remembered thinking, 'this is exactly what I wanted my bar to be, a place where everyone just came, enjoyed a beer, and everyone was the same once you walked in the door.'"
Her grandfather, Bill Mounsey, was an early member of the wilderness movement, and she shares a similar love of the land.
"I believe in wilderness. It's important to remember that wilderness is the highest level of protection that can be applied to land. The land has to fit the label and the label has to fit the land. There need to be long, in-depth conversations when it comes to wilderness designation, because you are applying the highest designation that a piece of land can have … designation that is less about us and is more about generations way down the line."
She served a four-year term on the Vail town council, where the biggest challenge was to bring "seven distinct voices together, honoring and giving time for public input, to make sure that everyone in the community felt like they had their opportunity to weigh in on these big projects [that came before the council during her term] … What I did a good job of on the town council was making sure that no one special interest or one voice or one group that may have had the bigger purse, got to outweigh the other voices in the room, because that's the point of a town council, to make sure you are hearing everyone and you are listening to all those pieces and then trying to bring together and hear all of the concerns."
Her opponent in the race has already made his intention clear to make guns an issue in the campaign.
"I'm a rancher, I grew up in a hunting family, every fall of my life I've been in black powder elk camp. Guns are a tool to me," said Donovan.
"I believe in the Second Amendment right, it's important to Western culture; I think a lot of sportsmen are willing to have discussions as to how do we protect the Second Amendment but also make sure we're having good discussions about gun safety and addressing a very real problem that we all know exists … those are the conversations that I look forward to having … bringing a diverse group of people to the table … and making sure mentally ill people and convicted criminals do not have access to guns, but responsible gun owners do."
Donovan received a degree that emphasized anthropology from Notre Dame and went to work in the gas industry, doing surface inspection for pipeline work in Wyoming. She also spent two months on a big dig in Jordan while attending Notre Dame, on one of the oldest homes ever excavated at the time.
Having "grown up on skis," Donovan recently served as Director of Academics for the Vail Ski and Snowboard Club. She is also a coordinator for a 500-plus volunteer group called the Talon Crew which does course maintenance for World Cup ski races at Beaver Creek, which has featured elite skiers such as Bode Miller and Lindsey Vonn.
"Every morning you get on the chairlift at dark, and get off at the end of the day, just maintaining this vertical ice rink."
Volunteers, employing metal shovels, big rakes and side-slipping techniques set up the course, put up gates and spray the course with water. Racers routinely hit speeds of 80-90 mph.
Speaking of water, when asked about issues concerning water for Colorado, she replied, "People are concerned about the Colorado Water Plan and how that's going to be executed. There's going to have to be a really strong voice in the room to make sure that the Eastern Slope doesn't continue to look at the Arkansas, Gunnison and Colorado Rivers for their continued growth on the Front Range."
Donovan also believes it is important to have discussions about economic recovery and making sure that the recovery that the Front Range is seeing is shared by the Western Slope and the Arkansas Valley.
Her opponent, Don Suppes of Delta County, has suggested he is for the selling off of public lands.
That's a real black-and-white contrast between he and I," she said.
"You've got to have someone who is willing to stand up against that rumbling, otherwise it gets louder than any of us wants it to be."
Senate District 5 includes Gunnison, Chaffee, Lake, Hinsdale, Delta and Eagle Counties.