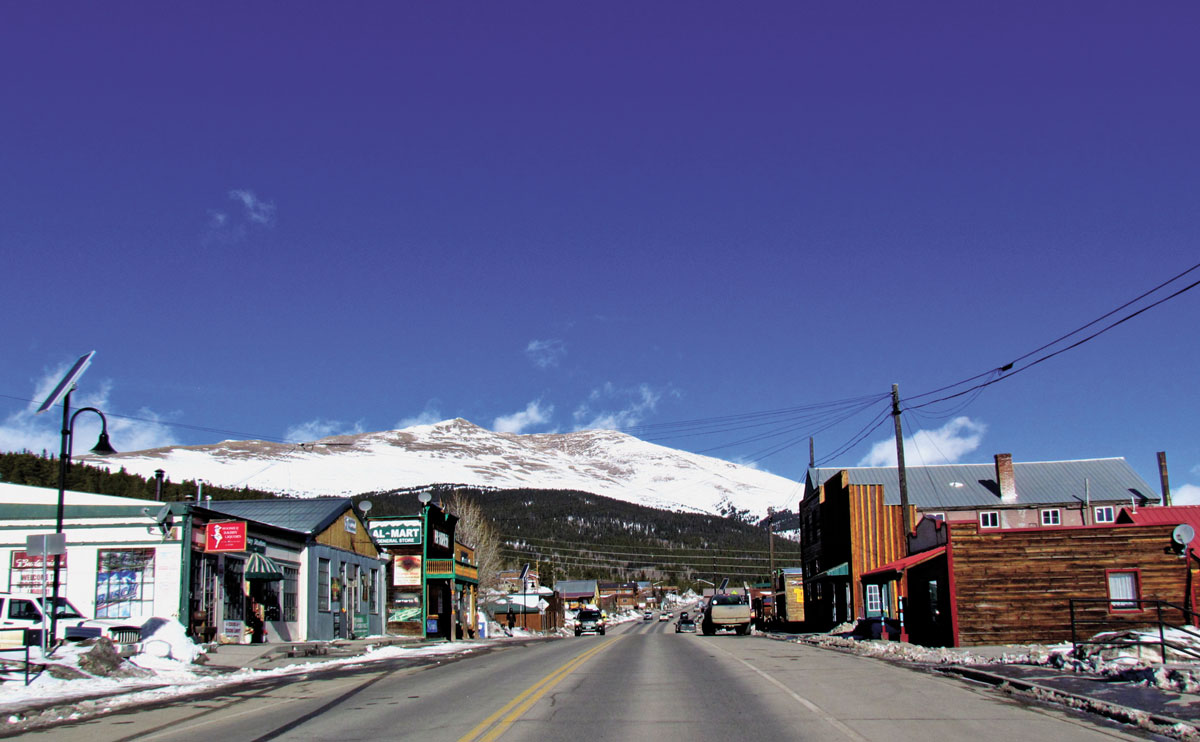 By Laura Van Dusen
County: Park
Founded: 1873
Elevation: 10,578 ft.
Population: 270 (2010)
At just over two miles high, Alma is the highest incorporated town in North America. It was a gold mecca in 1859, later silver boomed, and, more recently, prospecting around Alma has focused on spectacular rhodochrosite crystals found at the Sweet Home Mine.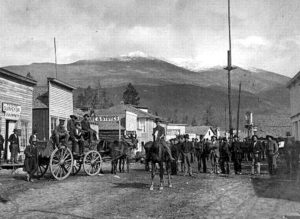 From 1873 to the 1960s, the Sweet Home was a silver mine and rhodo was in the way. The bright red, translucent crystals were thrown out as slag. In 1991 rhodo mining began in earnest; in 1992, it paid off. The world's largest (6.5" x 5.5") and finest rhodo specimen, the "Alma King," was discovered at the Sweet Home and is now on display at the Denver Museum of Nature and Science. Although the Sweet Home has since closed for good, a new rhodo mine in the same vicinity is set to open soon, said Nancy Comer, Alma town administrator since 1997.
Alma is also known for the surrounding peaks of the Mosquito Range, especially Mounts Lincoln, Democrat and Bross, all over 14,000 feet high. Accessing all is possible using the trail ascending from Kite Lake, and hikers flock to the area intent on bagging three summits in a day. But what some hikers don't know and others ignore, the peaks are on private property.
"In order to allow access to the 14ers, the town entered into a lease agreement with the miners that own the 14ers," said Comer. The lease covers most of the area and grants access to the summits of Lincoln and Democrat. The top of Bross is not included and is illegal to summit.
Monthly celebrations are core to Alma lifestyle, including Thai One On (wear a tie, eat Thai food) and Mystery Dinner Theatre. Tie-dye is a fashion statement, most noticeable at Alma's largest event, Festival in the Clouds, held annually the third weekend in July. Up to 16 local and regional musicians perform each day for minimal pay of a T-shirt and a beer. Several hundred spectators attend to dance, hula-hoop, watch belly dancers, shop artisan's booths and, mostly, enjoy Alma's casual mountain lifestyle. This year marks the 20th anniversary of the festival and the 20th anniversary of the tragedy that was motivation for the event's beginning.
On February 26, 1998, Willie Morrison, musician, artist and former mayor, was shot in cold blood by Alma native Tom Leask at an Alcoholics Anonymous meeting. Leask then used a front-end loader to systematically destroy Alma's infrastructure, beginning with the water treatment plant. He rammed into it, causing thousands of gallons of water to flood the streets and turn to glare ice. He knocked holes in the town hall, post office and fire station, took out phone service and partial electric power, and set his home on fire. When arrested 4 1/2 hours later, Leask was armed with a .45-caliber pistol and a rifle.
He pleaded guilty and refused a lawyer, but, still, an attorney was provided by the court. Against Leask's wishes the attorney fought for two years to have the plea changed to not guilty by reason of insanity. At a stalemate, the judge finally agreed to accept Leask's plea and sentenced him in June 2000 to life plus 27 years.
The first Festival in the Clouds was held in the summer of 1998 to "celebrate art, music and children, which were Willie's primary focus," the town website says. Musicians perform from the Willie Morrison Memorial Stage in Alma Town Park.
There are about 40 businesses in Alma; among the top in sales tax collection is Al-Mart General Store. The name is purposely a play on the Walmart name, its logo mimics the green and white Colorado license plate, but the store is unique. Shoppers can buy Scanga meats, pick up fresh fruits and vegetables, and enjoy a bowl of homemade soup at the same time they choose a new pair of Sorel boots and a Carhartt jacket.
The other top businesses (not necessarily in order) are High Country Healing, selling medicinal and recreational marijuana; South Park Hydroponics, selling indoor gardening supplies; and South Park Saloon, a restaurant/bar with a cozy, relaxed ambiance, catering to locals and travelers.
Residents call themselves Almaniacs, said Comer, and it fits. The people of Alma are crazy about their town.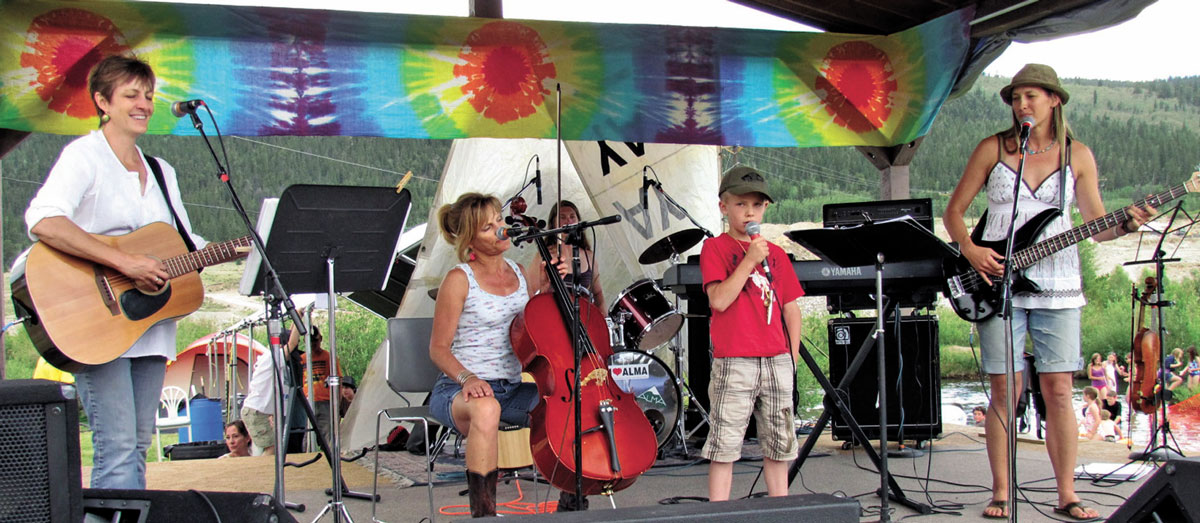 Erik and Beth Swanson have lived in Alma for years. In fact, Erik, with a few detours along the way, has been an Almaniac since December 1940 when he was six months old. In Alma, said Beth, there is "a sense of community that other towns don't have." Erik agreed, and added, "people really care for each other and most know their neighbors."
Statistics show that most youth leave small towns for good after high school, but not Alma native Jara Johnson. After graduating in 2004, Jara earned Bachelor of Science degrees in geology, land use planning and geography, and a Master of Science in hydrology, resulting in an education that holds no limits to career opportunities in rural Colorado. She's back home in Alma now and works for the Colorado Division of Water Resources. She said Alma is "the soul of the mountains." It's an apt description: in Spanish, alma means soul.
Tim Zingler arrived in Alma in 2000, with hopes of becoming a professional ski bum. When that career didn't pan out, he worked in maintenance and construction. He's now Alma's public works director and married to Jara.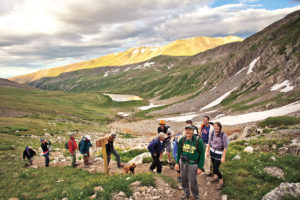 The first settlers came to the area with the 1859 gold rush. The Phillips Lode was discovered in 1860, and the town of Buckskin Joe developed nearby, a mile northwest of the future Alma. Horace and Augusta Tabor lived in Buckskin from 1861 to 1868. Augusta took in laundry and served meals, and the two ran the post office and a general store in their home.

In 1861, gold was discovered at Montgomery, six miles north of Alma. Buckskin and Montgomery were allies. Daily stages ran between the two, and both experienced terror in 1862-1863 when two brothers from Mexico, surnamed Espinosa, murdered 32 people in Colorado including five in the Alma/Fairplay area.

The most productive silver mine in Park County history, the Moose on Mt. Bross, was discovered in 1871. Because of plentiful silver both on Bross and Lincoln, two smelters were built in 1873 to process ore. One, the Boston and Colorado, was built in the middle of what became downtown Alma. Within months of smelter construction, Alma incorporated. Several ladies in town were named Alma; the town was named for one, or possibly all of them.

Of the biggest challenges to living in Alma, said Zingler, one is the weather – winter is long and cold. Another is unrealistic expectations. People move to Alma to get away from it all and then find they miss city amenities. In Alma, the streets aren't paved, there is no movie theater and cell phone and internet services are unreliable.

Comer's biggest challenge is the small budget that needs to provide all the services bigger communities provide. Despite the challenges, Comer is a proud Almaniac, even though her home is six miles away in Fairplay. She said, "I sleep in Fairplay; I live in Alma."

Laura Van Dusen has written two books about Park County history, Historic Tales from Park County and  Early Days in South Park. Both include stories about the people, places and events that shaped the town of Alma.