By Gena Akers
This past July, a group of individuals united by a common dream for a plot of land near a rural Southern Colorado town got a second chance. 
"Over time, I hope this becomes part of the fabric of our community," says Julie Mordecai, acting director of the Rio Grande Healthy Living Park (RGHLP). For Mordecai and the other RGHLP supporters, it is an honor to just have the sewing machine back out on the table.
The future home of the RGHLP is the former Polson Elementary School property, a 38-acre plot near the intersection of Hwys. 17 and 160, just east of Alamosa. Some of the plans for the RGHLP include a working farm, a year-round local food market, botanical gardens, commercial kitchen, event space and walking trails, all of which will help to make the "entrance into Alamosa more attractive," says Mordecai. Besides these initiatives, proponents hope to continue their relationship with the San Luis Valley's local Guatemalan community. The RGHLP is host to eight farm plots managed by Guatemalan families, many of which were economically displaced after the closure of the nearby Rakhra Mushroom Farm. Besides these plots, proponents hope to expand agricultural research opportunities beyond potatoes, one of the Valley's main crops. Through all of these combined efforts, Bill Brinton, RGHLP supporter and East Alamosa resident, says the project will offer "a new kind of economic self-reliance."
Brinton adds that the property has been in public hands for a long time, originally donated to the school board by a local farming family. "Once it was donated to the school, it became public land. With respect to that history, we want to keep it accessible to the public."
On July 1, 2013, this public land became private. After having been in previous conversations with RGHLP proponents who had begun fundraising for the appraised value of the land, the Alamosa Board of Education finalized the sale of the Polston Elementary School property to a private RV Park developer for just $500,000, $255,000 less than the appraised value. Over the next year, a subgroup of RGHLP supporters, known as Keep Polston Public, launched a legal battle to acquire the property from the developer. On Feb. 21, the legal matter was resolved when the Keep Polston Public plaintiffs agreed to pay the developer $900,000 for the property. By their 5 p.m. deadline on June 27, the plaintiffs had successfully raised $375,000 from local fundraising and an additional $700,000 bridge loan. With the necessary funds raised, The Trust for Public Land (TPL), a national nonprofit organization and longtime partner of RGHLP supporters, purchased the property. The San Luis Valley Local Foods Coalition (LFC), the umbrella nonprofit organization of RGHLP, has until July 7, 2016 to pay back the low-interest loan, or until July 7, 2017 with an increased interest rate. Once the loan and any additional fees related to the loan are paid in full, TPL will transfer the property's deed to the LFC.
"Some parts of it … you just can't believe how beautiful it is," says Mordecai. "Especially as you look back over the river and towards Mount Blanca, the view is just stunning." Mordecai is confident that there will be no shortage of supporters to bring the project to life.
Besides its views and history as a public space, 18 of the 38 acres are arable, with an additional 16 acres of wetland and waterway property. As the Rio Grande River approaches the property, it takes a "dramatic bend," says Alamosa agronomist Patrick O'Neil. Because of this, the "property is rich in alluvial soils" created by deposits from the nearby rushing Rio Grande River. The property also has an "amazing surface water right," according to O'Neil. "Agricultural land with ample senior surface water, such as what flows to this site in all but the driest of years, commonly increases irrigated land values two times or more compared to what land without this surface water would sell for in the San Luis Valley." O'Neil says this is especially important when you look at the long-term forecasts and the condition of local and regional aquifers, which "indicate a high probability that the trend of elevated monetary value for agricultural recharge water will persist for many years to come."
"We are seeing a growing movement and enthusiasm and independence in each individual community and town for locally grown and produced food," says Wade Shelton, project manager for TPL's Colorado office. Shelton, who has worked in land conservation and environmental restoration for fifteen years, explains that without areas like Alamosa or plans for projects like RGHLP, work in urban areas, like Denver's Sustainable Food Council, won't go far. "In Denver, we are looking to do as much as we can, but realistically, Denver is a big city and is never going to produce all the food they need. Local for us means other parts of the state."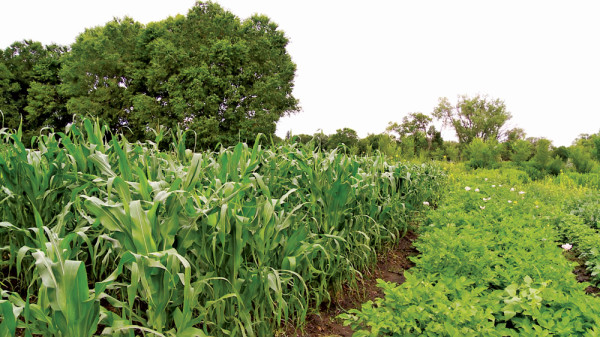 Shelton says the key is to make it easier for consumers and producers to connect. "With better distribution centers, or hubs, we can also ensure better prices for producers and consumers." Shelton believes that this is what makes the RGHLP property so unique. "In urban areas, you don't have large enough pieces of land to do food production and distribution, and all these other things. In Alamosa, you have the natural resources to do the food hub and market, as well as a traditional park. This makes the site attractive. It is rare to do all of this on one site."
TPL and RGHLP supporters are confident that funders will see this too. "The foundations we work with understand the nature of these sorts of projects, which involve the transfer of real estate. Many times, you have to move quickly to secure an opportunity." Shelton explains that funders recognize the benefit of this because they realize the long-term impact of how projects can pay back "big dividends" to the communities they reside in. "This is a common way to do a lot of different types of conservation. You buy the property to protect the opportunity."
For now, the group is focused on repaying the bridge loan and tending to the soil and agricultural plots that already flourish. Later this fall, a landscape architect from TPL will convene a public planning process in the San Luis Valley to ensure that the RGHLP addresses the needs of the community.
Mordecai shares that this will be a "step by step opportunity." According to plans published on the RGHLP website, the complete project will require eight to ten years of fundraising and build-out, with funding initially coming from a mixture of public and private grants and individual donors.
For O'Neil, this is part of having the long view. "I think about it in terms of the soil and the land. It didn't get here overnight, so it will take our stewardship into the future. We don't want to hastily rush into something we can't support."
To learn more about the RGHLP, visit  www.healthylivingpark.org
Gena Akers resides in East Alamosa. Through writing, she's found the best way to be nosy and get paid for it.