by Central Staff
Anyone who's lived in Salida over the past 20 years has likely enjoyed one of his burritos – he being Tony Perez, who, along with his wife Marisela, run Tony's Restaurant in Poncha Springs. For years, Tony's been delivering his handmade burritos to businesses throughout Salida, and in 2008, he finally opened his own restaurant in Poncha Springs. A year later they moved it across the highway to its current location where they, along with Marisela's son Alexis, serve breakfast and lunch to hungry locals and tourists.
Tony was born in Guadalajara, Mexico and moved at age 17 to the U.S. to live with his brother. At the time he was working for an American-owned bottle maker and got his green card while living in Southern California. After a stint on the Big Island in Hawaii, where he worked in the food service industry, Tony returned with his first wife Deborah to Sacramento, California. Discontented with life in the big city, they loaded up the car and hit the road in 1990.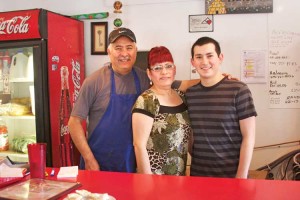 The road led to Flagstaff, Albuquerque, and Santa Fe before they found themselves dining at the Country Bounty restaurant in Salida. Then and there they decided they'd found a new home. They opened a used furniture store downtown which Deborah ran while Tony worked a variety of jobs – from handyman to a dentist in Buena Vista, to repairman at the Salida Chevy dealer.  Deborah passed away, and Tony found work as a cook at the same restaurant that decided his earlier fate; The Bounty. He then met and married Marisela, a native of Navolata in Sinalowa, Mexico, whose brother was married to Tony's niece.
After many years at The Bounty, Tony left and began cooking up his own famous burritos and other Mexican delights in his kitchen and delivering them around town in his pickup. In 2008, he and Marisela decided to open their own eatery, and Tony's was born.
It's a modest restaurant, just west of the Shell station on the south side of Hwy. 50, serving Mexican as well as American dishes, with an emphasis on prompt service. Prices are very reasonable and the food's quite tasty, with many of the recipes passed down from Marisela's family. They are only open for breakfast and lunch, and they don't serve wine or beer, but the service and food make up for it. The restaurant is also a favorite of area workers looking for a fast and tasty meal.
Among the many breakfast items is Chilaquiles and Eggs served with homemade refried beans. Chilaquiles is a traditional Mexican dish in which corn tortillas are quartered and lightly fried, with a spicy red sauce poured over at the last minute to maintain the crispness of the chips. If you go, you might also want to try Tony's personal favorite dish, Tacos al Pastor, made from spicy pork.
Asked if he'd like to expand or relocate, Tony smiles and says he's quite content where he is and hopes to be around for a long time. Stop in, say hello and enjoy the food at Tony's.
11346 W. Hwy 50 in Poncha Springs. 719-539-5301.
Open 8 a.m. till 4 p.m., Tuesday through Sunday, for breakfast and lunch. www.tonysrestaurantcolorado.com