The biennial Salida Studio Tour will be showcasing 22 Salida fine artists and crafters in 19 studios inside city limits and the immediate surrounding area of Salida on Saturday, August 12, from 10 a.m. to 6 p.m. and Sunday, August 13, from 10 a.m. to 2 p.m. This year's artists are known locally and nationally for their professionalism and high quality of work.
This is a unique opportunity for the public to visit and to share the artists' hands-on techniques of their creative processes. The free studio tour allows attendees to observe working studios, interact with the artists and view both finished pieces and works in progress.  Artists' works will also be for sale. The Salida Studio Tour is a collaboration of working artists dedicated to promoting, enhancing and expanding appreciation and knowledge of the process of artistic creation.
Amongst the 22 participants are oil painters, photographers, sculptors, a clock maker, a glass blower, a fiber artist and many other talented Salida-area artists.
One is Kay Litz, a sculptor who combines materials of various colors, textures and characters to create interpretations of nature. The use of found objects, natural objects, and handmade papers are added to her clay/cast stone/glass figures she models, molds and casts.
Kay began calling Salida home in the spring of 1999. After graduating from CU Boulder with a degree in business, she began working in offices in the Denver area and took evening drawing and painting classes from the Art Students League in Denver. She quit her "day job" in 1991 and moved to Philadelphia for three years to attend the Pennsylvania Academy of the Fine Arts (PAFA). At PAFA she began working with sculptural mixed-media, using discards from the metal shop and found objects.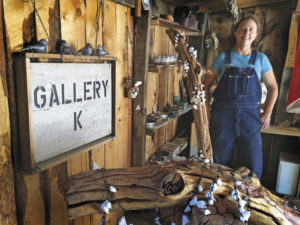 Kay returned to Colorado in the mid-1990s, living in Summit County for about five years, producing art in a pottery studio in Breckenridge. Shortly after moving to Salida, she opened a small storefront studio, "Gallery K," next to Culture Clash on F Street. She was featured in an April 2002 Colorado Central article entitled, From discards to art: Kay Litz of Salida. She closed the gallery in 2006 but continues to show at Culture Clash and is a member of the Crestone Artisans Gallery, a co-op in Crestone. She currently has her art studio in an old carriage house and garage behind her home on West Second Street.
"My art is still evolving," she says. "The main focus of my art for about the past six years is my 'Food Chain' body of work. This involves using chains of 'seeds' I make with Unryu paper stretched over hardware cloth armatures, hung on chains I make with reclaimed baling wire. I combine these seed chains with old farm implements and other items (bird/fish figures, etc.). I'm fascinated with the fragility of small seeds, upon which so many organisms rely to survive. I still occasionally produce pieces more in line with my preceding 'Forest' body of work, in which I use bird figures, 'leaves' of oxidized, cut, and shaped sheet copper, beads and reclaimed baling wire."
Asked about the direction of her art, she said, "Over the past 15 years my work has become less personal and more universal; it's searching for more basic, common themes and experiences we all share – more of a 'big picture' point of view."
Kay supplements her art income with various day jobs from landscaping, house painting, ski school and patrol, as a seasonal park ranger, and is currently assisting her aging mother.
Visit www.SalidaStudioTour.weebly.com for more info on the participating studio artists, tour map and a brochure. Learn more about Kay at GalleryK-KayLitz.com