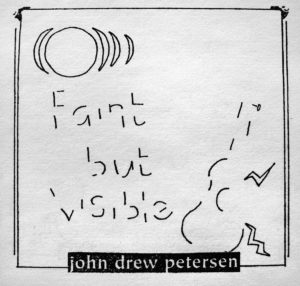 Reviewed by Brian Rill

The intimate relationship between a man and his brand new metal strings are what is represented on this 21-track acoustic guitar album. The songs are relatively similar throughout, the same sound being used on every track; if you like one you'll love them all. This is a great background music CD for meditation or relaxation, as a moderate tempo is employed among the pieces. Smooth steady finger work makes its mark among all the numbers in this collection.

John Drew Peterson has performed throughout Central Colorado and has a substantial YouTube presence. He recently opened for the Heartstring Hunters and has submitted songs for the NPR Tiny Desk Concert series. He was called the Cotopaxi Guitar Wizard by Ark Magazine. Fans of his may be familiar with his wife Maryellen Munday, accompanying her husband's performances with her vocals however, there are no vocals on this album. This is a pure and unadulterated sound recording of a single guitar being played without accompaniment of any kind. No frills, no fills, just lightning fast harmonics and fluid finger style.

The cover of the album is hand stamped from a design by artist Carolyn Stewart whom John met in Vermont but who also calls Colorado a second home. The photo on the CD itself is one that John took of some of his partial capos. Mr. Peterson uses partial capos to give an open ended sound to his many key changes and alternate tunings. Hammer-on techniques reverberate across the neck of his Taylor walnut 710 cutaway. John's first self produced album, Cats Pajamas, includes his vocals and songs about his love for the environment and natural land conservation. The message on Faint But Visible is not as concrete; however, with titles like Green Mountain, Brain Salad and Wild In The Woods one can guess the environmentalist is still alive and well on this compilation.

The tune National Monument is a testament to his love of the relaxing spaces within the Upper Arkansas Headwaters area. Its slow tempo sounds a little like the soft breeze running through the aspens along a ridge that eventually spills out into the raging river below. LaPlata is a song about his many experiences hiking La Plata Peak in The San Isabel National Forest. The title track, Faint But Visible, describes a photograph John took of a lunar eclipse in Cotopaxi, Colorado, where he and his wife currently reside and record in their laundry room.

Faint But Visible is a calming influence of 21 fine guitar instrumentals which will help you focus at work while being played in the background. If you're an artist, writer, masseuse or just need some jangly guitar work for your ambiance or as a background for commercials, John Drew Peterson is the man for you. His live shows are dynamic and his guitar playing is sweet and soft. Turn on the tunes, close your eyes and fall into a rem sleep and wake up an hour later. If that's what you're looking for in an album then this will be money well spent.

Brian Rill is a teacher, performer, activist poet and award-winning Latin songwriter voted Salida's best musician 2009.