In 1937, the U.S. Forest Service built a ranger station on Main Street in downtown Buena Vista. It remains the only historical downtown ranger station in Colorado. It served its purpose for the Forest Service until the 1970s when it became a Chaffee County health clinic. For the past 20 years the building has sat empty and unused despite the location next to the old State Highway building (currently the Trailhead) and near the intersection of Main Street and Colorado Avenue.
"It was like '70s wood paneling, pink carpet," said Rick Bieterman, as we sat in what used to be the garage of the old ranger station. "And so we came in and ripped all that stuff out and found this brick under all that paneling. And these floors are the original plywood floors that we just sanded down, took the carpet off and just went with it."
"Our vision is to pop that back wall out – it's really just a plywood wall – and put a garage door back in to open it up to all we've got going on outside, too." Bieterman has been remodeling the property since he and his wife, Katy Welter, bought the building through a government auction in January of last year. They plan to make the necessary functional renovations while keeping the character of what it was in the '30s and '40s. They hope to register the building as a local historic landmark. Bieterman and Welter have turned the space into a hub for community events and business incubation, which they call Watershed BV.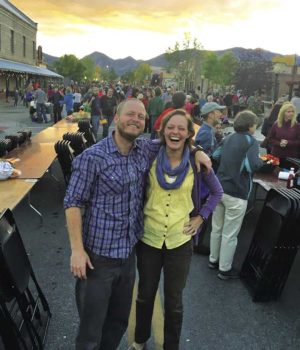 "Right after we bought the building we started asking people what they felt was missing on Main Street, and a lot of people said they love what's going on with the adult entertainment, restaurants and things, but what wasn't as strong was what people could bring their kids to. So we're trying to kind of meet that need," said Welter. "It's been really fun actually. I think one of the coolest things that happens here is when you get all the generations in town together."
"We really believe in bringing people from different experiences and backgrounds together to meet each other," continued Welter. Every month Watershed hosts a Tell a Story, Teach a Lesson event where community speakers come and share. May's theme, A Sense of Spring, brought farmers and fishermen to talk about the runoff in the Rockies. Watershed also hosts a monthly song circle and a monthly drum circle.
"So it's kind of a choose your own adventure," Bieterman added of their plans for community gatherings. He recently finished constructing The Watershed Moments Stage, an outdoor venue where they plan to host open mic nights and concerts. Buena Vista Event Cooperative (BVEC) is partnering to book the venue with summer events.
Along with events, Watershed is a co-working space for businesses and organizations. Non-profits and entrepreneurs can buy membership in exchange for office space and storefront exposure. According to their mission, Watershed is a community-focused shared space connecting resources with opportunities. "Whether serving as a testing ground for businesses interested in trying out Buena Vista Main Street, hosting workshops, sponsoring talent, or providing a place for creative collaborations, we help turn ideas into action."
"We also host a residency program," said Welter. "The idea is they get immersed and exposed to this area, but they also bring a new perspective to the people here." Last year's resident artist from New York presented a project called Point of Interest, photographing  and writing poetry based on local signs. This summer, a Chicago couple will write and present fictional diaries attempting to capture the life of area settlers in a project titled Terra Incognita.
Bieterman and Welter moved to Leadville from Chicago after buying the Watershed building last year. Bieterman was a high school science teacher and managed the dropout prevention program for 15 years. "Every summer we would come out to the mountains. We met in the mountains eight years ago on a National Outdoor Leadership School backpacking trip."
"Nine years ago," Katie interrupted, both laughing.
Bieterman said they searched for the right town and stumbled across Leadville and Buena Vista. Now he substitute teaches in Leadville, but devotes most of his time to working on the Watershed. He serves on the BV Recreation Advisory Board and BV Creates, "an organization hoping to become the hub for arts and culture." BV Creates and Watershed are joining their similar shared missions to bring people together through art and communication.

Welter was a criminal justice attorney in Chicago, working on justice system reform. She now works as an attorney with Rocky Mountain General Firm in Leadville doing business law. "I really have a passion for economic development and small businesses. And that's where a lot of what we're doing here is trying to encourage small business and small organizations that can grow the valley from within." She is treasurer for the BV Main Street board and Chair of the Historic Preservation Commission. "Both of those groups have been really, really valuable to me to get to know people and get plugged in to the town."
The name Watershed BV, following many bad ideas, Bieterman joked, comes from a representation for bringing people together. "We want to foster and empower growth, and we believe that the success of the valley depends on that interconnectedness," said Welter. "It's symbolic."
"Our goal is to support and encourage and provide resources to make community-focused things happen," she said.
"And individuals grow their business," Bieterman interjected. "You know, people who are based out of this area need support from the community for them to be successful, and we're providing that platform by being on Main Street, by partnering with a lot of cool organizations and people. And the idea is that we all kinda learn or gather ideas from each other and that might help you grow your business. A little bit of the idea of an incubator."
"… part incubator, part community builder," added Welter.
Watershed's schedule of events is at their website, watershedbv.com, or their Facebook page. That's also the place for more information about shared workspace membership. Next gatherings include the BVEC Dog Show June 3 at 2 p.m. and the song circle June 6 at 6 p.m.
Tyler Grimes highly recommends the documentary Watershed: Exploring a New Water Ethic for the New West. He is a fan of Watershed dry bags and watershed recreation.