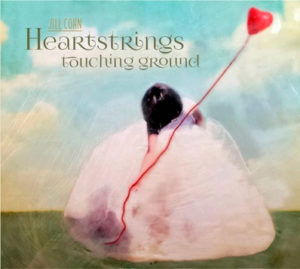 By Brian Rill

Jill Cohn's eleventh album, Heartstrings Touching The Ground, is only three years old, and is already out of print. However, there are some hard copies on line and it is also available digitally via www.jillcohn.com, along with her other ten albums, more info and downloads. The album was recorded in New York by Grammy Award winning producer Malcolm Burn, who has worked with some huge names. He also is credited with backing vocals, guitars, piano and bass. His resume includes credits with Iggy Pop, John Mellencamp, Bob Dylan and Emmylou Harris just to name a few. Burn captured Jill's sound respectfully keeping the organic style that most fans of Cohn's have come to love. Jill has a very soft succulent voice that drips into the microphone with aplomb. Her breathy vocals are layered over a minimalist arrangement of acoustic instruments and sparsely played snare drums that lend the prefect balance for her delicate style.

Jill Cohn is a Seattle songwriter whom I first saw perform at the legendary Salida Café. She has toured extensively throughout Colorado and nationwide in her long career while sharing stages with popular recording artists such as Jewel and Dave Matthews. She includes two popular cover songs in her signature chanteuse style: Roy Orbison's California Blue and Kris Kristofferson's Me And Bobby McGee. With a total of 14 songs, this collection is a great introduction to Jill's music; however, if you are already familiar with her sound, then the album will stand out as one of her best.

The song Better Life explores in a lighthearted way the heavy controversy of immigration. Her vocals reflect her respect for legendary songwriter David Bowie, adopting his deep staccato vibrato on the tail end of some of her phrasing. "Strange how the seasons change; you tear your soul apart, and if you're not ready for the shift, the swift tide could pull you in. Floating still, changing tides, looking for the better life." She keeps the lighthearted style with her love song, the relatively upbeat Honey Dear. "The day was long and I pushed on to that place that never feels like home. My home is the road, it's the same for you. The miles between us don't matter; I remember your embrace."

When not spending time with her family and her beloved canine companion named Simone, Jill has been traveling the long roads between stage shows and live radio appearances over nearly 20 years. Cohn is also writing and recording the songs for her new upcoming album due out this summer. A prolific independent songwriter, Jill has scratched her way into being placed in the top five finalists in the Lilith Fair Talent Search. She is endorsed by Taylor guitars and Elixir guitar strings, which help her provide a consistent tone throughout her music. Her songs are a personal panorama of her many experiences, and the poise she shows on stage translates into her soulful and heartfelt ballads. I would recommend this album if you have a soft romantic side and you enjoy relaxing to slow, acoustic folk/Americana music.

Brian Rill is a teacher, performer, activist poet and award-winning Latin songwriter voted Salida's best musician 2009.