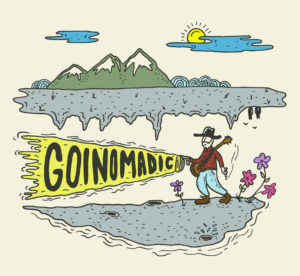 By Brian Rill
Scott MacKennon, Salida native and local character better known as "Zippy," has taken to the wilderness among the raptors and bears with the band Going Nomadic. It has been said that if man alone loved his isolation, he would either become a wild beast or a god. Seas To Trees is the latest psychograss album to land itself gracefully inside a slow desertification of the Salida music scene. The psychonauts who partake in this golden misadventure develop as time allows. However, on this recording, you will hear songs written by Aaron Dunn who also sings along with his guitar with an unsteady sound akin to a perfect cloning experiment between Anthony Kiedis, Michael Stipe and Jack Johnson.
This recording was produced at Spot Studios in Lakewood, Colorado. It sounds just as cool cruising in the pickup truck as it does blasting out of the home stereo after you get home. Scott MacKennon shreds his mandolin into splinters as he runs the strings through a myriad of psychedelic sounds. The tracks are filled in on the bottom end by Jacob Parchinski on percussion and Jim Anderegg on bass. With the song Reason To Leave, the band gives us the manifesto that justifies the abandoning of civilization altogether. "Can't stay away too long much longer, hit the road driving blind, Western roads have been a wandering, gonna see what's in store for my mind. When you can't find, when you can't find home."
Going Nomadic is mostly recognized locally as a live band and the energy between the players is apparent on the CD. However, a low mic level makes the band leader's voice appear to be lost in the mix, although the subtle groove is still fully felt. A more relaxed vibe is used on Out My Window, a song whose antagonist regrets the view outside his window and laments exhaustively. "Whatever happened to sunset sky? My view is now black-like drills in the eye. Tanker spills that makes mother nature want to cry. We've got to get it right or were all gonna die."
Workin' Shoes
is a grateful jam that proclaims a celebration is in order for a full day off of work. "I woke up this morning pushed my workin' shoes away." The repetitive motion of the tune's rhythm lends itself well to inspire the ecstatic dancing of a rare 2nd century Dionysian cult. It's sure to be the album's single, and I would recommend downloading or streaming this song for free on the band's website, www.Goinomadic.com. A total of ten songs are free to download on that site such as
Paradise Blues,
which disdainfully dissects first-world problems in a way that is understood by any disaffected native of small-town Colorado slowly imploding into the verge of fame.
With only time to lose and everything else to gain, you would be hard-pressed as a music lover not to explore Going Nomadic's website and seek out some of the stony vibes and amusing grooves that lull over and over into infinity.
Brian Rill is a teacher, performer, activist poet and award-winning Latin songwriter voted Salida's best musician 2009.