By William Korn
Leadville's preeminence amongst the mining camps of the High Rockies attracted adventurers and opportunists from distant places including a significant population of Jews, many of whom were recent immigrants from western and central Europe. Predominantly arising from a culture of peddling and small shops, Jewish merchants became an important element in Leadville's business district along Harrison Avenue. Enjoying the general prosperity of the boomtown, the Jewish community was sufficiently established by 1884 that it was able to commission the construction of a proper place of worship: the Temple Israel synagogue.
Reflecting the assimilationist aesthetic of the reform movement which had followed the immigrants from Germany, the Temple Israel building was conceived in the Carpenter Gothic style then popular and is a perfect match for the identically formed St. George Episcopal Church (1880) directly across West 4th Street. The Temple served as the physical focus of Jewish life in Leadville until 1914 although a schism in 1892 led the more orthodox to hive off to a second synagogue, Knesseth Israel, on West 5th Street.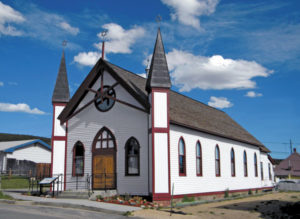 With the much diminished congregation unable to support the building after 1914, it stood empty until 1937 when it became a residence and radiator repair shop. During the Second World War, the retired sanctuary served as a dormitory for Climax mine workers. In 1955, it was acquired by the Episcopal Diocese and occupied by their vicar. In 1966, the building returned to private ownership and became a four unit apartment house. The Temple Israel Foundation bought the property in 1992 and, after a fire in 2006, carefully restored the structure to its original configuration in 2008. Since 2012, the Foundation has operated the historic synagogue (we believe it to be the third oldest west of the Mississippi) as a museum dedicated to the lives and experiences of the pioneer Jews of Leadville. The building is also used for services several times during the year.
While most of the Jews of Leadville passed their time there in relative obscurity, two names, Guggenheim (mining and refining) and May (department stores), became nationally recognizable. Although atypical, they represented the aspirations of their colleagues in their participation in the development of the American West. The museum in the Temple Israel building is dedicated to telling the stories of these pioneers, both famous and obscure, through its collection of artifacts and genealogical research which are available to the public both on site and through the internet at www.jewishleadville.org.
The Temple Israel Museum at 201 West 4th Street, Leadville, is open daily (except Rosh Hashanah and Yom Kippur) from May 1 through October 28, 2018, 10:30 a.m. until 6:00 p.m., and maintains a knowledgeable staff to offer information and answer questions. For inquiries or appointments out of schedule, please contact us at 303-709-7050 or longled@longled.cnc.net. Admission is free.
William Korn is the President of the Temple Israel Foundation.