By Ann Marie Swan
A unique chapter of South Park history is that for 27 years, Fairplay was home to a fire-breathing beast that belched smoke for days, luring artists, students and the curious to be near its flames.
Master potter Mark Zamantakis fired up his massive three-chambered, wood-burning Japanese kiln in June at an elevation of 10,880 feet to imprint his pottery with the subtle, ethereal variations of the flame's life and moods. The pottery recorded the experience of the present moment, giving each piece richness, depth and uniqueness.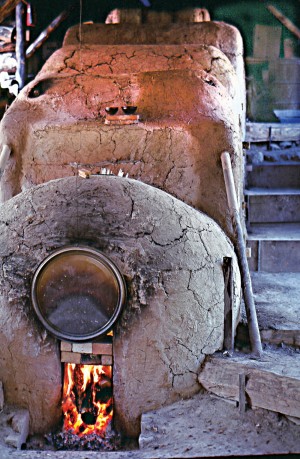 Zamantakis, who kept the kiln going from 1974 until 1998, said, "It was a monstrous amount of work. Anyone in his right mind would be foolish to try it. Inexperience could burn down the forest."
The kiln is a noborigama, which means "climbing fire" in Japanese. Zamantakis' chambered climbing kiln, close to 30 feet long, was built on a slope, with each succeeding chamber situated higher than the previous one. The kiln's chambers range from five feet to more than six feet high. The flames burn up through the bottom, moving through each chamber as the heat progresses. The noborigama's chambers are pierced with stoking ports and have been used in Japan since the 17th century.
Zamantakis, who attended the University of Denver on the GI Bill and received a Master of Fine Arts in 1951, taught with Denver Public Schools for 26 years. He fell in love with the idea of building a noborigama after a teaching exchange in Kyoto, Japan in 1969.
The artist built his first noborigama in Morrison in 1970, but the neighbors did not embrace it, complaining about the smoke. He bought a 10-acre parcel in Fairplay to realize his dream.
Zamantakis used standing, dead trees and scrap wood from his Fairplay property to fire the kiln, which he calls the "highest wood-burning kiln in the world." The wood was more than a source of heat, providing a link for artists to their surroundings and pottery's modest beginnings.
Subtleties that give the wood-fired pottery its arresting beauty and character are so enchanting, potters take on a Herculean amount of work to create its rich effects.
Just attempting to fire pottery at that altitude was a monumental challenge. To start, Zamantakis tested the kiln and had to build the firebox "a little larger than the Japanese" to fire it at that elevation. And there was zero margin for mistakes. "The elements are against you," he said. "It would take a real experience to fire it."
Indeed. Zamantakis had to tease, tame and lovingly handle his fire-breathing dragon. The process took more than a week from splitting wood to opening the kiln of fired wares. The kiln consumed three cords of word, which took three men to split it into 1-inch diameter pieces to fit inside the chamber, according to Zamantakis.
Just loading the firebox was crucial, delicate work. Workers who fill the box and tend the fire are called firemen. If the firebox wasn't loaded evenly, the fire could heat the kiln more on one side than the other, affecting the glaze. "So much relies on the work of the firemen," said Tom Forte, a master potter in Denver and Zamantakis' close friend. "It's very important to know what it looks like in there."
One full day was spent loading pottery into one of three chambers. Positioning of pots determines where the flame passes. The actual firing of the kiln required full attention, mentally and physically. The firing process took about 31 hours and the kiln was hand-stoked every three or four minutes. "Very few people are aware what it takes to manipulate the kiln," Zamantakis said. "Not an easy task."
The experiential learning went on day and night. Forte described the time as a communal, teaching experience, mostly for serious potters. There was a "sharing of knowledge" and "lots of camaraderie," he said. Everyone ate and "shared stories before collapsing from complete exhaustion."
Zamantakis, who Forte called a "consummate teacher," prepared for the firing seven months before. After full days teaching at George Washington High School in Denver, Zamantakis threw and trimmed pots, creating several hundred pieces over the winter. He'd take multiple trips to Fairplay, delivering pots. Eleven days were spent glazing pottery before the firing.
The space in the kiln was highly valued. Forte said Zamantakis was "very generous," giving his students about 20 percent of the space. Offering space in the kiln to others increased the risk of ruin. If glaze isn't applied correctly, it can bubble up or run onto other pots or destroy the shelves. A cracked pot could break onto surrounding pieces.
After the firing, another invitation went out for the opening of the kiln. Besides making food for the five firemen who worked around the clock, Zamantakis' wife, Jo, prepared a feast for some 50 guests. "Many times we would have people who would be exhausted," he said. "She'd say, 'Why are you sending them to me?' She was very capable."
Mark Zamantakis took small bowls to neighbors in Fairplay. "He was well-liked," Forte said. "He'd invite them down."
The permit process in Fairplay went smoothly for Zamantakis. He submitted blueprints and informed the Forest Service of the exact location and dates the kiln would be fired. The Fairplay police were helpful. "We had no problem," he said. "It worked beautifully."
Northwest Fire Protection District Chief Michael Roll in Fairplay said Zamantakis would need a burn permit and be restricted from firing the kiln during fire bans, which occurred four out of the five years that it operated. Bans can last weeks to months.
"You don't see many wood-burning kilns," Zamantakis said. "You can't build them because they'll pollute the air. People are buying homes and will immediately come at you because of air pollution."
The wonder and elusiveness of beauty lured potters back to the kiln, year after year, for more days and nights of labor. It was that rare gem, something so sublime, it revealed new depths with each viewing. "It's seductive," Forte said. "It's like that hole in one."
It's unpredictable and compelling how splendid pottery happens. Ash drops like snow, altering a surface with golden flecks. Fire licks the pottery as colors emerge, regal or earthy, frosted or smooth. An artist's vision converges with natural forces to ideally create something extraordinary amid the dogs. Forte called it "an interaction unlike anything else in the art world."
Zamantakis said wood-fired pottery has a "magnificent effect of looking so pleasant" that's impossible to achieve with gas. He goes on, calling wood-fired pottery "exquisite and magical" with "a lot of internal beauty." "The aesthetics are overwhelming," he said.
Forte said: "Pottery is something that comes from your inner soul. It's the physical evolution of an emotion."
Forte, who previously owned the Clay Pigeon Gallery in Denver, showed Zamantakis' work for about 25 years. They'd have a show in October with hundreds of pieces, selling about 60 percent on opening night. "The diversity was incredible, just unbelievable," Forte said. "People came from all over."
Beyond the pottery, it was Zamantakis' relationships that kept the wood-firing going so long. Zamantakis taught hundreds of kids over the years, inviting groups to Fairplay. "He was a mentor," Forte said. "He befriended a lot of people."
Mark and Jo Zamantakis live in Denver and escape to a little place in Nathrop during the summer. There they "don't talk about clay," Zamantakis said. He calls it "complete freedom."
At "85 and a half," Zamantakis sculpts birds and animals. He still feels drawn to the clay. "Interesting, isn't it?" he said.
The noborigama remains where it was built on the land that has changed hands a few times. It's too much of a beast to dismantle. "It will stand as a memorial to my wife and myself because we built it," Zamantakis said. g
Salida resident Ann Marie Swan has worked as a daily journalist in Denver, Honolulu and Tokyo. She's from New Orleans and owns the Salida Yoga Center.