By Maddie Mansheim
What was once an abandoned pool utilized to raise catfish has grown into a family-oriented swimming area that draws tens of thousands of visitors every year. The Sand Dunes Swimming Pool and RV Park, near Hooper, has revitalized itself into a place frequently visited by both locals and tourists alike. It offers an array of activities that appeal to all ages and provide fun as well as therapeutic treatment.
Originally built in the 1930s, the pool served as a public swimming spot. The hot water was discovered by drillers who were exploring for oil. With that discovery, a mile deep artesian well was drilled; one of the deepest in Colorado. Early visitors swam in a dirt-covered board pool. From that point basic renovations were made, including two cement floors and a small dressing room building.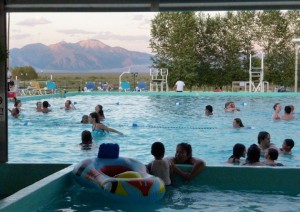 In 1978, the pool was closed to the public. Throughout the 80s, catfish were the only ones who inhabited the swimming pool. For about ten years, the Sand Dunes Swimming Pool was left untouched.
It was until August of 1995 that the pool saw life again. Ed and Sharie Harmon purchased the pool initially as an ideal location for a greenhouse. Carly Triz, their daughter and one of the pool's general managers, said that the "pool was opened as a side project" that then stemmed out to become the main business. They made extensive renovations.
Over the past 16 years, Triz said they have improved "bit by bit." The changes have not only impacted the physical appearance but also the dynamic atmosphere that draws guests back. In addition to deepening the pool, they added a hot tub, an enclosed area, a new restaurant – the Mile Deep Grille, a full kitchen, retail area, kids water slide, RV park and tent park.
There have been expansive changes since its reopening in 1995, and the business continues to expand. Triz emphasized the "many plans for the future" that include rental cabins that will be available this upcoming year.
"We will also be adding a kid's splash area and eventually adding another pool with thoughts of including a kids playground and mini golf area," she noted, "We are always growing and building to make our facility better."
The water itself tends to be the main drawing point and attracts a variety of people. For kids, the pool provides year-long fun. Jackson Mumper, age 11, moved to the San Luis Valley about four years ago and has spent quite a bit of time at the pool. When asked what his favorite parts of the pool included he said, "Well for one, the water is always warm and I like the little slide … I also just enjoy jumping."
From a natural artesian well, pristine hot water fills the pools. The temperature of the large pool is kept at 118 degrees and the smaller pool is maintained at 98 degrees year-round; the hot tub is a toasty 107 degrees.
Not only does the temperature allow for optimum enjoyment, but the filtration system used makes it possible to eliminate chlorination. The water also contains minerals that benefit the body.
"The pool has some mineral content, but no sulfur smell that is commonly a part of a hot springs pool. The mineral content of the pool softens your skin," Triz said. Many people use the pool for prescribed water therapy.
Triz also added, "The well flows at 1,200 gallons per minute, which allows for constant rejuvenation of the water."
Though the pool and its water serve as the main attraction, it also offers numerous other activities and services. The Sand Dunes Swimming pool also offers camping sites. They still grow organic products including tomatoes, English cucumbers and basil that they sell in season and feature in the restaurant.
Triz noted that the grill offers "some of the best food in the area; it is a must to have lunch or dinner following a swim in the pool."
In addition to the open swimming pool and hang- out areas, the pool also coordinates swim lessons and hosts special events. Their latest affair is Cosmic Night.
"We put up disco and laser lights around the pool and turn off all other lights to create an amazing light show that starts around dark. Dance music is featured to create a safe and fun environment for local kids," Ritz said. Cosmic Night is held every Monday evening. Admission is four dollars for high school and college student from 4pm-close, but everyone is welcome to attend. On Monday, December 19, they will be having a special Christmas Cosmic Night featuring the music of the Trans-Siberian Orchestra. Triz advised anyone who is interested in other events to visit their website, www.sanddunespool.com or follow them on Facebook.
Triz estimates that 40,000 people visit each year.
"We have guests who come almost every day! (There is) lots of repeat business. We love to host local school groups as well," she said.
This pool that was built nearly 80 years ago and has seen multiple uses maintains a steady growth into a hotspot for locals and tourists alike. Upcoming changes will ensure the continuation of good times for all. g
Maddie Mansheim is currently undergoing a huge obstacle that all college students face – turning ramen noodles and cafeteria food into Iron Chef quality.