By Elizabeth Walsh
TEACHER, AUTHOR, RANCHER and environmentalist, Nancy Oswald jokes, "If I ever wrote a memoir, I'd call it the crooked path." Perhaps it is the twists and turns, the side ventures, even odd roads that lead to a full, rich, interesting life journey.
   Raised primarily in Denver, Nancy frequently spent time at their family ranch in Cotopaxi. The Oswald Ranch dates back to Nancy's grandparents. Her father and mother met in Denver and settled there to raise children. Her father kept a regular connection with the ranch and returned full time after his retirement in Denver. After Nancy completed college, she worked at the ranch and also part time at the Texas Outward Bound School. It was at a synchronistic meeting at a laundromat in Cañon City where she met Steve Oswald who became her partner, husband and fellow adventurer.
As a young couple, they moved to to a large ranch in British Columbia, Canada. Steve worked on the ranch, and Nancy taught in both one and two room schools next to the Shuswap Indian Reserve. She also taught reading to adults on the Reserve. Her experiences with people of the First Nations brought a depth of understanding, perspective, curiosity and a foundation for her future teaching and writing.
In 1985, Nancy published her first book, "Bees, Bugs and Baseball Bats," through Scholastic Canada. Soon after, they adopted their son, John. In 1991, when John was five years old, they returned to Cotopaxi and took over the lease on the family ranch. John currently lives in Cotopaxi and works on the ranch. Their oldest son, Andy lives in Montana.
After returning to the states, Nancy taught a year in Westcliffe then taught primarily fifth grade at the Cotopaxi School. Ranch life inspired her writing. Her donkey is a model for a character in her middle grade series, "The Ruby and Maude Adventures." The books are set in Cripple Creek, Colorado, in 1896, and are about an 11-year-old girl, Ruby, her donkey, Maude, and her cat named Trouble. This historical fiction is a delightful teaching tool for young readers to learn about history from a perspective of someone close to their age. Oswald has won numerous awards for her books, including the Willa Literary, Spur Award, Evvy Award, and CAL Award.
Now retired from teaching, Oswald keeps active visiting schools to talk about writing and her books. Her youth series is an excellent vehicle of connection with the school-age youth. She also does event speaking for libraries, service groups and historical organizations. A favorite historic topic of hers is the history of Russian Jewish Colony which came to Cotopaxi in the 1880s. The remains of the colony are located on the southwest corner of her ranch and was the inspiration for her book "Nothing Here but Stones." In this young reader book, the main character is an 11-year-old girl who left Russia with her family. It speaks to the immigrant experience and starting a new life in the West.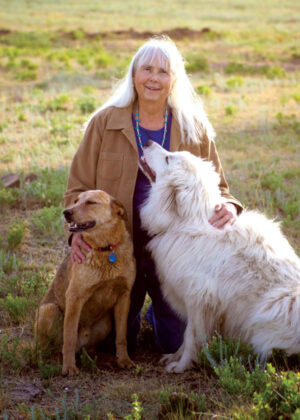 In her writing, Nancy shares her love for the West. She likes to visit locations of where a story takes place to get a feel of the land, environment, community and culture. Nancy then does background reading around the era and story line, and further research through the internet to flesh out details and information. Her current writing project is a fourth Ruby and Maude novel set in Colorado Springs, circa 1898.
On their ranch In Cotopaxi, the Oswalds raise and sell, grass-fed beef. With around 125 mama cows, bulls and summer calves; they utilize rotational grazing for their cattle. One of their goals as ranchers is improving soil health. She and Steve like to be involved in and share educational resources with the community. Recently, they brought a leading researcher and author to the area for continuing education. Nicole Masters, author of "For the Love of Soil: Strategies to Regenerate Our Food Production Systems," recently presented a two-day workshop for ranchers from around the state and community. A fascinating topic Masters brings up is the concept of "underground livestock," highlighting the value of the soil health for ranching and farming.
Nancy and Steve are currently establishing the Taylor-Oswald Land Conservation easement which will maintain the conservation value of the ranch. This will prevent their land from development into the 35-acre parcels common to their area.
You might say not much grass grows under the feet of this talented, accomplished and many-skilled woman. Nancy Oswald gives much time, attention, and deep-hearted connection to caring for the Earth and its creatures big and small.
For more information about her written works, visit www. nancyoswald.com
Liz loves flowing with the current: music, dance, the river, travels and telling stories of the kool kats she meets along the way.