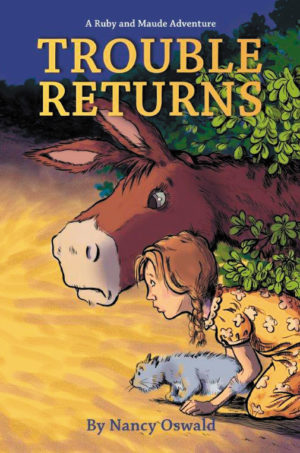 by Nancy Oswald
ISBN 978-0-86541
Filter Press LLC
$8.95; 209pp
Reviewed by Forrest Whitman
I wish I'd had an author like Nancy Oswald to read when I was ten. This is the third in the series of adventures about young Ruby and her donkey Maude in Cripple Creek. Oswald is careful to present the mystery in a setting as close as possible to 1895. Oswald's research leads to enjoyment for any history buff, and the plot will keep any kid reading right through till the end. It did that for me.
In her last adventure, Ruby encounters a real passenger train robbery. That happened in 1895 on the Florence and Cripple Creek night express between Victor and Florence. This time the meanest of the robbers is going to trial in Colorado Springs and Ruby must go and testify. The historical detail about the trip; the hotel, Garden of the Gods, the court house, the jury (women weren't allowed on a Colorado jury till 1945), and the whole setting is meticulously researched. Oswald even has the time tables of the Colorado Midland and the Cripple Creek spot on.
Part of the plot concerns Ruby's father. He's raised her literate and tough and Ruby can't see why he thinks she needs a mother. Not only that, he picks the local school principal to marry and Ruby hates school.