By Nathan Ward
Sound carries far in the predawn hours of Hacienda San Juan de Lizárraga. A white-nosed coati crashes through the scrub forest. The morning explodes into chatter as the sun rises and the wild babbling of chacalacas rents the air. Birdsong flows from the beaks of brilliant birds, bursts of color between palm fronds—iridescent green parrots, blue flash of the Toh motmot, sunburst of the orange oriole. It's an orgy of activity, all creatures scrambling before the heat rises to boil the day.
In spring, when Central Colorado endures snowstorms and spring winds, Yucatán state in Mexico sinks deep into the dry season, no rain falls and temperatures climb over 100 degrees. At dawn, Angela and Scott Damman are already deep into their day, watering hundreds of plants and trees, feeding chickens, organizing workers to extract long sinuous fiber from the spiny leaves of the henequen plant. It's a life distinct from their pasts when Angela helped run a biofuels company in Cotopaxi, and Scott sold real estate and served on the city council in Salida.
Despite the beauty of small town life they were ready for a change. After analyzing all 22 Spanish-speaking countries, they identified the Yucatán as the place with the most opportunity. They found a decrepit hacienda for sale online, bought it, sold everything and within months moved to Mexico with their children, India and Finley, who were 6 and 2 years old at the time.
"In 2011 we flew down here with ten suitcases of stuff for four of us," remembered Scott. "That first night in the old hacienda was rough. No one had lived here for ten years." In the tropics, ten years is a long time for the animals to move in and the jungle to start eating the buildings. "It was camping," laughed Angela. "We had no working toilet, no running water, and everything was totally overgrown." Even the yards were filled with rubble after Hurricane Isadora blew down some of the huge stone buildings a decade before. To add to the challenge, none of them spoke Spanish.
"It was absolutely fantastic," mused Angela. "We left our crazy professional lives behind. We had lots of time to spend with the kids and dream what to do next."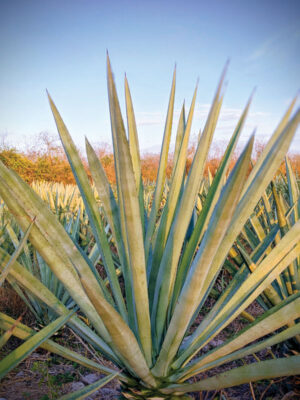 Despite challenges over the years, fast forward to 2020 and the Damman's project looks incredible. At the center of their 27 acres sit two houses—former machine shops, huge workshops, and a sea of green plants, palms and fruit trees.
"This isn't the whole hacienda, of course," explained Scott. "The hacienda casa principal is owned by our neighbor next door." At its height, Hacienda San Juan encompassed 55,000 acres of land, most devoted to growing henequen (Agave fourcroydes Lem.), an agave native to southern Mexico and Guatemala.
Haciendas and henequen share a mixed history in the Yucatán that muddles together colonialism, riches, slavery, violence and uprising. It's a history which saw the Yucatán become the wealthiest state in Mexico, but fraught with cruel labor practices, followed by the complete collapse of the market and poverty. Most haciendas were taken back by the local Maya people, many left to decay as the jungle grew over the henequen fields.
The Maya lived here for thousands of years with a long utilitarian relationship with henequen. For centuries they've used henequen fibers to weave bags, hammocks, sandals and many other subsistence goods.
"I saw roughly woven Maya textiles in the pueblos," explained Angela. "I wanted to know if it was possible to make refined textiles using the same plant fibers and traditional weaving techniques." She experimented with weavers to create intricate textiles, then launched a luxury brand to offer handbags, textiles and home decor.
Today, Angela and Scott work with over 60 Maya artisans. Angela designs and markets the products. Scott sources all the plant materials and continues to rebuild the hacienda. They both manage the many workers in the supply chain which includes cultivating plants, defibering tough leaves, washing, cleaning and dyeing the fiber before the artists crochet, knit, macrame and weave the final products.
"It's a circular economy," said Angela. "We recycle extra materials back into the earth, all our artisans live close by, and almost all the money generated is spent in the local economy."
No one has integrated traditional Maya fiber work into the high fashion world before, and this exclusive industry has taken notice. The Dammans' work has been exhibited in respected galleries and boutiques, including the Fundación de Artistas in Merida, Museo de Arte Popular in Mexico City, and the Museum of Popular Art in Los Angeles, among others. Their work has also been covered by Vogue and Architectural Digest.
Like arts in many indigenous cultures, weaving among the Maya is dying out and many of the weavers Angela works with hadn't woven in years. There was simply no market for their work. With the Dammans, the weavers now work from home, earn a higher than average wage, and maintain their art.
However, the future of Maya weaving in the Yucatán depends on there being weavers who possess the traditional skills and knowledge of backstrap weaving. Most of the artists are older and when they pass, their knowledge may pass with them.
"The younger generations living in the artisan pueblos haven't learned the craft of their mothers and grandmothers," explained Angela. "We saw a need, an obligation, to start a program to inspire young women to learn this craft." In 2019, in partnership with the fashion department at the University of Cincinnati, they started a new project called the Maya Youth Artisan Initiative (MYAI) to pair experienced weavers with young students to pass on their knowledge.
"There are very few economic opportunities in these pueblos, so at first the older women felt threatened to teach new artisans. They were worried they would get less work," said Angela. "At the same time, they understood it was important to keep their traditions alive."
The first MYAI group paired six experienced weavers with six students over several months. "It's a difficult skill to learn," explained Angela, "but this pilot project has certainly reconnected these young women to henequen and fiber, not just as an art but as a form of income." Just as important, all the women, young and old, commented that they felt that MYAI built a community across generations in their pueblo that had been lacking before.
"The Maya Youth Artisan Initiative gives these women a way to write their own history," said business development expert Andrea Schulz, who recently moved to the Yucatán to implement the second phase of the project. "For a long time, henequen was associated with slavery and colonization, it's a way to change the narrative to one that connects with your ancestors and your culture, while making a living at the same time."
The next phase of this project is to expand the group and teach the young women skills like business management, money management, self expression and marketing. Andrea explained "We'll also focus on identifying the barriers to participation, in order to create this opportunity for more young women."
By seeking out the opportunities in the culture all around them, Angela and Scott have created a unique lifestyle blending history, rebirth, and opportunity, all based on a spiny agave that grows well in poor soil, with little water, under a scorching sun. It's a good lesson for our times; dream, commit, then make the most of what you can, where you are.
Under the pandemic, the MYAI is currently on hold. However, to find out how you can get involved, contact Angela Damman at info@angeladamman.com, www.angeladamman.com
After Yucatàn heat, henequen dreams, and hacienda hospitality, writer Nathan Ward and his wife Andrea returned unexpectedly to a wild spring snowstorm that dropped 10 inches of snow. They couldn't find their coats and braved the storm dressed in four t-shirts each, paired with fuzzy blankets, face masks and the last of the tequila they smuggled on the plane.