By Ann Marie Swan
A global pandemic hasn't stopped Little Red Hen Bakery in Salida from serving its popular wood-fired breads, baked goods and treats. In this new normal of restaurant operations with no table service, faithful customers wait in line over chalk art that greets them with rainbows, butterflies and "Bake the World (drawing of Earth) a Better Place." The Hen, as some locals call it, has maintained its corner spot at G and Third Streets as a provider of yumminess and comfort foods at a time when we can use the comfort.
In creating this, owner Emily Walker had to pivot quickly to embrace the new rigorous standards around COVID-19.
"We have tried hard to stay ahead of the required safety measures through this fast-moving process," Walker said. "Safety has been our primary goal, and thinking ahead has been key."
The bakery stopped accepting cash mid-March to minimize contaminants. Walker switched to takeout, curbside and home deliveries. She added an additional phone number so customers could text orders. Staffers moved the counter and bread display to the window, and the cash register to the door.
Then came the plexiglass, "a real community effort," Walker said. "Hylton Lumber really came through for us." Walker leaned on friends, too, including Chris Faust who showed up to cut and install the plexiglass the day it arrived.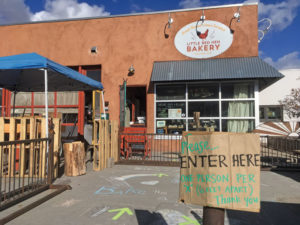 For the walk-up system, X marks where customers must stand six feet apart to adhere to social distancing. Customers then place an order with a staffer, who is behind the plexiglass. Customers pay by check or swipe credit cards outside so a staffer never touches the card. The bakery goods are placed on a chair for pick up, so no needless contact happens. The number of staffers in the bakery is minimized, and the team is divided into two non-overlapping crews.
The system is working. But there's still a learning curve. One customer in line corona-shamed others for not wearing masks. Another customer took a wrong turn and almost walked into the kitchen. A delivery ordered by a well-meaning neighbor for another was declined by the receiving neighbor out of virus fear. At times, staffers have stood by helplessly, pained to see through the plexiglass, as customers repeatedly swiped cards that didn't work.
"It's certainly been an adjustment but our customers have really adapted right along with us and we are so grateful," Walker said.
They've even come to the rescue with hand sanitizer.
During this time, one lovely new addition is the donation-funded Community Account. "We want bread to be free to anyone who needs it, and the community response to keep the fund going has been incredible," Walker said. "It started when a customer stopped by with a check for $100, asking us to use it whatever way we thought was most helpful. We decided to use it to start a store-credit account that anyone can charge, and threw in some extra money of our own. Since then, the fund has doubled and doubled again, and people continue to use it."
And the Community Fund is here to stay. "The support and gratitude that the community has shown us has really been overwhelming," Walker said. "I feel so honored to bake for this vibrant and compassionate community. I want to give back in whatever way I can."
Walker will continue to evolve her business. She's exploring take-and-bake options, such as frozen mini cinnamon rolls, cookie dough and cookie mixes. She may continue selling the flours the bakery mills fresh in-house, too. Already, she offers a free sample of sourdough starter.
"I would love to continue to be a resource to support home bakers," she said.
Walker has applied for the Paycheck Protection Program, a business loan program, and, at press time, was waiting for a response.
"It's hard to tell what the future holds, but this experience has shown me, my manager, Andrea Goth, and my staff what we are really made of," Walker said.
Just more bakery goodness.
Little Red Hen, 302 G St., Salida. Text orders to 719-221-6980
Ann Marie Swan is a writer and editor in Salida. She will surely swing by The Hen soon to pick up sourdough starter.