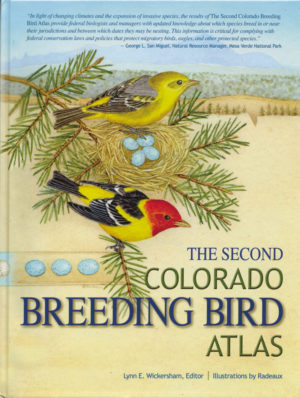 Lynn E. Wickersham, Editor
Colorado Bird Atlas Partnership

Reviewed by Forrest Whitman

The second edition of the Colorado Breeding Bird Atlas is out and it is stunning. This is the bible for birders, but also a lovely book in and of itself. The illustrations by Radeaux are almost worth the price of the book. The effort by hundreds of volunteers to compile the atlas is impressive also. Lynn Wickersham and Catherine P. Ortega of Fort Lewis College deserve kudos as do Jason Beason and Tony Leukering of the Rocky Mountain Bird Observatory for managing this massive project. Each geographical block has been studied by an army of dedicated birders. The climate and water maps are well worth a ponder too.

Changes since the first Colorado atlas came out in 1988 are rapid and attention-getting. Impacts on our bird species are occurring more quickly than ever before documented. Changes in breeding once measured in centuries are now measured in mere decades.

This has not been easy birding. Wells W. Cooke listed 228 breeding bird species in 1897. He noted the challenge to good bird study saying "No state in the union offers a more difficult field for thorough work." Yet our army of citizen scientists have accepted the challenge.

Many readers will probably be interested in the results for the piñon-juniper woodland we see around here. Birders report species such as common Nighthawk, common Poorwill, Black-chinned Hummingbird, Gray and Ash-throated Flycatchers, Gray and Plumbeous Vireos and of course, Western Scrub Jay. Also reported: the Juniper Titmouse, Bewick Wren, Mountain Bluebird, Black-throated Gray Warblers and Chipping Sparrow.

We also have riparian areas along the creeks. These are rare gems and comprise only three percent of Colorado. Yet, they are home to many birds such as American Dippers, Western and Eastern Kingbirds, Yellow Warblers, Western and Eastern Screech Owls, Bullocks Orioles and more.

The changes in bird breeding areas and historical habitat boundaries show how some species adapt but others do not. As the climate warms, Tree Swallows time their egg laying earlier and earlier. Other species have a harder time adjusting. We've seen loss of range for the lovely Brown-capped Rosy Finch. Some predictions for the high mountain birds are sad. Our mountains, long called "islands in the sky," are warming. Once species reach the tops of mountain ranges there is no place left to go. White-tailed Ptarmigan, American Pippits, and both Brown-capped and Rosy Finches have felt that change.

126 species are now listed as "climate endangered," and 188 as "climate threatened." Species dependent on wetlands are also suffering. Colorado has lost an estimated 50 percent of our wetlands since the studies began.

The good news is that some species are holding their own or increasing. Some of these are birder's favorites such as the Summer Tanager, Great Blue Heron, Ospreys, Grace's Warbler, and Sandhill Cranes. The bad news comes on the "declining" pages. Kingfishers and Evening Grossbeaks are on the decline even though some local populations hold their own. Declines for the Indigo Bunting and American Dipper will be noticed. The 88 percent decline for Red-eyed Vireos and 69 percent decline for Screech Owls is bad news.

The breeding bird atlas brings less than good news for human populations too. Human-induced greenhouse gas emissions, (mostly from the burning of fossil fuels) are clearly the main driver of climate change. Volcanos exist as well as other emitters of greenhouse gasses, but we humans are the long term, steadily increasing, cause. Atmospheric concentrations of carbon dioxide, methane, and nitrous oxide are going higher than has happened in thousands of years. Will we be like Tree Swallows and adapt, or will we reach the top of the mountain and just disappear?

This is an atlas worth reading. It is a lovely book and I'm hoping our local libraries will purchase a copy. It's published by Colorado Bird Atlas Partnership, P.O. Box 201661, Denver and the Division of Colorado Parks and Wildlife, 1313 Sherman Street, 6th floor, Denver, 80203. It's available from Dr. Lynn E. Wickersham at San Juan Institute, Fort Lewis College, 1000 Rim Dr. Durango, and bookstores should be able to order it too.