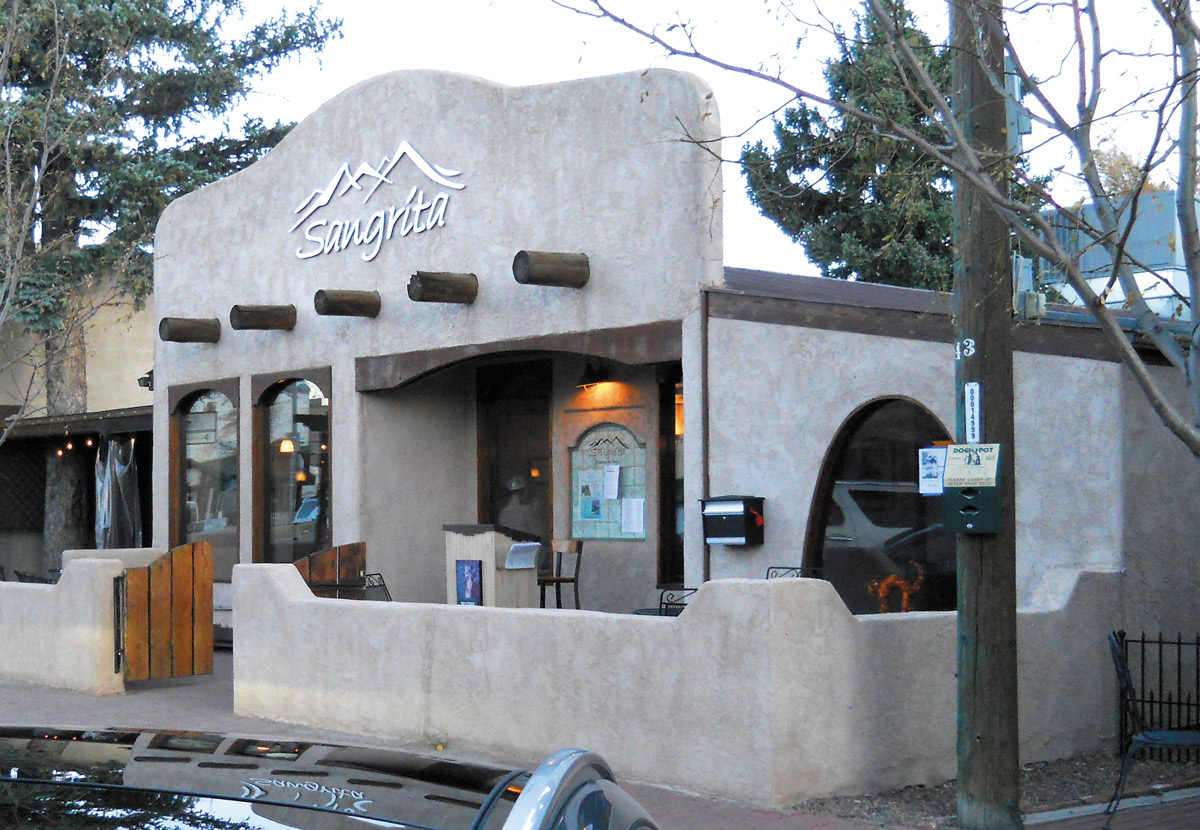 By Elliot Jackson

Sangrita
212 Main Street, Westcliffe, CO
Open throughout the winter.
Wed.-Thurs., "3 p.m. to close (or about 8 p.m.)"
Fri.-Sun., 11 a.m.-close (8:30-9, traffic dependent).
719-626-4120

"This restaurant," says Jordan Hedberg, new manager and head cook at Sangrita in Westcliffe, "in some ways represents a last, desperate attempt to sell local food differently."

Sangrita has been a fixture in Westcliffe since the 1990s, but by the time I arrived here two years ago, it had pretty much shut down. Owners Robyn and Tom Wallerich had had enough of running the place themselves; their latest attempt at finding a chef to take over had looked promising, but fallen through; and it seemed as if Sangrita, with its pleasant atmosphere, including an enclosed patio with open-air seating and bandstand, and its bar, well-known for being well-stocked with local craft beers, was closed for good.

Then Hedberg approached the Walleriches with a plan. An almost-native son (he moved to the area as a boy with his family in 1999), he had left Westcliffe to go to college in Illinois but returned to work the family business, ranching grass-fed beef which he sells directly to customers. He had developed a relationship with local farmers, particularly the Arkansas Valley Organic Growers Association, and that served as the basis of his pitch: take over Sangrita and turn it into a "farm-to-table" restaurant, serving as much locally-sourced food as possible in its menus. The Walleriches took the chance, and Hedberg opened the new Sangrita a couple months ago. We joined him the other night in Sangrita's kitchen, where he was rolling out and cutting fresh pasta.

Hedberg, whose other career – besides farmer, rancher, cook, and self-described "Cisco of local food" – is journalism, spilled the (locally-sourced) beans on the "farm-to-table," or "locavore" movement: despite its apparent boom and media popularity, spurred by such texts as Michael Pollan's Omnivore's Dilemma and Barbara Kingsolver's Animal, Vegetable, Miracle – both of which extol at length the health and ecological benefits of eating as much locally-sourced food as possible – the local food market is actually collapsing. Hedberg cited a number of contributing factors: the aging of the farming/ranching population, coupled with the staggering increase in land prices in rural Colorado, which makes it prohibitive for young people to get a start in farming; the sheer amount of work involved in farming and ranching, which takes its toll on marriages and family relations and ends up driving people out of the business; and lastly but perhaps most significantly, the fact that the big boys in the food industry – the Walmarts and Whole Foods, the big restaurants that tout "locally-produced" or "organic" fare – are, in fact, not selling locally-produced fare.

"We got into the market (selling grass-fed beef) right at the right time – demand was building, and we had the product," Hedberg says. "Now every Walmart sells 'grass-fed beef.' But if they can get it for ten cents a pound cheaper from Australia, they're not buying it locally – they're shipping it in." He pauses and adds, "But you really can taste the difference between local and not. So, this is our latest attempt at selling local food – not everyone goes to farmer's markets, but people do go out to eat!"

So, what did we eat? The menu changes seasonally, but I had my eye on an item I had noticed from the last time I was there: the filet (Sangres Best grass-fed) served with a side of horseradish mashed potatoes (from White Mountain Farms in Mosca) and seasonal vegetables (which that night were braised sweet potatoes, charred on the outside, meltingly squishy within). My partner opted for the house-made alfredo pasta (which we can attest to seeing made). To warm us up, we went with a cup of the gila cliff dweller squash soup (winter squash sourced from Blue Raven in Avondale), which was thick and hearty enough to scoop up with the flat bread served with the pasta, and the fried cheese curds with roasted tomato coulis (tomatoes again from Blue Raven, cheese from Springside in Pueblo, and pork fat for frying from Corner Post Meats in Black Forest).

Okay, a word about the pork fat. One of the things that has been most gratifying to me about the local food movement is that once-despised "your grandma's cooking" staples like animal fats are coming back with a vengeance. And high time, too – these cheese curds, like the onion rings that I had sampled earlier in the week, also on the appetizer menu, have a delicate, tempura-like crust that melts in your mouth with not the least hint of sogginess or greasiness, which makes a perfect complement to the lusciously gooey cheese. My only quibble with the subtly-spiced and delicate tomato coulis is that I wanted it just a trifle thicker, the better to pile on the curds. (We ate the rest of it with a spoon after the curds were gone).

Now a word about that filet. If wine cam be said to have "terroir" – a signifying quality that comes from the local soil – I'm going to posit that beef does, too. I'm not sure how to describe the taste exactly – smokiness comes to mind – and the texture, which was buttery and carved like a dream. I'm trying to come up with something more descriptive, more elegant and precise than the words I found scrawled in my notebook, sometime during the course of a second glass of Cabernet: BEEF SO GOOD IT MAKES YOU WEEP. But I'm not sure I can, so I will leave it to my partner D., whose own forays into animal-flesh consumption would tend to be limited to cans of tuna if he weren't hanging out with a Carnivore Cavegirl, to sum it up. After eating so much we were staggering out the door – because we had also sampled dessert, a pumpkin crisp with house-made ice cream – D. said, meditatively: "I could go for a piece of that steak."

Come down to Sangrita and go for a piece of that steak. The local-food movement here will thank you.

Elliot Jackson lives and writes in Westcliffe, and by press time will probably have emerged from Food Coma.