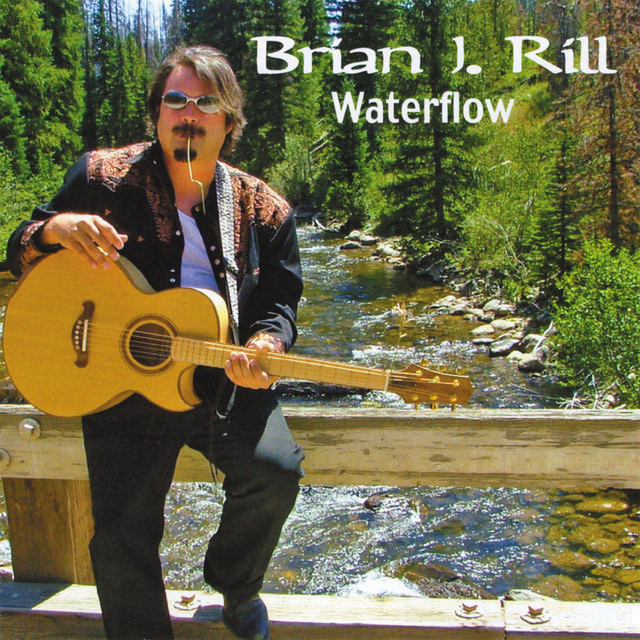 Reviewed by Michael Andre
To meet Brian Rill in person gives no clue of the talent and musicianship lying beneath his placid and easygoing exterior. He moves with decisiveness, but his languid way of speaking in a deep, rumbling baritone is more akin to the liquid flow of a river. Nowhere are these characteristics more evident than in his music. With dulcet tones reminiscent of Don Henley's best work, Rill's voice is both soothing and energizing. In fact, there's a thread of virtuosity running deep through his latest ten-track CD release, Waterflow. While Waterflow is marketed as Country/Alt-Country, it manages to straddle several genres – country, folk, rock, honky-tonk, even rumba – each of them performed to perfection. This multi-faceted song writer and performer is a stellar addition to any discerning music aficionado's collection. Yet he manages to come off as humble and unassuming at the same time.
Rill is accompanied by his band, Island Earth, and the music contains a smooth, smoky, and sometimes worldly flair. As a bonus, three tracks (Waterflow, Winter Song, Guns vs. Drums) include the inspired bass guitar work of the late artist and musician, William Boddy.
The opening track, The Velvet Revolution, is a stunning ballad that immediately puts the listener in mind of old West bar rooms, the world-weary narrator sitting at a table watching the world go by. The track is based on the Czech Republic's revolution of 1989, called, what else, The Velvet Revolution.
On Lightning Storm, Rill's country roots show through as he sings about loss of love, the yearning and pain searing the ear, while Honky Tonk Home Boy has a lighter, sprightlier beat, yet tells a beautiful tale of woe and barely concealed despair.
The title track, Waterflow, a barn-burner with its galloping baseline and brilliant strings imparting a silvered counterpoint, is the track that will tear up dance floors. As an homage to – you guessed it – water, the lyrics take on a somewhat political tone while at the same time managing to express deep gratitude to the liquid nutrient, but insists that it's not owned "by corporate entity." A livelier parable you'll never hear.
While every track brings something new to the listener,
Streetlights and Sunsets
, a harmonic ballad that both soars and wallows in a kind of musical grief, as if the singer is pining for a distant time, is a track to note. Rill's voice is both poignant and ethereal, with a simple acoustic guitar leading the way.
Drums Against Guns is the standout track, beginning with tribal drums that are quickly silenced by a gunshot. The wail of an electric guitar, like the cries of the dead and dying, swoops up under Rill's eerie falsetto and acts as a counter-melody to the ominous refrain, "… guns against drums." There are layers upon layers of subtext to this track that slowly reveal themselves with multiple listens. It manages to be both a statement against the genocide of Native Americans and a tale for our current political atmosphere. If you like your music with a message, this one's for you.
The other tracks on the CD nicely round out what is an outstanding set of master songworks by an artist at the top of his form.
Waterflow and Rill's other fine works can be purchased online on iTunes or at: store.cdbaby.com/Artist/BrianJRill
* Note: The tracks "Waterflow" and "Estrella Rumba" are transposed on the digital release only and given incorrect titles.
Michael J. Andre is writer for several national arts and music magazines, essayist, and recent transplant from the east coast to Colorado.