Brief by Martha Quillen
Local News – April 2007 – Colorado Central Magazine
Undercover Operation Outed
Lake County Sheriff Ed Holte was shocked into action after reading the Leadville Herald Democrat on February 21. It wasn't a fascinating front page article that jolted him; it was the required legal notice listing county expenditures, including payment of salaries and services. There, in the newspaper listed with the sheriff's deputies for the edification of anyone who cared to look, was the name of his department's undercover drug informant.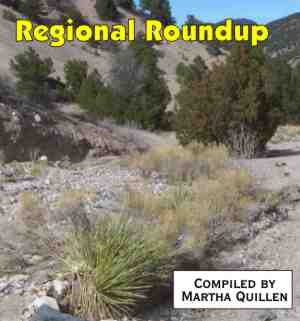 Holte read the Herald at about 8 p.m. in the evening, and immediately started rounding up officers; he found eleven, including eight sheriff's deputies and three Leadville police officers. It was half the number Holte would have preferred for a major bust, but the officers proceeded shortly after midnight and made eleven arrests, all in connection with a departmental investigation into the possession and distribution of schedule II drugs, including both cocaine and amphetamines.
According to the Herald Democrat, one suspect had already fled Leadville, and Sheriff Holte believes that was probably due to the legal notice. "They watch us more closely than we watch them," he told the newspaper.
Yet despite the glitch, the bust went down without undue incident, and one of the men arrested was the primary dealer who worked with a distributor out of Denver. In the meantime, however, the department advised the drug informant to get out of Dodge, or Leadville if you will, and not to trust anybody or get too comfortable for awhile.
Rich Tosches, the Denver Post's roving columnist, also wrote about the operation and said that the department had meant to list the informant as working with the road and bridge department, but something went wrong. According to Herald Democrat reporter Ann Wibbenmeyer, the sheriff is currently looking into the laws and policies which mandate printing county salaries to see what other jurisdictions do about undercover personnel.
Arkansas and South Platte
Snowpack Good, For Now
Colorado's snowpack was only 90% of average in late February. But the Arkansas River basin lead the state in snowpack with 119% of average, and the South Platte River basin (Park County) followed at 110% of average.
Although it was not quite up to snuff, the Rio Grande basin was faring considerably better than it has in recent years with 94% of average, which put it third among the eight Colorado river basins listed by the Natural Resources Conservation Service. The Gunnison River snowpack, however, was only at 83%.
On the Arkansas River, however, it has been relatively dry since February, and because spring storms bring much of our high country moisture, whether this season will prove wet enough or not — here or there — has yet to be seen.
Stolen In Salida
Four stolen vehicles were recovered near Salida, after they'd apparently been taken by joyriders, and four suspects were arrested.
Corp. Jason Deluca, of the Chaffee County Sheriff's Office, noted two vehicles, a 2000 Dodge Neon and a 1998 Jeep Cherokee, being driven erratically in the wee morning hours of February 28, and pulled them over after both failed to stop at an intersection. As it turned out, the vehicles had been stolen (although the sleeping owners didn't know it until they were contacted).
The subsequent investigation led to the recovery of two more cars and drivers, including a wrecked 2001 Ford Focus, and an abandoned but undamaged Subaru Forester. All of the vehicles had been stolen from residences in Salida, and officers believe that at least some of them were left unlocked with the keys inside.
Fire Causes Destruction
and Highway Closure
A fire in Salida on March 4, severely damaged Sacred Grounds Coffee and the Best Lil Boot Shop & More on Highway 50, and also resulted in some smoke damage and minor water damage to the adjoining Verizon office, but spared the video rental store in the same complex because it is housed in a wholly separate cinder block building.
U.S. Highway 50 through Salida was closed for five hours while firefighters fought to contain the blaze. Flames lit the night, while water coated a nearby tree in ice and poured down adjoining streets, but highway traffic easily bypassed the fiery scene by detouring around it on residential streets.
According to the Salida Fire Chief, the fire caused about $240,000 loss to businesses, and the investigation confirmed it had started "without any malicious behavior or intent," in the ceiling of the Sacred Grounds bathroom, where a plumber had done work earlier.
By March 7th, building owner Glenn Barnett had already hired a contractor to start rebuilding and the coffee and boot shop proprietors were making plans to reopen sometime in the future.
Slow Speed Chase in Park County
An Aurora man ignored lights and sirens and led Park County sheriff's personnel on a slow-speed chase on February 12, after Sheriff Fred Wegener tried to stop him for a minor traffic violation.
Subsequent events revealed that driver John Reed was a person of interest in a homicide investigation in Aurora, and apparently had other legal issues, too, which might explain why he wasn't eager to be pulled over. Instead of stopping, Reed continued down Highway 285 near Bailey, even after other deputies joined Wegener in pursuit.
Officers also laid down stop sticks, which are used to puncture tires, but Reed ignored them, too, and drove on for an estimated two miles on flat tires, passing Platte Canyon High School, before he finally lost control and plunged into the South Platte River.
Eyewitnesses say the "chase" never exceeded 35 to 45 miles per hour. And Platte County senior Isaiah Egan told the Fairplay Flume, "It looked like when police cars escort a Presidential limo."
Unresponsive but quivering when rescued from the river, Reed was taken to St. Anthony's Hospital in Denver, then released and transferred to the Denver County Jail. In a press release, the Aurora Police Department said that he had subsequently been taken into "Federal custody on unrelated charges."
BRIEFS
* Jason Wichter, 32, died at Twin Lakes after the snowmobile he was riding fell through the ice on February 9. His body was recovered the next afternoon by a diver directed to the right place by teams using sonar and drop cameras. As crews searched for Jason Wichter, another snowmobiler fell and hit his head on the Twin Lakes ice, and was taken to St. Vincent Hospital via ambulance.
* Fred Field, rancher, community leader, former Gunnison County Commissioner, and honored namesake of the "Fred R. Field Western Heritage Center" multi-purpose building and fairgrounds in Gunnison, died on February 22; he was 73.
* A Salida juvenile managed to set a bed alight with fireworks, but mitigated excessive damage by tossing his smoldering mattress out a second story window, then carrying the boxsprings outside. Firefighters were summoned and used a fan to disperse smoke, and the worst damage was confined to the bed and carpet.
* Local businesses have recently been targeted by scammers sending phoney traveler's checks and postal money orders, and asking for change. To avoid fraud, authorities warn businesses to call the issuing bank to verify the authenticity of a check or money order, to never accept checks for more than the purchase price, to establish the authenticity of checks or money orders before mailing goods, and to notify law enforcement officials about any fraudulent cons attempted.
* Despite protest by many citizens, the City of Salida approved higher water rates.
* The fate of Salida's Unique Theater has been much in the news, after it was discovered that the roof had seriously deteriorated and the building was in danger of falling down. At this point, it looks like the building, which is an historic landmark, will have to be partially demolished, but the city and others are looking into ways to save the front facade, and also the theater portion of the building, if possible.
QUOTES
"I was amazed that the definition of a deer problem in Buena Vista, is that one person spoke out at the regular monthly meeting of the Buena Vista trustees."
Ted & Gini Neis, in a letter to the Chaffee County Times.
"Humans are the ones that put out plants and lawns that the deer gravitate to. The deer are not the problem — the humans are."
Jan DeBellis, in a letter to the Chaffee County Times.
"We're allowed to have lawns and gardens, and we pay `deerly' for it … I work hard in my yard to have things that I enjoy, not to feed the deer."
John Anselmo, in a letter to the Chaffee County Times.
"Killing these animals would be nothing short of a slaughter and, as Christians, I would hope and pray that we know better!"
Dianne Matheny Andis, in a letter to theChaffee County Times.
"Let's face it, deer are beautiful when left in their natural state free roaming, but when they become domesticated they cause problems.
"They spread disease to each other and potentially us. They tear up the trees and eat thousands of dollars in landscaping and leave presents behind….
"Feeding the deer is like making them alcoholics and smokers. They gain bad habits and lose the wild animal in them."
Travis Rogers, in a letter to the Chaffee County Times.
"I wish to voice some concerns about the rapidly increasing deer population within the town limits. I moved here 2 1/2 years ago and was charmed in seeing one or two does with their fawns strolling down my street. Now there are nine and occasionally more than that. Growing bucks have joined the group….
Mary Ann Uzelac, in a letter to the Chaffee County Times.
"Citizens of Buena Vista have a right to petition `their government' for a redress of grievances, even if whoever who lives wherever doesn't like it."
John Bolton, in a letter to the Chaffee County Times.
"It appears that the Drama Department of our high school is preparing a school play whose dialogue contains words that are offensive to many….
"I find this very disturbing as I feel that bad language has no more place in our society than bad habits or law breakers do."
Don Dupree, in a letter to the Chaffee County Times.
"Another phone book from yet another company just came to my mailbox! Are you kidding me?"
Laine Ludwig, in a letter to the Gunnison Country Times.
"We question if shooting an intruder in a business is the optimal way to `make our day better.'"
Marcia Martinek, Editor, Leadville Herald Democrat.
"Having a pit bull, she said, is a status symbol for high school students."
Leadville Herald Democrat, reporting concerns expressed by Becky Newell, a participant in a public meeting about the town's dog problems.
"What originally sold me on the town of Leadville was the eclectic mix of weirdos in our town."
Mike Bordogna, in a letter to the Leadville Herald Democrat.
"Clearly, no dream is too crazy. I grew up in Colorado with no connection to the movies. But evidently anything's possible."
Hal Hickel, recent Oscar winner, as part of the visual effects team working on "Pirates of the Caribbean: Dead Man's Chest," Fairplay Flume.
"Some things, until recently, were not talked about in polite society. Vaginas is one of them."
"So, sitting through the dress rehearsal production of `The Vagina Monologues' was, for me, an uncomfortable experience.
"Much of the social message of the play — to stop violence against women — was lost in repulsive dissertations about the smell, taste, feel and appearance of vaginas and attitudes toward them…."
Arlene Shovald, Mountain Mail, in a review of a local production.
"I think female presidents can do just as well as male presidents. I'm typing this letter to express my opinion on this matter. I think women should try something new. It would be different to have a woman president. Maybe there wouldn't be so many wars."
Brittany Ellis, Custer County Schools; letter in the Wet Mountain Tribune.