Brief by Ed Quillen
Regional News – September 2006 – Colorado Central Magazine
Water from the sky
It's been raining a lot this summer. The traditional explanation is that the rain comes just after ranchers have cut their hay and have it spread out to dry before baling and stacking it.
To scientists, the summer rains are from the North American Monsoon (also called the Southwest U.S., Mexican or Arizona Monsoon). An area of high atmospheric pressure develops over the Four Corners, changing the wind flow so that moisture arrives from the tropical Pacific Ocean and the Gulfs of Mexico and California. It typically begins in early July in southern Arizona and moves north, with drier weather returning in September.
This year, it started a little earlier than usual, and it's provided more moisture than usual. Buena Vista, for instance, had the second-wettest July on record, with 3.57 inches recorded at Central Colorado Regional Airport. Only 1968 was wetter, at 4.68 inches, and the average is 1.62 inches. This year was quite dry before July, with a total of only 1.98 inches for the first six months of 2006; the average total for January through June is 4.15 inches.
Soooo…. At the end of July, our precipitation level had gone from being way below average to slightly below. The average from January to July is 5.69 inches; whereas we had 5.55 at the end of July — and it was still raining steady in early August.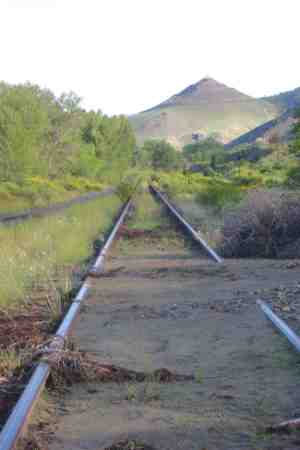 Washouts and debris
The National Weather Service observes that "While the monsoon thunderstorms can bring beneficial rains to Colorado and Utah, they can also result in flash flooding, one of our deadliest weather events."
So far, none of our gully-washers has been deadly, but there's been some damage and delay on account of rain-caused landslides and the like.
On Aug. 11, a thunderstorm dumped about 3.5 inches of water near Centerville, between Buena Vista and Salida. A flash flood came down a gulch to Hecla Junction on the Arkansas River, where it washed out some of the parking lot and access road. The Arkansas briefly rose to 4,000 cubic feet per second below the gulch — its peak during spring runoff in June was only 2,600 cfs. It happened at night, when there were few if any people rafting or fishing along the river, and that probably explains why there were no injuries.
North Creek and Red Creek in the Wet Mountain Valley have experienced two floods this summer, with run-off aggravated because the soil won't absorb water in the area of last year's 11,357-acre Mason Gulch Fire. The floods damaged ranch fences and county roads.
The Gunnison Country got some heavy rains as well. Flash floods spread debris across U.S. 50, closing the highway for a few hours on July 21 and again on July 26. The storms have been accompanied by thousands of lightning bolts — and some bolts were lethal for ten cows at their summer pasture in Taylor Park, where they were electrocuted while huddled under a tree on July 31.
Crestone also saw some flash floods. They came on July 3 in the Baca Grande subdivision after about two inches of rain and hail fell in an hour. A car was damaged by the rushing water, as were several roads.
We didn't find any reports of flooding in Lake County, but the Leadville Herald-Democrat reports that "The recent heavy rains have encouraged blooms all over Leadville. The problem is that while some of these plants appear to be attractive flowers, they are actually weeds that should be destroyed."
A good name for the job?
We don't recall that anyone named Chaffee has held office in Chaffee County, or a Gunnison in Gunnison County. But it appears that someone named Custer could become a commissioner in Custer County.
Carole Custer won the Republican primary on Aug. 8, defeating Allen Butler and Jim Blevons. She will face Democrat Alan Urban in the November general election, but for Custer County, a GOP victory is almost a sure thing. The county has 2,023 registered Republicans and 554 Democrats.
Revival
Antero Junction — where highways 24 and 285 meet on the east side of Trout Creek Pass — has been something of a ghost town for years. It once held a gas station and liquor store before a fire 30 years ago.
In July, Park County Commissioners approved the subdivision of the 25-acre parcel into three lots. Jeffery Scaman plans to buy them and put a gas station on one lot. The others might be sold for other commercial purposes, he said.
Mixed Signals
It's hard to quantify tourist season, especially in the middle of it. Chaffee County went into the summer on a roll, with lodging tax revenues up 22.5% for January through May of this year compared to the same period in 2005. Part of that increase, though, resulted from a 9% average increase in motel rates.
Even so, it means more tourists. And the Matchless Mine near Leadville had a 251% increase in June of this year compared to last — that is, 1,426 visitors in 2006 and only 316 in June of 2005. The mine was acquired this year by the National Mining Museum and Hall of Fame.
It's famous in Colorado lore because busted silver millionaire Horace Tabor supposedly told his wife, Baby Doe, to "hold on to the Matchless" from his deathbed. The mine's name comes not from the quality of its ore, but from a popular brand of chewing tobacco at the time.
However, the Great Sand Dunes National Park and Preserve saw an 11.22% decline in visits in comparing July, 2006, to July, 2005, with 58,984 people this year and 66,441 last year. Also, the year-to-date total in 2006 was down 10.28% compared to January-July of 2005.
Trials and Tribulations
Jerry Garmany of Leadville, who was convicted of the first-degree murder of Noreen Byrne in 2001, will get a new trial. His conviction was overturned earlier this year because an expert witness had his license suspended. The new trial may be scheduled at a motions hearing on Sept. 15.
Lynda La Rocca, a frequent contributor to Colorado Central, served on the jury that convicted Garmany, and she wrote about it in our November, 2001, edition, which is available on-line at: www.coloradocentralmagazine.com/archive/cc2001/00930231.html
These days, it appears that it's hard to assemble a jury in Lake County. In July, two trials were postponed by District Judge David Lass because not enough potential jurors showed up. About 85 were called for each trial. On July 18, only 22 appeared, and only 20 on July 20.
Failure to appear when summoned for jury duty can result in a fine of up to $500 and imprisonment for up to six months. Judge Lass sent letters to the missing jurors, giving them the choice of coming to court to explain why they dodged their duty or paying the fine. If they do neither, then arrest warrants will be issued.
Alma Access Action
Last year, climbers of three 14,000-foot peaks on the west edge of Park County ran into trespass problems. The routes up Lincoln, Bross, and Democrat all cross mining claims, where the property owners feared liability problems if hikers should get injured and then sue.
The routes weren't exactly closed, but the Forest Service put up warning signs and quit issuing group permits.
On Aug. 1, the Alma Board of Trustees agreed to lease and insure 3,900 acres on the peaks. With the town assuming liability, the trails could stay open. The lease is for a nominal fee, $12 a year, and the town's insurance carrier offered a discount. Insurance agent Ellen McMichael said that "If you fall, come on down into town and we'll fix you up. But don't sue us because you tripped on a rock in the Rocky Mountains."
Trails still need to be defined and marked, and so legitimate climbing probably won't start until next year.
Gunnison Gubernatorial Candidate
She's not from either major party, but a Gunnison woman will be on the ballot this November in the governor's race. Dawn Winkler, 35, is the Libertarian Party candidate for the state's highest office.
Her running mate, Richard Randall, said the big challenge will be the lack of exposure from Colorado media. "I believe that if the major media included Dawn as a real and viable candidate, she would have a very good chance of winning this election," Randall said.
Winkler has worked to remove mercury from vaccinations, and says her "real goal is to help the party advance and help people to think 'choice.'"
The last Gunnisonian to run for governor was Republican Phil Klingmsith in 1994. He withdrew before the state convention because "Things had been going well, but then Bruce Benson got in, and all my campaign contributions dried up."
Get out
Here's one way not to get along with the media.
Tom Locke, editor of the Fairplay Flume, went to Greenwood Village (a Denver suburb) to visit the offices of Frontier Development Co., which proposes a 300-unit project in Fairplay. He asked about lawsuits.
Scott Grose, the company's agent, responded with "This is my home [and] you're disrespecting me, sir. Get out of my office." He was then escorted to the elevator.
Dog Days in Leadville
Summer is short in Leadville, America's highest city, which may explain the recent concentration of canine violence — the dogs have to compress their year-round activities into a short season.
A woman walking down West Eighth Street told police that a leashed dog in a Subaru jumped out of the car and bit her. Her skin was not broken.
Police responded to a report that fireworks were being shot off from a back yard. When they got there, a dog attacked them and they responded with pepper spray, telling the owner that they would shoot the dog if the owner didn't control it. The owner responded by arguing that police shouldn't be going onto private property and spraying dogs.
Lake County Sheriff's deputies shot a pit bull that ran through the Lake Fork trailer park on July 24. After getting the call, one deputy arrived, and after the dog charged him, he called for backup. Two more deputies arrived. It charged two of them, then turned on one who had turned around to change the ammo in her shotgun. Her quick shots missed the dog, which took off running. The dog's owner showed up and helped find the dog, which was later put down at the pound.
Observations
"The noise of it [the flash flood] was amazing and you wouldn't believe all the animals running out. They knew something was coming. We saw lots of deer, rabbits, and even mice on the road, trying to get away. It was knocking … trees over and things were popping and banging."
Cathene Jones quoted in the Wet Mountain Tribune, July 13, 2006.
"Was he [Zebulon Pike] truly a spy here in New Spain? Was he actually a bungling fool or just a victim of unfortunate circumstance? Did his actions alter the course of American history? It doesn't really matter. He was the first American to walk along Grape Creek, nearly 200 years ago. That seems as good an excuse as any for a grand celebration."
Jim Little in the Wet Mountain Tribune, July 27, 2006
"While we were visiting there [Pitkin], we were awakened around 6 a.m. on a Sunday morning by these vehicles running down the street making loud noises with their machines. They could have driven by quietly, but chose not to do so. We are definitely cutting short the time we spend in Pitkin visiting our friends due to the congestion and noise factor [from ATVs]."
Cynthia Harms in the Gunnison Country Times, Aug. 10, 2006
"Yes, we needed that moisture, and all of us are happy to see it, just not so much all at once!"
Keno in the Crestone Eagle, August 2006
"It is also funny that now Ms. Wagner wants everyone to know she is 74 years old. I guess it is too much to ask at age 75 for a caring and kinder Ms. Wagner."
Donna Loffer in the Fairplay Flume, July 14.
"We did find one person in Leadville who admits she wants the EPA to stay. Here is how she feels. As long as we are a Superfund site, Leadville will stay the way it is, development won't happen, property won't increase in value (along with taxes).
"What we don't need is one more resort for the rich that seeks to hire our residents at the lowest wages possible without footing the bills for social services, education, law enforcement, and other needs."
Marcia Martinek in the Leadville Herald Democrat, July 20.
"Most small-town Wal-Marts need satellite communities to make their operation profitable. Monticelloites go to Cortez for their Wal-Mart fix. Green River folks head to Price. It means Wal-Mart has to depend on tourists and recently arrived Moab rich weasels to make it happen. But most of our wealthy class abhor Wal-Mart — they might order Italian marble for their new toilets in their showcase homes, but god help them if they'd be seen inside a Super Center."
Jim Stiles in the Canyon Country Zephyr, August/September 2006